Craig Breedlove's Quest For The Land Speed Record
10:22
Play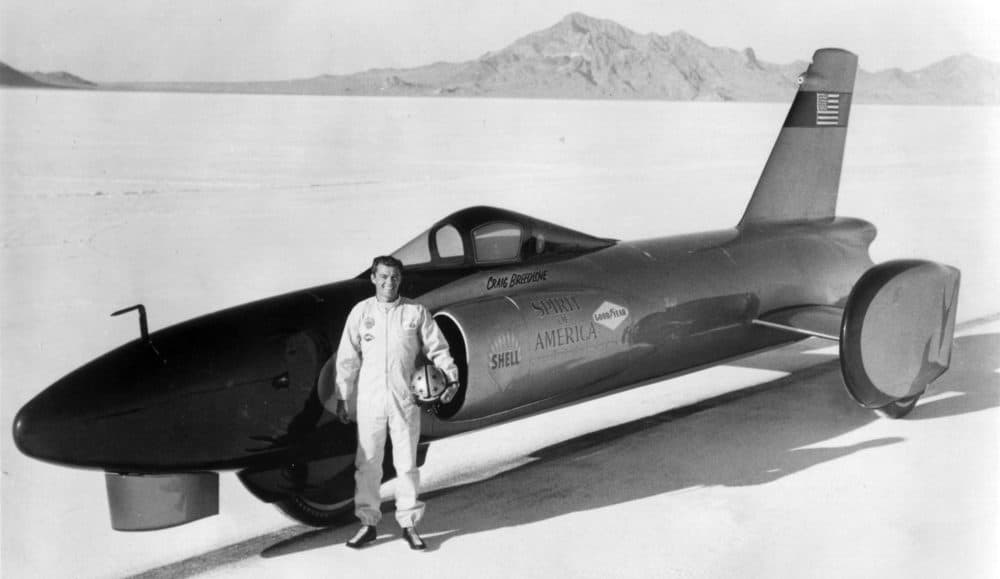 This article is more than 2 years old.
On Oct. 15, 1964, Craig Breedlove hurtled across Utah's Bonneville Salt Flats. He reached a top speed of 526 mph.
Breedlove had just surpassed his own land speed record. But things began to go wrong as he tried to slow down. The first problem was with the emergency parachute.
"The chute broke off," Breedlove says. "And I didn't know that had happened."
But he did know about some of the other things that were going wrong. The steering was malfunctioning. And then there were the brakes.
"He tries the brakes. They melt," says writer Samuel Hawley. "He has no brakes. He's going 500 mph. He's running out of course, and he's got no way to stop."
"So I came down the course," Breedlove says, "and went through the place that I'm supposed to be stopped."
"Went through" is understatement in the extreme.
"I was still travelling a good 400 mph," Breedlove says.
Crew members gave chase in cars. But their top speeds were just 70 or 80 mph. They knew Breedlove's jet-engine powered Spirit of America wouldn't stop before it reached a construction site at the edge of the highway.
"I had to make it over a wooden bridge that they had built," Breedlove says, "and ended up knocking down a telephone pole by Highway 80, and went over an embankment at about 220 mph. And the car went airborne."
Breedlove wouldn't tell me if he was terrified when that happened. He's too logical and too analytical to betray emotion. But put yourself in the cockpit of Spirit of America as it launched skyward. Wouldn't you be? And wouldn't that make you rethink your career choice?
From Airplanes To Hot Rods
Craig Breedlove grew up in Mar Vista, California, a residential neighborhood in West Los Angeles. At first, he wasn't interested in cars. He liked to build model airplanes.
"And he wasn't just making kits," Hawley says. "He was actually designing and making planes from scratch."
Until he noticed what his neighbors were up to.
"And he went across the street and he said, 'Hey, guys, what are you doing?' And they said, 'I'm making a hot rod.' That was it," Hawley says. "He started building his first car when he was 13."
Breedlove graduated from high school in 1955. By the time he was 20, he was married with three kids. But he had big dreams.
"I wanted not to live my whole life and die and just be a marker on a tombstone," Breedlove says. "I just had a real drive to do something that was significant."
Maximum Thrust
Breedlove took odd jobs to support his young family. He found some time to build hot rods, which gave him an idea: the land speed record of 394 mph had been set by a British racer in 1947. Breedlove would try to break it with the help of new technology.
"It was right at the end of the Korean War era," Breedlove says.
There was a particular fighter jet engine that Craig had his eye on: the General Electric J-47. 
"There were literally thousands of those engines that came onto the surplus market," Breedlove says.
"And he went down to the place in LA where they had several hundred of these jet engines," Hawley says. "And he asked the guy, 'How much do you get for scrap for one of these things?' And the guy said, 'About 500 bucks.' So Craig says, 'Well, if I gave you 500 dollars, could I have one?' And the guy said 'Yeah. I'll set one aside for you.' "
Breedlove lined up sponsors and designed an aluminum and fiberglass vehicle that looked more like a missile than a car. In 1960, he began working on it in his father's garage. He called it "Spirit of America".
The Need For Speed
Over the next few years, competition for the land speed record grew fierce. And lots of people watched. This was an era of national optimism, fueled by the space race and rapid technological progress. Craig Breedlove's 1963 triumph had made him a star.
But now other drivers and designers wanted the spotlight … and the land speed record. Foremost among them was Ohio farmer Art Arfons, who drove a fast — and dangerous — machine called "Green Monster."
"He had a crash just about every time," Hawley says. "His right rear tire would blow. And somehow he kept his big car from rolling and killing him. But it was scary."
"And, at this point, Craig is becoming afraid. ... He has a premonition that he's gonna get killed."

Samuel Hawley
Arfons and Breedlove returned to Bonneville for the 1964 season.
"And, at this point, Craig is becoming afraid," Hawley says. "He's becoming frightened. The stress, the strain is all getting so intense. So when he heads back again with the goal to go 500 mph, he really has a premonition that he's gonna get killed."
On Oct. 2, a car designed by Art Arfons' brother reached 413 mph. Three days later, Art himself topped out at 434. Eight days after that, Breedlove pushed the record to 468. But he knew Spirit of America, with a new jet engine that featured an afterburner, could go even faster.
Which brings us back to Breedlove's 526-mph, record-setting run on Oct. 15, 1964, when he rocketed past his astonished crew.
With no brakes or emergency parachute and very little steering, Breedlove cut the engine. But he was still going more than 200 mph by the time he hit that embankment and launched into the air over an evaporation pond.
"The first time I hit the water, the car kinda skipped like a rock that you throw across a lake," Breedlove says. "And it jumped off the water. And the second time it came down, the water grabbed it really tight and sucked me down. And then I was starting to sink. I had my seatbelt off and everything. But I couldn't get out of the cockpit. And it was starting to take me under the water.
"And then I realized I hadn't unplugged my breathing mask."
Breedlove freed himself and swam to shore. He was met by his giddy and greatly relieved crew.
'What's Gonna Happen Here, Craig?'
Spirit of America was recovered, repaired and donated to the Museum of Science and Industry in Chicago. In the fall of 1965, Breedlove — in a new car — and Art Arfons met once more at Bonneville.
"And Art said, 'So, what's gonna happen here, Craig?' " Hawley says. " 'If I take the record from you, are you just gonna come back and take it back from me? And we're gonna keep going back and forth until one of us gets killed?' And Craig was kind of taken aback by this. But he said, 'Well, yeah, I guess so!' And so Art Arfons says, 'Well, it's gonna be like a game of Russian Roulette, then.' "
Breedlove went first. On Nov. 2, he reached 555 mph. Three days later, Arfons took the record back.
"It was 576 mph that Art pushed it to," Hawley says.
On Nov. 15, Breedlove took two runs. On the second …
"The nose of his Spirit of America-Sonic 1 is starting to lift off the ground," Hawley says. "He's on the verge of flying. But somehow he hung on, and he set the record at 600.601 mph. Amazingly, no one died."
Slowing Down
Craig Breedlove's land speed record fell in 1970. Soon after, he was selling real estate. Breedlove tried to take the record back in 1996, but he failed in that attempt.
He's happy with his accomplishments. But, once a barrier pusher … always a barrier pusher.
"We're working on a car to break 1,000 mph," Breedlove says. "But, so far, we haven't been able to raise the necessary backing.
"I won't be driving it anyway. I'm 81 now, so enough's enough."
Samuel Hawley knows not as many people care about the land speed record as in the '60s. But, he says, Craig Breedlove's example is timeless.
"Craig had the naiveté to believe that somebody so little and insignificant as him could actually achieve something so big," Hawley says. "He was a little guy in his dad's garage, and he did something absolutely huge."
---
Samuel Hawley's new book is Ultimate Speed: the Fast Life and Extreme Cars of Racing Legend Craig Breedlove.
This segment aired on October 20, 2018.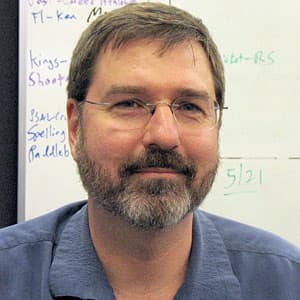 Gary Waleik Producer, Only A Game
Gary Waleik is a producer for Only A Game.