Where Verne Lundquist Was During The Kennedy Assassination
08:34
Play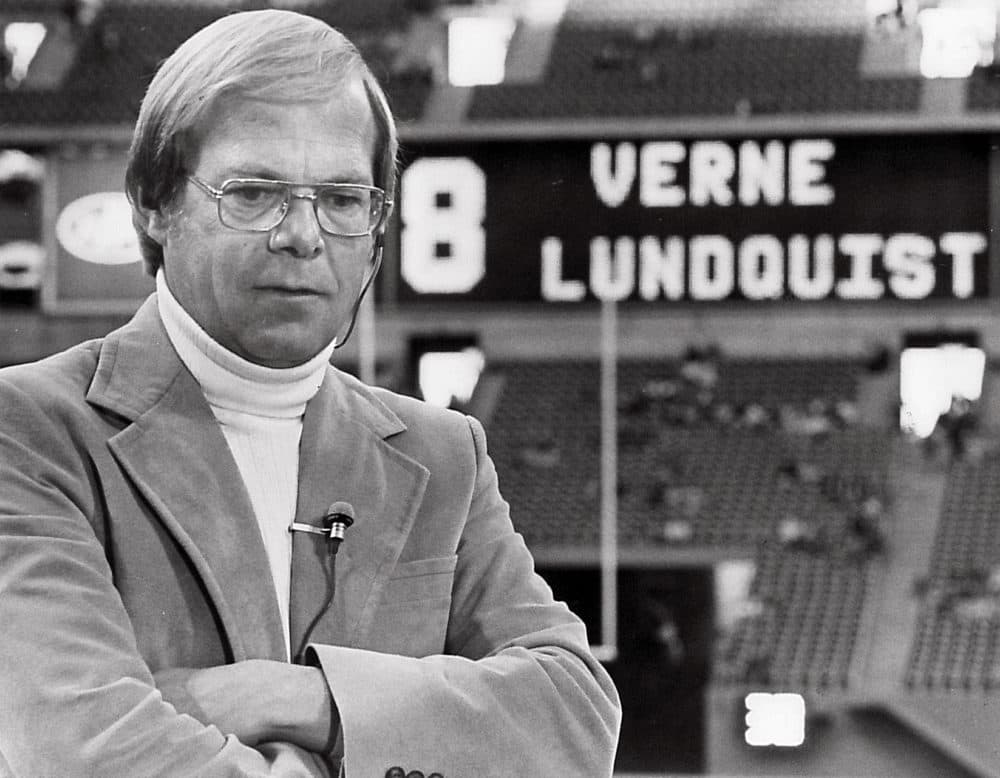 This article is more than 2 years old.
Verne Lundquist grew up loving sports.
He was the sports editor of his junior high and high school newspapers in Austin, Texas. But what he really wanted was to be an athlete.
"I mean, I was 5-foot-3, 115 pounds," Lundquist says. "Tried out for the basketball team, made the junior varsity my sophomore year, tried out again my junior year. And finally, the coach came over and put his arm around me and said, 'I've got a suggestion: Why don't you become a cheerleader?' "
He didn't. But Lundquist did begin to consider other career paths. His father was a Lutheran minister. So Verne thought he might attend seminary. But one day, he paid a visit with his father to a radio station.
"And I was just mesmerized by the studio and the men who were lucky enough to go on the air," Lundquist says.
He loved being surrounded by an array of dials, switches, meters and lights. Lundquist enrolled at Texas Lutheran College as a Sociology major. He still thought he might go on to seminary. But he couldn't stop thinking about radio. He got a gig at KWED in Seguin, Texas.
"I would put the station on the air 5:45, 6 in the morning, and shut it down at sunset," Lundquist says. "And my senior year, got a job as a weekend disc jockey and announcer. I was blessed with my father's pipes — and also blessed, I think, with a lack of fear of addressing an audience. I'd watched him in the pulpit growing up and —  thank God — I inherited that trait as well."
Lundquist did attend seminary in Illinois for one year. In the spring of 1963, he realized that wasn't his true calling. So he returned to Austin, where he was hired by KTBC as a weekend TV sports news anchor and a radio DJ. He was just 23 years old. To round out his 40-hour work week, he sometimes ran the board during radio news broadcasts.
"And I was doing that on the afternoon of Nov. 22, 1963."
The Assassination
"My assignment was to be in the control room at noon," Lundquist says. "We'd do a live newscast, then they would have the weather forecast. And the last 15 minutes, they would play a tape of that day's agricultural report."
The agricultural report began at 12:25. Then, at 12:30 …
"Hal Nelson, one of our radio newscast guys, broke into the control room and said, 'Put me on the air immediately. The President has been shot.' "
Nelson gave live updates until KTBC switched to live national coverage from CBS Radio, anchored by Walter Cronkite.
Here's a bulletin from CBS News. President Kennedy has been the victim of an assassin's bullets in Dallas, Texas. It is not known as yet whether the President survived the attack against him.
The shooting had taken place just 200 miles away. And the station was owned by Lyndon and Lady Bird Johnson. 
"We had a five-story building at 10th and Brazos in downtown Austin," Lundquist says. "Within a half an hour, we had Secret Service agents on every floor. Guarding every exit, guarding the elevators, guarding especially the front and back entrances and exits from the studios. And there was some concern — even then, that quickly — that it could be an attempted coup."
Lundquist couldn't leave the building. So he drifted into the newsroom, where he stood transfixed before the black-and-white television.
"And I saw Walter Cronkite remove his black eyeglasses and wipe a tear away," Lundquist says.
From Dallas, Texas, the flash apparently official: President Kennedy died at 1 p.m. Central Standard time, 2 o'clock Eastern Standard time, some 38 minutes ago.
"The sense of loss was overwhelming," Lundquist says. "I don't think I ever stopped and cried. I don't remember doing that. But there were shared moments with my colleagues of grief over what this one man had done to alter the course of our history."
Life And Sports Go On
The Texas high school football playoffs were postponed one week. On the night of Friday, November 29, Lundquist was assigned to gather footage of a local game for his weekend TV sports broadcast.
"And I shot all my own film back then," Lundquist says. "I mean, I was a one-man band. And I can remember getting in my car and driving to Taylor, Texas, about 20 miles outside of Austin, and standing on the sidelines — filming a playoff game between the Hutto Hippos and the Taylor Ducks.
"I guess you could argue, 'Well, life's gotta go on.' But I thought it was desperately inappropriate."

Verne Lundquist
"And I can remember standing there as a young man — really immersed in grief —  thinking. 'This is such a wrong thing to do.' "
There had been debate over whether the playoffs should proceed in the wake of the assassination. 
"I guess you could argue, 'Well, life's gotta go on,' " Lundquist says. "But I thought it was desperately inappropriate."
A New Perspective
Lundquist shot the footage and used it in his Saturday report. During his following three years at KTBC, he thought a lot about the events of Nov. 22, 1963, how Cronkite had covered them and what it all meant.
"The assassination made me aware of a much, much wider world than who beat whom in the NFL or college football," he says.
Lundquist began to think that a position as a news anchor — and not a sports anchor — would be more a more suitable career. 
"I was offered a position at WOAI in San Antonio to anchor the 6 and 10 o'clock newscast," Lundquist says. "And I took the position thinking, 'Well, this'll be more dignified than sports.' That was a mistake on my part."
It was a mistake, he says, because WOAI followed the news model used by so many other local television stations: If it bleeds, it leads. He couldn't stand that the top story was usually a car crash, a fire or a murder. And he began to miss sports.
Lundquist left WOAI less than a year after he'd started there. He began hosting Dallas Cowboys pre- and postgame radio broadcasts in 1967. He's been calling lots of sporting events ever since.
Lundquist is 78 now. He says he realizes how fortunate he is to have made the right career choice, thanks in part to a sense of perspective he gained when he dabbled in the world of the so-called "real" news.
---
Verne Lundquist's new book is "Play By Play: Calling The Wildest Games In Sports."
This segment aired on November 17, 2018.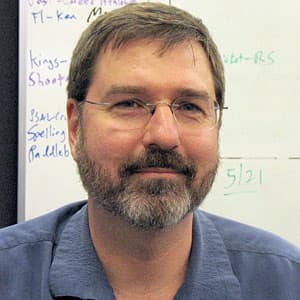 Gary Waleik Producer, Only A Game
Gary Waleik is a producer for Only A Game.