Fight Doctor Linda Dahl's Evening In Vegas With Mike Tyson
Play
This article is more than 4 years old.
This story is part of Only A Game's Thanksgiving Leftovers Show. Find the full episode here.
---
Each year, there's a fight doctor convention. It's usually held in Las Vegas.
Of course it is.
Linda Dahl went in 2006.
"And the guest of honor was supposed to be Oscar De La Hoya," Dahl says. "And I was so excited, because he was such an idol. I was all ready for him. And I showed up at the banquet. And they announced that he wasn't coming, but in his place there would be a special guest."
"And it was a really surprising conversation. ... He really didn't want to talk about himself at all. He just wanted to talk about me."

Linda Dahl
Special guest? More special than Oscar De La Hoya?
"And there was kind of a rumble at the door," Dahl says. "And I saw this man come walking toward us. And it was Mike Tyson."
Dahl certainly knew of Tyson's reputation. He'd spent time in prison on a rape conviction. He'd bitten off one opponent's ear. He once said that he wanted to eat another opponent's children. But she was starstruck as one of the greatest heavyweights of all time entered. Another fight doctor introduced her to Tyson.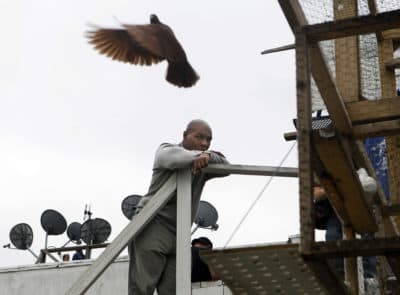 "He just started talking to me and took me to sit next to him at his table. And he started asking me all these questions, like what sign am I. And telling me about his pigeons."  
Tyson was, and still is, a homing pigeon enthusiast.
"And everybody's shooting all these pictures. And he kept saying, 'I wish these cameras would just go away. I wish we could just talk.' "
Dahl says Tyson focused on her to the exclusion of all the other guests. And she was captivated by him. They talked for a long time. And then …
"The banquet was over, and I was leaving," she says. "And I just wanted to say goodbye to him. And he said, 'No, what are you doing? Come hang out with us! Hang out with us!' And I thought that was so crazy. Why would he want to hang out with me?
"For some reason, he wanted to … he just wanted to chat, and almost like a little boy. You know, 'Please? Please? Please? Please?' And I thought, 'This is probably the worst decision I could make. So ... why not?' "
Tyson and his entourage took Dahl to his hotel — to the back elevator, where nobody would see them. When they got to Tyson's suite, it was just the two of them.
"And it was a really surprising conversation," she says. "He knew about Chechnya, where my father was from. And he was talking about the people there. He knew a lot about geography and culture. And he really didn't want to talk about himself at all. He just wanted to talk about me."
Dahl says Tyson rolled an enormous joint and smoked the whole thing himself.
"I mean, eventually, he just kinda passed out."
Dahl got up off the couch and kissed the slumbering Tyson on his forehead.
"And I kind of snuck out with this amazing experience."
Only A Game's Gary Waleik spoke with Linda Dahl back in August. Her book is "Tooth and Nail: The Making of a Female Fight Doctor."
This segment aired on November 24, 2018.