Babe Ruth's Final Christmas Gift
Resume
In 1902, 7-year-old George Herman Ruth was sent away to St. Mary's Industrial School for Boys.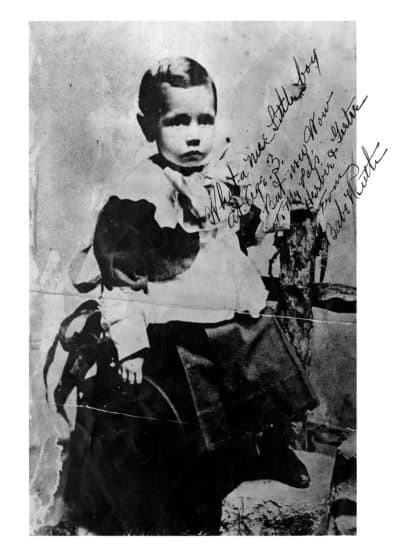 "The little boy his family called 'Little George,' they abandoned to a reform school on the far western edge of Baltimore City," writer Jane Leavy says. "And these boys slept head to toe. They bathed together, they ate together, they played baseball together. So what Babe Ruth learned was not just to throw and hit a baseball, but he learned to be public. That's where he is most exquisitely happy — and most himself."
And a few decades later, before the final Christmas of his life, Ruth had a chance to show a group of kids who he really was.
From Celebrity To Obscurity
Babe Ruth was celebrated as few American athletes have ever been. And he loved it. But a lot changed when his playing days ended in 1935.
"He had nothing to do," Leavy says.
Ruth wanted to manage a team. He had a brief stint as the first base coach of the Brooklyn Dodgers in 1938. But other than that, he received no job offers from Major League clubs.
"His wife said he was suicidal," Leavy says. "He would sit by the window and wait for the phone to ring."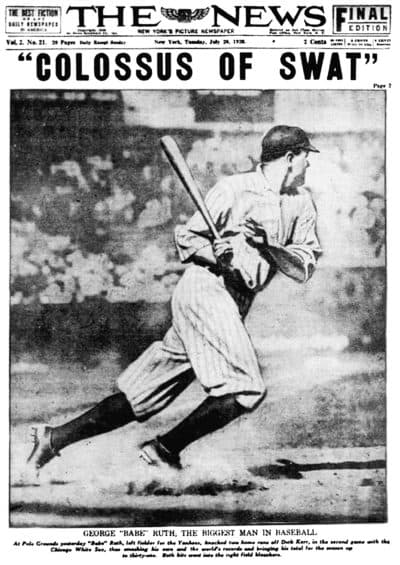 During the last 13 years of his life, Ruth experienced the same feeling of rejection he had felt as a young boy.
"His life was pretty much empty — except for these little events that he got summoned to, where he remembered who he was," Leavy says.
Those "little events" were often visits to children in orphanages and sick wards. He did that for years. But then, in 1946, Babe Ruth was diagnosed with a rare form of cancer.
"And the cancer was growing in a place way back behind his sinus passages, where it was inoperable," Leavy says. "He was in excruciating pain. His left eye was shut. He was on intravenous medication. It hurt to talk, and his head was killing him."
The Event
But in late 1947, Ruth got an invitation he couldn't refuse.
"It was an event where he would play Santa Claus at the Hotel Astor in Manhattan for a group of kids who had been treated with a specific regimen for polio," Leavy says.
At first, no one had any idea who was behind the white beard. Reporters and newsreel film crews were careful not to give away the surprise. Ruth managed to conceal his identity — and his discomfort.
"He was in such incredible pain," Leavy says. "And by this point, his face was caved in. He was emaciated. He had lost a ton of weight. His speaking voice is like sandpaper on a bad piece of wood."
Newsreel footage of the event shows a 7-year-old boy named Tom Guidera making a request to Santa/Babe Ruth.
Tom Guidera: I want a rabbit!

Babe Ruth: You want a rabbit?

Tom Guidera: Yeah.
 But … why a rabbit?
"To this day, I can't tell you the answer," Guidera, now 78 years old, tells me.
In 1947, Guidera was undergoing a controversial polio treatment called the "Sister Kenny Method."
"They take small pieces of blanket, put those in hot water, and put them on the affected muscles for about 15 minutes," Guidera says. "That is followed by a stretching of that particular limb or muscle ... until you scream."
Babe-as-Santa did his best to help Tom and the other kids forget about things like that.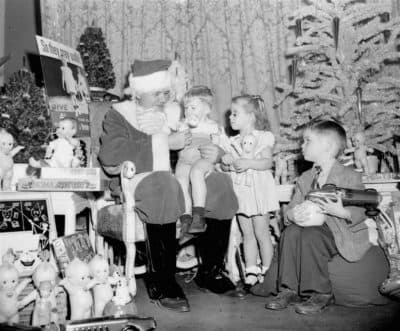 But there were no rabbits on hand at the Hotel Astor. So he had to improvise.
Babe Ruth: Oh, now, how are we gonna get a rabbit? Well, I don't know about a rabbit ... but I'll give you one of these nice choo-choos until we get a rabbit for you.

Tom Guidera: OK.
Ruth called the toy he gave Guidera a "choo-choo." But that's not what it looks like.
"He gave me a stamped metal car, if I remember correctly," Guidera says. "And I took that, and I said thank you to him and walked away."
In the newsreel, as Guidera walks away and the next child arrives, Ruth drops his jolly façade for a moment. He repeatedly pushes his sagging Santa beard back on.
Babe Ruth: These whiskers are getting me down.
"His face had caved in so much from the illness," Leavy says. "His face was too small. He couldn't hold them up any more. That broke my heart."
"This was a man who, given ... how he had been abandoned, was not going to abandon little kids."

Jane Leavy
Ruth talked with, and gave presents to, each of the 65 kids at the event, including one little girl with an unusual request.
Babe Ruth: You want a baby brother? Oh, now ... a baby brother.
"The old Babe would have had a quick rejoinder," Leavy says. "He would have said something funny. You know? Even a turn to the adults behind him and say, 'Yeah, I'll take care of that!' But there was none of that left for him.
"He can't think about anything other than staying alive."
Babe Ruth lived for another eight months. He died on Aug. 16, 1948.
Babe's Legacy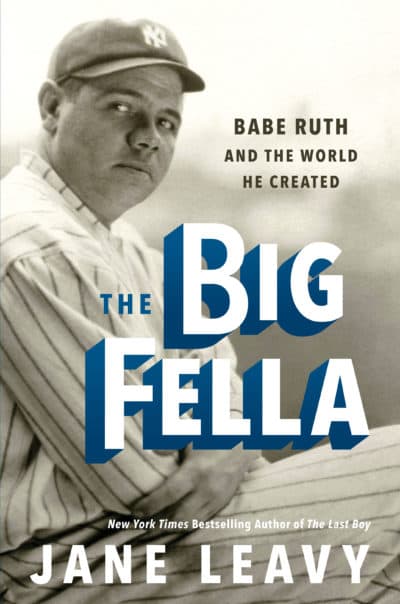 Back in 1947, Tom Guidera didn't know who Babe Ruth was. When he was a bit older, he learned about Ruth's accomplishments on the baseball diamond. And, in 2000, his wife brought home a DVD that included the above newsreel footage. He hadn't known it existed. And it was then that Guidera began to fully appreciate who Ruth really was.
"When I finally realized the pain he was in, it had an impact," Guidera says. "How could a guy in that kind of pain take time to minister, if you will, to kids that were sick? That seemed tremendous to me."
"I think Babe Ruth needed, more than anything, to be needed and to be wanted," Jane Leavy says. "I think that kids like this completed him. And they needed him. And this was a man who, given where he had come from, given how he had been abandoned, was not going to abandon little kids."
But there's more to the story. In 1947, Ruth agreed to be an anonymous guinea pig for the experimental cancer medicine Teropterin. It didn't save Ruth's life, but it did save others. And it led to more effective medicines that would save thousands more.
"This is the most important thing he's ever done," Leavy says. "To save this many lives? That's a hell of a legacy."
A Message From The Babe
At the end of the Hotel Astor party on Dec. 10, 1947, Babe Ruth bestowed a wish upon everyone gathered there — and a few more people besides.
I want to take this opportunity to wish all the children, not only in America but all over the world, a very Merry Christmas.
Jane Leavy's new book is "The Big Fella: Babe Ruth And The World He Created."
This segment aired on December 22, 2018.