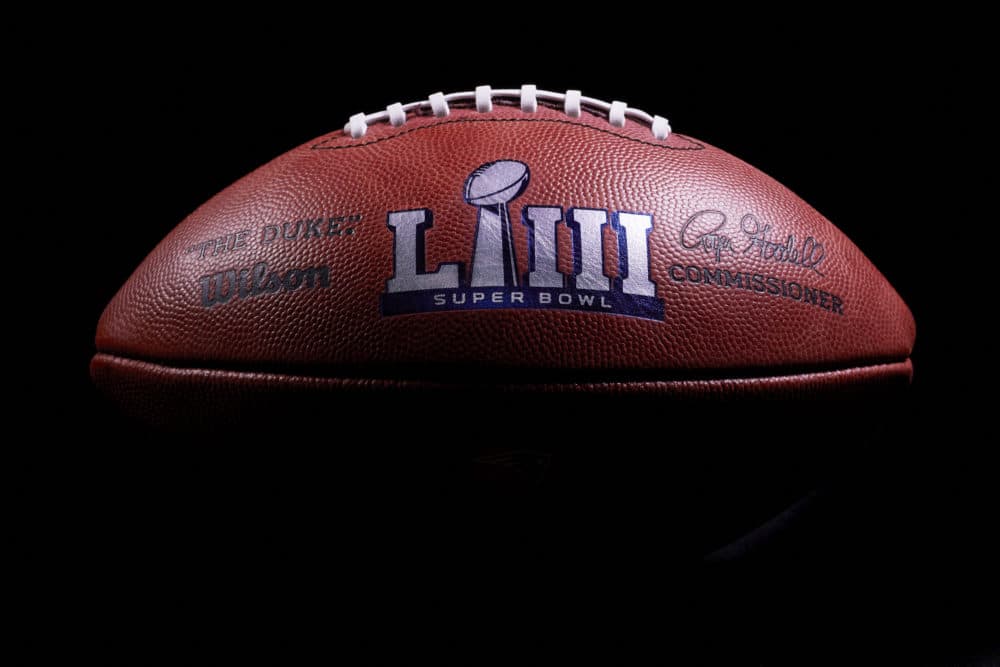 This article is more than 3 years old.
As the Los Angeles Rams and New England Patriots prepared for Super Bowl LIII, we here at Only A Game prepared for a big day of our own. It began 24 years ago with Bill Littlefield writing and presenting Super Bowl Haiku. And it became one of our most beloved traditions.
But, about a decade ago, listeners started submitting their own haiku. And we started including them. For the past few years, listener submissions have flooded our inbox, website and Twitter feed. Many more than we could ever use.  And so we proudly present Super Bowl Haiku XXV.
You can read them below or click the red arrow at the upper left to hear the Hut-Hut Haiku Players doing what they do best.
SB Fifty Three
It seems as if Tom Brady
Played in all of them
(Mark Lahoud)
One is way too old.
The other is way too young.
But yet — here they are.
(Mason Provoyeur)
Who is Jared Goff?
He's on the PGA Tour?
No, he's someone though …
(Gary Waleik)
Avocado Dip
Or New England Clam Chowder?
Should have been crawfish ...
(Paulzville)
All fear a blowout,
Because then we'd have to talk
To our house guests.
(Eric Picconi)
I don't like football.
Not even a tiny bit.
Still, I'm doing this.
(Klaire, Newington, NH Public Schools)
I don't like haikus.
But this is an exception,
'Cause I like football
(Eilis, Newington, NH Public Schools)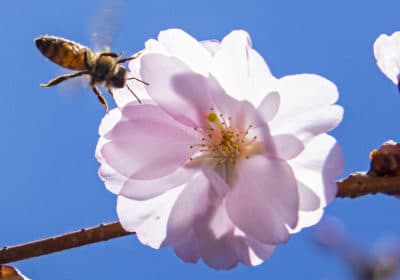 Super Bowl Haiku …
Whose stupid idea was that?
What clown thought that up?
(Bill Littlefield)
Did ever a man …
A real man…say, "Not for me,"
To the Super Bowl?
(Bill Littlefield)
State Farm hosts the game.
Will they insure the players?
Nope. That costs too much.
(Kevin Kiley)
Friends leap from the couch
I sit frozen in horror
Someone spilled my beer
(prschnitz)
Super halftime show:
Maroon 5 and two rappers.
Mick Jagger unmoved.
(Gary Waleik)
The game or ads? No!
At halftime show, can I see …
Artists take a knee?
(Simon)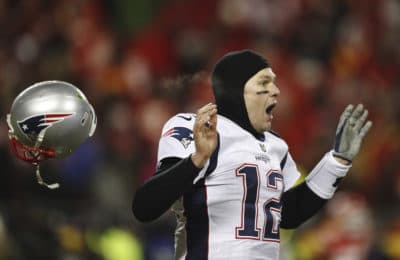 Referee throws flag
Players pounce, point, plead and pout
Pass interference
(Carol Wanjiru and Michael Keating)
Is a brilliant play
MORE brilliant in the big game?
Super question, dude.
(Bill Littlefield)
Super Bowl rematch:
Rams vs. the Patriots
Hello? You still there?
(Walter Dixon)
The figure of a
Lamb, the feats of a lion.
Could Rams steal the day?
(Peter Fenn, Bryan from Wyoming)
In some dark attic,
A portrait of Tom Brady
Grows gray … and fumbles.
(Bill Littlefield)
Some Super Bowl vets
Recall with joy the big day.
Others don't recall.
(Bill Littlefield)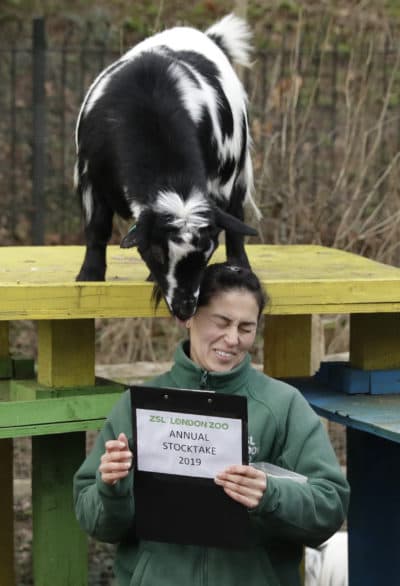 Battered bodies, brains ...
Catastrophic injury.
I can't look away.
(Alex Pope)
Goodell will have a
Hot mess in Hot-lanta if
Bad call decides game
(Tim Josephs)
On further review:
Our errors are plain to see;
You can't change them all.
(Craig N. Willis)
Goats can't throw footballs!
Cloven hooves prevent good grips.
Brady not a goat!
(John P. Smolen/Gary Waleik)
I don't know football,
but I do love poetry.
That is my haiku
(Guy Burney)
The Super Bowl game?
Sunday nights are for homework.
I'll be in my room.
(Gianna Teh)
No Super Bowl zeal.
My great anticipation?
Clemson's next season!
(Daniel Austin)
"Super Bowl? Big deal …"
Growls Cleveland in unison,
Chewing sour grapes.
(Bill Littlefield)
This segment aired on February 2, 2019.