The NFL Reporter Who Decided To Play Semi-Pro Football
Play
This article is more than 4 years old.
In the spring of 2015, Tori Petry found herself lying flat on her back on a turf field in Detroit, Michigan.
As she looked up through the face mask of her football helmet and struggled to catch her breath, another woman stood over her and laughed. In that moment, Petry thought to herself ...
"Am I crazy? Should I really have done this? Is this over the top?"
To answers those questions, we have to go back to July of 2013. This time, Petry was poolside in Hollywood, Florida, representing Marion County in the Miss Florida USA pageant.
"It's really fun. Everybody's got a lot of energy," Petry told the local news station.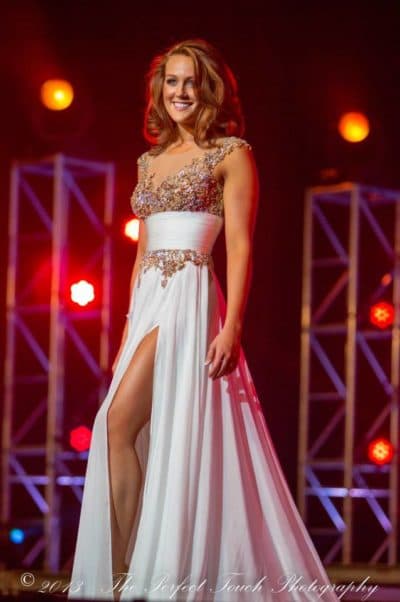 Petry did both of these things — taking a hard hit on the football field and wearing a swimsuit and a crown — because she wanted to prepare herself for the job she has today: working in the NFL for the Detroit Lions.
Let's go all the way back to the beginning.
Tori Petry grew up south of Gainesville, Florida — Gators territory. She loved football. But she probably would have only loved it from the stands if not for a clerical error.
"I was accidentally placed in a TV productions class in high school," Petry says. "I did not request it as an elective. It just appeared on my schedule. And I ended up starting the class, and I was like, 'Wow, this is actually kind of fun.' "
One of Petry's first assignments was to work with some older students on a sports story. The finished piece won a Student Emmy. And she was hooked.
The beauty pageants came later.
"I didn't do my first pageant until my senior year of high school," Petry says. "I had actually applied for a scholarship that required me to read an essay on stage at a community event. One of the organizers — her daughter was a pageant girl. And she kind of pulled me aside afterwards and was like, 'Have you ever thought about doing pageants?' "
Petry hadn't. But she thought about it. And she decided it was a good idea.
"I knew, by that point in my life, that I wanted to go into broadcasting," Petry says. "And there was so much public speaking. There was so much interview training. That's why I did it."
Petry's best finish was as first runner-up to the 2011 Miss Florida Teen USA.
After high school, Petry went the University of Florida.
"And you can't go to UF and not be a football fan," Petry says. "And I got involved in covering sports there pretty quickly.
"My senior year, I finally worked my way up to being on the football beat — which was the most coveted one, obviously, because it's SEC football. I was on the sidelines for every game that season."
"And, all that time, did you find yourself ever saying, 'Gee, I wish I was out there' ?" I ask.
"No, I actually had not thought about it at the time," Petry says.
The Detroit Lions 
Petry says she applied to dozens of jobs after school. But one really caught her eye: multimedia reporter for the Detroit Lions. She flew to Michigan for an audition.
The Lions called to offer Tori Petry the job on a Monday ...
"And by Friday, I had moved to Michigan for good," Petry says.
One day, Petry might be sitting in a studio dissecting the team's latest game. The next, she might be filming a segment singing Carpool Karaoke with Lions punter Sam Martin.
"I'm basically the team reporter," Petry says. "I do analysis and opinion pieces, sideline reporting, all of the above. Just to help people know Lions players and the organization a little bit better."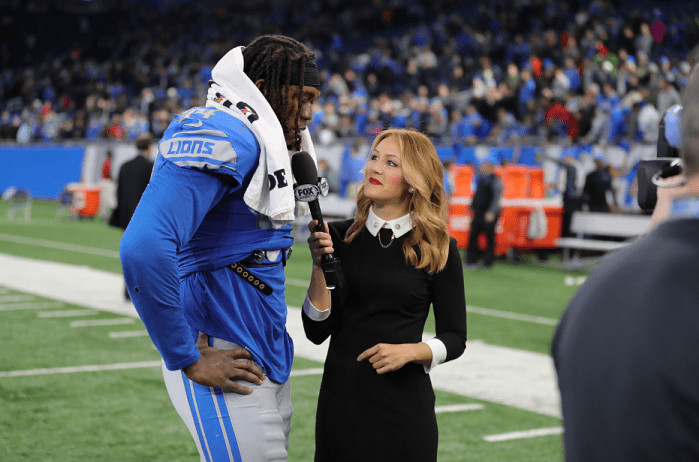 Petry had packed up and left Florida so quickly that it took a while for her furniture to arrive in Detroit. But she had bigger things to worry about. She had been raised on SEC football. She had a lot to learn about the Detroit Lions and their history.
"So I would sit in my empty apartment on my blowup mattress and just scour the internet," Petry says. "Just really study up as much as I could. And it was like that before I left for work in the mornings. It was like that after I got home from work in the evenings. It was just really digging in and being like, 'Hey, I know you doubt me right now. I know that you aren't convinced that this girl from Florida should've come up here and be covering this sports team that you've followed your entire life.' "
Petry decided it wasn't enough to learn everything she could about the Detroit Lions. She wanted to learn everything she could about the game of football itself.
In the offseason after her first year, she attended a conference for high school and college coaches.
"I mean, I looked so out of place," Petry says. "I am, you know, I am 5-foot-6, and I do not have a bulky build, by any means. Somebody approached me and was like, 'Hey, are you a football coach?' And I was like, 'Oh, no — I'm a journalist. I'm just here to learn.' And so they're like, 'You know, have you ever thought of playing football?' And I was like, 'Well, not until this very moment that you mentioned it.' "
The man's name was Keith Thomas. At the time, he was coaching defensive backs for the Detroit Dark Angels.
"I took down his name and the name of the football team," Petry says. "And I was like, ' Is this a real thing? Is this something that people do?' And I ended up looking it up online and was like, 'Wow, these girls are legit. This is a semi-pro football team. And this could be an opportunity for me to learn the game of football like I never have before.'
"So I called them up and he's like, 'Okay, come out to practice. Bring your pads and your helmet.' I'm like, 'Well, I don't have pads and a helmet!'
"Yeah, I definitely do try to prepare for everything. But in this particular situation, I don't know that there was much that I could prepare for. Because I just really did not know what was going to happen."
The Detroit Dark Angels
Tryouts had already come and gone. So Petry was just thrown into practices. And her teammates — some of whom had been playing the game for years — didn't take it easy on her.
"I remember one time in particular that I just got thrown on the ground so hard, I had to lay there and catch my breath for a second," Petry says. "And the girl stood over me — and this is my teammate, she was just trying to help me learn — she stood over me. And in that moment, she said, 'Now you learn to always keep your head on a swivel.' I was like, 'OK, you're right, I will. Because that really hurt.' "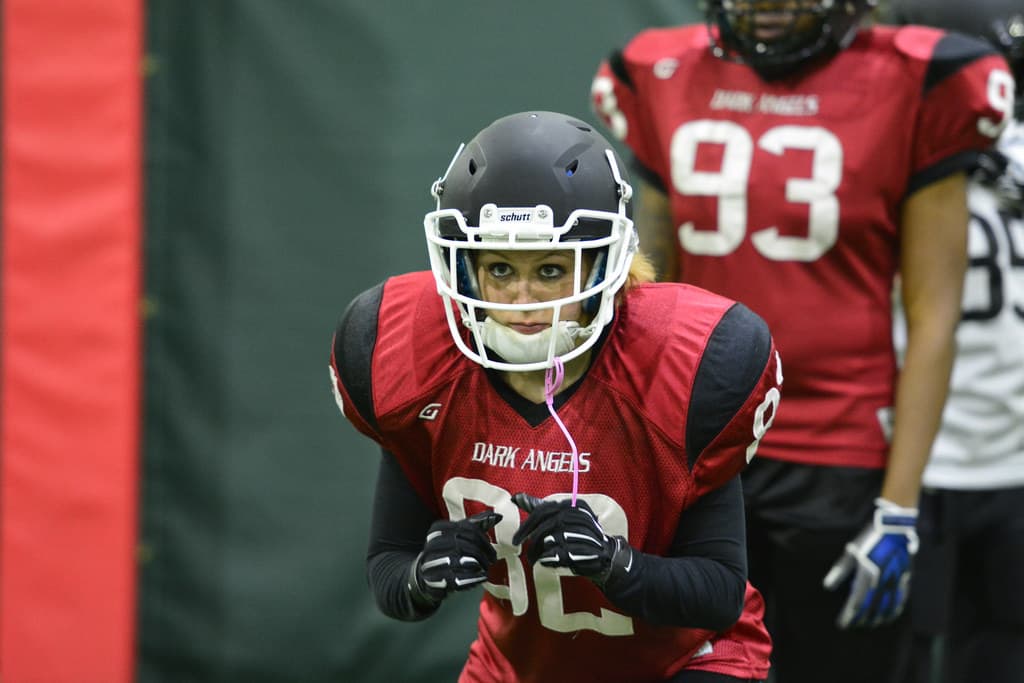 This was the hit that made Petry wonder if she was crazy to be playing football. But she stuck with it — mostly playing defensive back so she could give the hard hits instead of taking them.
A Double Life 
At first, Petry didn't tell the other women on the team about her day job. And she didn't tell her coworkers at her day job about what she was doing in her off hours. Which proved to be … complicated.
"I would show up to work just absolutely covered in bruises," Petry says. "So I would, like, wear long sleeves. And, you know, the season is from April to June, so it wasn't exactly long-sleeved season.
"Eventually, I did end up having a conversation. And I was like, 'Just so you know, this is kind of what's happening — this is why I have bruises.' And I think that there was like, 'Oh my gosh, are you going to do something to hurt yourself?' "
Tori Petry played two seasons with the Detroit Dark Angels. She eventually became a starter, and her highlight reel on YouTube shows that she had some skills. She had to stop playing when she could no longer juggle her work and football schedules.
Petry had a hard time leaving her teammates, who'd become friends.
"But I felt like I had really learned and grown in the ways that I needed to," Petry says. "I understand this game better. I can see it unfold better, because I've seen it from field level and watched it unfold from field level. I think that I can just watch football so much better now than before I played."
"I'm having a little bit of an internal struggle," I say. "Because, on the one hand, this is such a cool experience — and I get that you learned so much. On the other hand, I don't want women to feel like you can't cover football unless you go play."
"That's not the case at all," Petry says. "For me, this was just kind of what learning looked like, and I got a lot out of it. But if you can talk to people, if you can tell their stories, if you can help fans understand the game better, that's what covering sports is."
Tori Petry says she was never the best — or even the most glamorous — player on the Detroit Dark Angels. But as a reporter for an NFL team, she does have the biggest platform. And she wants to use it to bring attention to all the women who are playing the game today.
This segment aired on February 16, 2019.