Le Chevalier De Saint-Georges: Fencer, Composer, Revolutionary
Resume
Joseph Bologne was born in 1745 in the French West Indies on a plantation on the island of Guadeloupe.
"Black slaves in Saint-Domingue in Haiti and, presumably, also in Guadeloupe were forced to wear masks when they were picking sugar cane in the fields," journalist Andrea Valentino says. "Because if they didn't wear the masks, they were so hungry that they would try and eat the sugar cane. I mean, it was just unbelievable."
That might have been Joseph's lot. But thanks in part to his mastery of a sport, it wasn't.
Life Under The 'Code Noir'
"His father was a rich plantation owner, and his mother was Nanon, a black slave," Valentino says. 
Nanon was said to be the most beautiful woman in the French West Indies.
"He owes a lot to Mama," researcher and historian Mario Valdes says. "Both her color and his damn good looks."
Joseph's father was a minor nobleman named George Bologne de Saint-Georges. Most plantation owners would have disavowed their mistresses and illegitimate children. But Bologne did not.
France's Code Noir, or "Black Code," imposed harsh restrictions on freedom of religion, marriage and commerce for black slaves and nonslaves living in the colonies. So when Joseph was 7 years old, his father took Nanon and their son to France.
"He was well-dressed and very gentlemanly, and I'm sure everyone was quite delighted with him."

Mario Valdes, historian
"He enjoyed many of the privileges that a white, upper-class French person would have enjoyed in the 18th century," Valentino says. "He had a good education. He was well-off. They lived in St. Germain, which was — and still is — a nice part of Paris."
"I'm sure people would have gawked at him, because he was so good-looking," Valdes says. "He was well-dressed and very gentlemanly, and I'm sure everyone was quite delighted with him."
"But, at the same time, there's this undercurrent of racism everywhere he went," Valentino says.
When Joseph and his family arrived in France, they found that the Code Noir wasn't limited to the French colonies.
"That required every black person in Paris to register with the police," Valentino says. 
Joseph and Nanon did that. George Bologne's money and title helped shield them from some of the other effects of the Code Noir. But it wasn't until Joseph took up a sport that things began looking up.
Swordsman and Athlete
At school, Joseph Bologne studied math and history in the morning.
"And in the afternoons, he fenced," Valentino says. 
"If you were not a good swordsman, you need not come to dinner."

Mario Valdes
At the age of 13, Joseph enrolled in the Royal Polytechnic Academy of Weapons and Riding. His teacher was Nicolas Texier de la Boëssière, a master swordsman and a huge figure in the development of modern fencing.
"Fencing was really a way in which people could make their way in society," Valentino says.
"The sword was everything," Valdes says. "If you were not a good swordsman, you need not come to dinner."
In just a year or two, Joseph Bologne became an expert fencer. He began to compete against the best swordsmen of Europe.
One of his most celebrated contests was against fencing master Alexandre Picard, who had publicly called Joseph "La Boëssière's mulatto." That was a heavily loaded term, even in the 18th century. With pro-slavery and abolitionist spectators looking on and wagering, Joseph won the match.
"And his father was so pleased with him for having won this fencing match that he gifted him with a horse and a carriage that he used to drive around Paris — like the crème de la crème of Parisian society," Valentino says.
But Joseph excelled at more than fencing.
"Boxing. There's an image of him boxing," Valdes says. "He was a good runner. He was a good ice skater."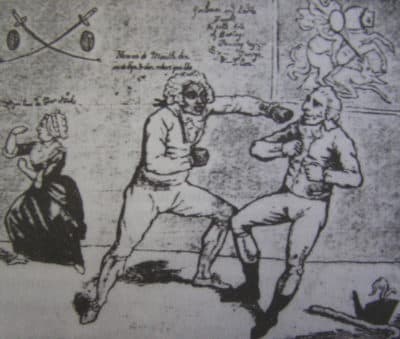 "He famously could swim across the Seine with one arm tied behind his back," Valentino says. "Shooting — one account says that he was the best marksman in Europe."
The United States' ambassador to France — and future US president — John Adams wrote in his diary:
He will hit the Button, any Button on the Coat or Waistcoat of the greatest Masters. He will hit a Crown Piece in the Air with a Pistoll [sic] Ball.
Joseph's dancing ability, along with his good looks and charm, made him a hit in the sophisticated salons of Paris.
"And, I suppose, because he was unusual as a black person in Paris, people were curious about him," Valentino says. "And women, in particular, were keen to dance with him."
Joseph Bologne danced and fenced his way into the hearts of French nobility. He graduated from the Royal Academy in 1766 and was made an officer in the court of King Louis XV. He was henceforth known as "Le Chevalier de Saint-Georges."
Darling of French Society 
That title brought new connections and patronage, which the Chevalier used to pursue a career in music. In 1769, he began playing violin in the Concert des Amateurs. Despite what its name might suggest, the group was made up of the finest musicians from the region.
"His playing must have been very, very good," says Jeanne Lamon, a concert violinist and the Director Emerita of Tafelmusik, a Baroque orchestra based in Toronto.
"There's something about bow technique and fencing that have something in common that he obviously had an amazing skill for," Lamon says.
By 1773, the Chevalier was Director of the Concert des Amateurs. Parisians flocked to concert halls to hear the virtuoso soloist and the music he composed.
"Those are pieces that feature the violin, and the parts he wrote for the violin are very difficult," Lamon says.
"Sometimes you find with composers who are also performers or players that they write virtuosic things to show off and that, when they try to write slow movements of music, there seems to be no depth," Lamon says. "What I love about Saint-Georges' music is that, as difficult and virtuosic as his fast pieces are, the slow ones are very, very tender and intimate. There's a very touching sadness to the slow parts that I find show that there was some depth to this guy.
"He was Marie Antoinette's music teacher for a while," Lamon adds. "And then was fired from that job, because they got 'too close.' "
But the Queen of France remained a supporter. She attended the Chevalier's concerts, sometimes unannounced. She accompanied him on piano at private performances. In 1776, when the Paris Opera needed a new director …
"She put his name forward to the king, who was then Louis XVI," Lamon says. "And the king wanted to please Marie Antoinette. And the king was entirely in favor."
But two singers and a dancer from the Paris Opera petitioned the queen. They said …
" 'Their honor and the delicacy of their conscience would not permit them ever to be subjected to the orders of a mulatto,' " Lamon recalls. "Rather than someone else get the job, Louis XVI decided to give it to no one."
But music continued to be the center of the Chevalier's life over the next decade and a half. He commissioned six symphonies by Joseph Haydn which he conducted himself. He wrote string quartets, concertos, symphonies and operas which were performed at Paris' Palais-Royale. He had money, fame and social standing.
But the coming French Revolution would change everything.
Le Légion Saint-Georges
"For a lot of his life, he was friends with the aristocracy . And so he owed a lot of his prosperity to the monarchy," journalist Andrea Valentino says. "And yet, when it came down to it, he decided to side with the Revolution."
"And, come the Revolution, a Legion — a black Legion — is organized," researcher and historian Mario Valdes says. 
"There was always this chain of race dragging behind him that was pulling him back."

Andrea Valentino
The Chevalier led 800 infantrymen and 200 cavalry against France's enemies. It came to be known as the "Légion Saint-Georges." He fought alongside General Thomas-Alexandre Dumas, the father of the great novelist Alexandre Dumas. Like the Chevalier, the Dumas men were black.
"The Chevalier educated [Alexandre] Dumas' father," Valdes says. "He educated him in swordsmanship." 
Dumas the younger must have learned about the fencing prowess of Le Chevalier from his father. Some believe that Thomas-Alexandre Dumas was the inspiration for Porthos in The Three Musketeers — and that Le Chevalier was the inspiration for the high-spirited and politically-connected Aramis.
When the French Revolutionary War ended, the Chevalier was a hero. He and his legion had fought and defeated the Austrian army at Lille. But he was a hero only for a little while.
"The French Revolution descended into this paranoid mess," Valentino says. "You could be a good revolutionary one day, and the next day you were the enemy of the people. And so Le Chevalier, like many other people who previously had been heroes of the Revolution, he was denounced. And he was in prison for a year. And he was lucky to survive, because many, many people who were arrested were just guillotined."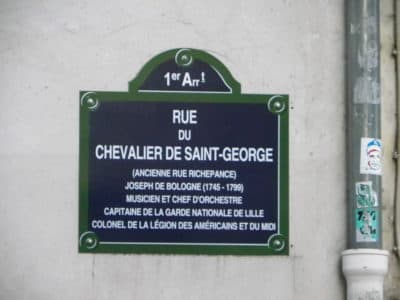 After his release, the Chevalier was unable to restart his military and musical careers.
"No matter how successful he was and how intellectual he was and how much an accomplished sportsman he was, there was always this chain of race dragging behind him that was pulling him back," Valentino says.
Long before the Revolution, George Bologne de Saint-Georges had returned to Guadeloupe to oversee his plantation. He died there and left his fortune to his white daughter. In the late 1790s, the Chevalier suffered a series of infections and stomach ailments. On June 12, 1799, he died of gangrene. He was poor, alone and just 53 years old.
An Unfinished Legacy
Much of the Chevalier's music was lost during the Revolution, and what survived was quickly forgotten. But a couple decades ago, the music world began to once again take notice of his work.
"Nowadays, he's rather more famous than he used to be in France," Valentino says. "People do recitals of his music quite a lot. A street is now named after him in Paris. So hopefully, this is the beginning of a revival in interest in Le Chevalier." 
The legacy of Le Chevalier de Saint-Georges is still being written. Perhaps his epitaph should be taken from a classic Three Musketeers line, delivered by the literary character he may have inspired, Aramis:
The merit of all things lies in their difficulty.
This segment aired on March 16, 2019.