From The Bullettes To The Wizdom: An NBA Dancer's Second Act
Resume
Last year, Anna Cruse began to experience dread. Her youngest child, Taylor, had been accepted to Clemson University, and Anna would soon be living in an empty nest.
"And, even though you know it's coming, right — I mean, the calendar pages keep flipping — it is something you can't anticipate how it's going to hit you," Anna says. "You just can't until you're in the middle of it, until you're experiencing it."
 Taylor left home in August of 2018.
"Your mind knows this is a positive milestone," Anna says. "But the profound emptiness is just hard to describe. And so I'm thinking, 'What in the world am I going to do? What am I good at anymore?' "
To answer those questions, Anna Cruse had to look back at something she was good at four decades ago.
The Washington Bullettes
In 1978, Anna Cruse was 21 years old. She worked as a word processing specialist in Maryland.
"And I was driving home from work one day and heard an ad on the radio for tryouts," Anna says.
The NBA champion Washington Bullets were holding auditions for their dance team.
"And I thought, 'Hmmm … I'm gonna do it. I'm gonna go and try out.' "
 Anna didn't have an extensive background in dance. But she went to the tryout anyway.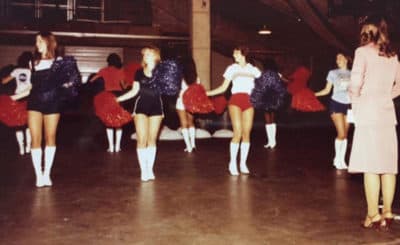 "All the way there, and even when you get there, you're like, 'What the heck am I doing? Why am I here? What am I doing?' "
Anna says most of the other dancers were NFL or college cheerleaders.
But she made the 1978–1979 Washington Bullettes dance team.
"All of it — the friendships and the performances, even the practice — it was all exciting," Anna says.
Anna planned to try out for the Bullettes the following season. But …
"In the fall of '79, I was diagnosed with thyroid cancer. Very unexpected, very out of nowhere. It just was a little bit of an ordeal," Anna says.
After a year of fighting, Anna beat the cancer. She returned to her job as a word processing specialist, but not to the Bullettes. In the late '80s, she gave birth to a daughter, the first of her three kids.
"My greatest joy, hands down, has been being a mom," Anna says. "So I just poured everything into that. Into the stuff at school, into, 'Yeah, they can all come over.' Into this and that. So it would have been lunacy to me if I had thought about dancing even as a hobby. Or going to take a class, or anything like that. It just wasn't even on my radar."
But that wasn't entirely true.
Sometimes, when Anna watched dancers at an event or on TV, she'd remember how much she loved being one.
"You know, maybe sit there and let my mind wander about knowing how that felt, and how exciting it is," Anna says. "And betting I could still do that move."
A Second Chance To Dance
The years flew by, and Anna's two oldest kids left their home in Greenville, South Carolina. Then, in March of 2018, the Washington Wizards held a 40th-anniversary celebration of the franchise's only NBA title — from back in the days when they were still the Bullets.
"And so they invited all the players back, and the coaches," Anna says. "And then any of the dancers through the years — I think there were about 60 of us — and we got to perform at this event. It sure reminded me of how enjoyable it was. And the feeling you cannot describe while you're waiting there in the wings, and you're waiting to go out there and perform."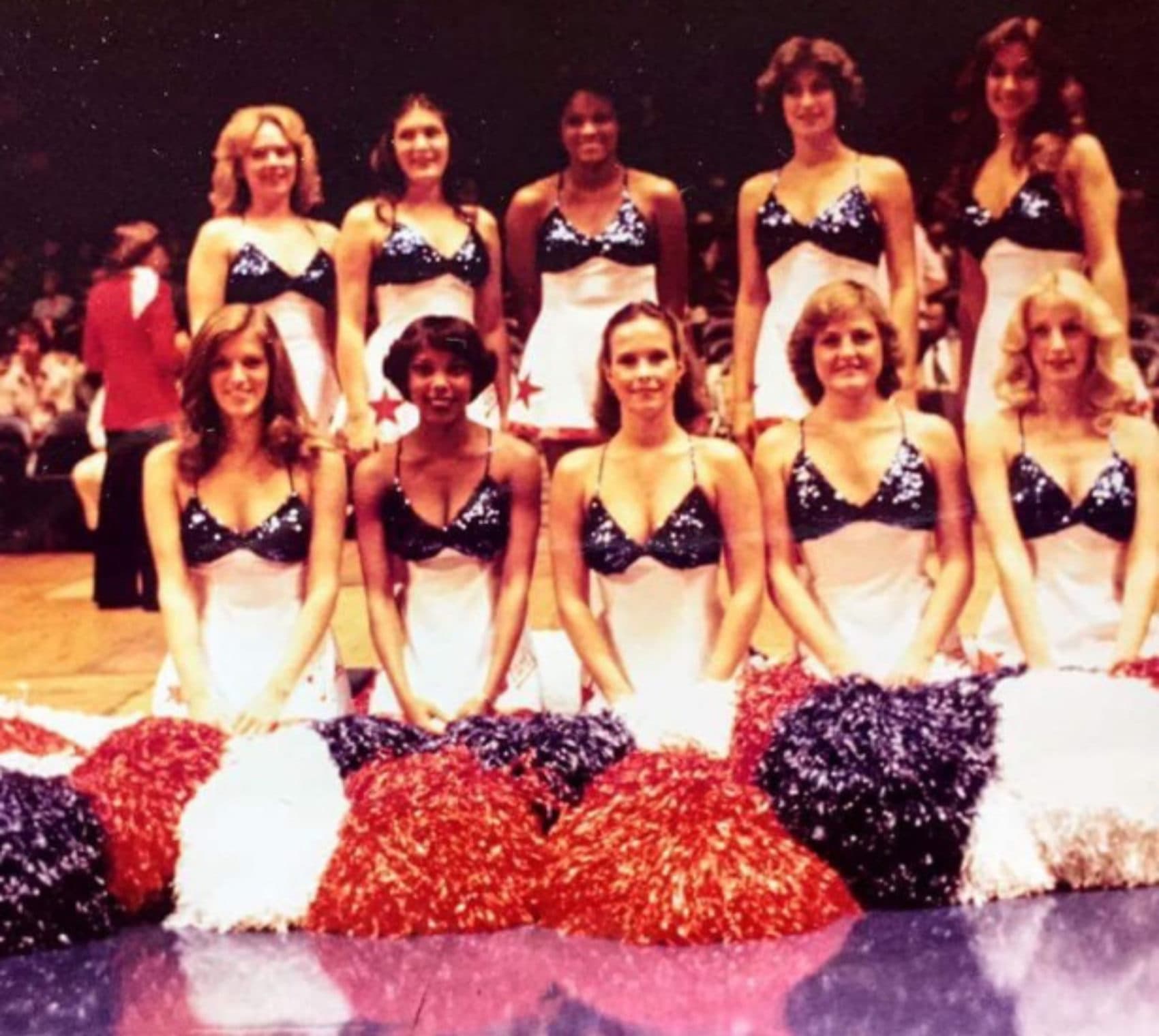 Anna wanted to hold onto that feeling. Her youngest child was preparing to leave for Clemson University in the late summer, and that empty nest was looming.
"And so I'm thinking, 'What in the world am I going to do? What am I good at anymore?' Then this opportunity with the Wizards showed itself, just absolutely out of nowhere."
The Wizdom
In early September, about a month after her daughter left home, Anna got an email.
"And boy, oh boy, it seemed like perfect timing to me," Anna says.
The Wizards were holding tryouts for a new dance team — or perhaps a new older dance team. It was for dancers 50 and older and was sponsored by the AARP. It would be called "The Wizdom."
"God was saying, 'Here. Here's an open door. Now, what are you going to do with it?' " Anna says.
Her answer was to, in her words, "Get serious about my moves." She learned the latest hip hop steps on YouTube. Her younger daughter taught her what she called "booty pop." In late September of 2018, undeterred by the eight-hour drive from her home in Greenville, she tried out for The Wizdom.
"Again, I get there and I'm like 'What am I doing? This is ridiculous.' But it was my heart's desire to do this," Anna says.
Anna had hardly danced over the previous 40 years. She says there were more than 80 dancers at the tryout, ranging in age from 50 to 76.
"Absolute characters," Anna says. "Totally uninhibited. Comfortable in their own skin, and just entertaining folks."
Anna was told final decisions would be made in a couple days. She waited about a week and began to think she hadn't made the team. Then, late one night, she got an email. 
"And I had just gotten home, and there it was," Anna says. "It was so exciting."
Anna Cruse had been chosen as one of the 20 members of the Wizdom over-50 dance team. Her daughter Taylor happened to be home from Clemson for a visit.
"And she was screaming and jumping up and down with me, and I didn't feel like a mom and a 60-year-old," Anna says. "I felt like a girl."
Work Begins
Anna was once again a member of an NBA dance team. She says she was nervous about making the 16-hour round trip by herself. But then she began to enjoy the drives to practice every Sunday. Sometimes, she'd take a route that would bring her through the Shenandoah and Blue Ridge Mountains.
"It's just breathtaking scenery," Anna says. "I learned that I could make eating an apple last 30 minutes. So it was just part of the journey. It just became part of my routine."
After a while, she learned not to dread the eight-hour drive.
"I mean, if I'm making good time, seven and a half," Anna says.
The Wizdom got just four practices in before their debut on Nov. 24, 2018.
"The fans … so gracious. And the affirmation from them, and the excitement of the fans to this over-50, like, 'What are these women out there doing?' " Anna remembers. "When we came off the court that first game, I mean, these ladies were screaming and hugging."
Three of those women were on the Bullettes with Anna 40 years ago. Another dancer, whose grandson is a member of the Wizards' regular dance team, is 76. One of them is a guy. And all of them have moves.
"You know, to see these women in their 60s and 70s who are shaking their groove thing and doing the Tootsie Roll and these dances, and just the sheer fun and the joy we're having, like, whoever's watching us or cheering us on, it's like 'We're you,' " Anna says.
For the record, Anna's husband, Michael, is completely supportive — but maybe not always for the right reasons.
"Oh, he's gotten some mileage out of this, I don't mind telling you," Anna says. "He'll say, 'Well, I told them my wife dances for the Washington Wizards, and they're like, "What? How old are you?" ' The guy has played that card more times than I care to think about."
'I Know I Can Do This'
The Wizdom danced at 10 games last season. Sometimes, Anna stayed with friends or at a hotel so she wouldn't have to commute for a game on a Friday or Saturday and then again for practice on Sunday.
And Anna realized something: maybe the dreaded empty nest syndrome wasn't so dreadful after all.
In fact, she says having no kids at home was the only way she could have chased her latest dream. And the whole experience gave her new confidence.
"It makes you feel like, 'Well, if I did that, I know I can do this,' " Anna says. "And I can. I can do it. Like, here I am, 61 years old, but I have learned that I still have stuff to learn, right?"
Anna will spend some time with Taylor when she's back from Clemson this summer. And this time, she's looking forward to the fall. She's going to try out for The Wizdom again.
"You know, now that I've been bit by this bug, how can I not?" Anna wonders.
She's already thought about what she'll do to fill that void if she doesn't make the team.
"Well, hello … I don't know if the Charlotte Hornets have an over-50 dance team," Anna says. "But I think they should."
They don't. Which is too bad, because Anna's commute to Charlotte, North Carolina would be a mere waltz — less than two hours each way. But maybe soon. There are already about a dozen 50-and-over squads dancing at NBA venues. And that number is likely to increase.
For Anna and all the other dancers 50 and older, that sort of growth is good news.
The opportunities it brings just never grow old.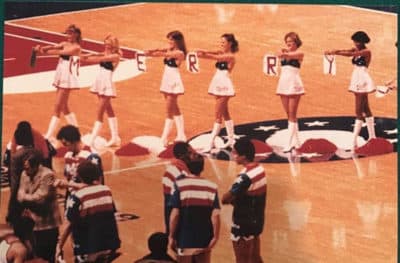 This segment aired on May 18, 2019.