An 'Only A Gamer's' Chance Meeting With A Boston Celtic
05:57
Play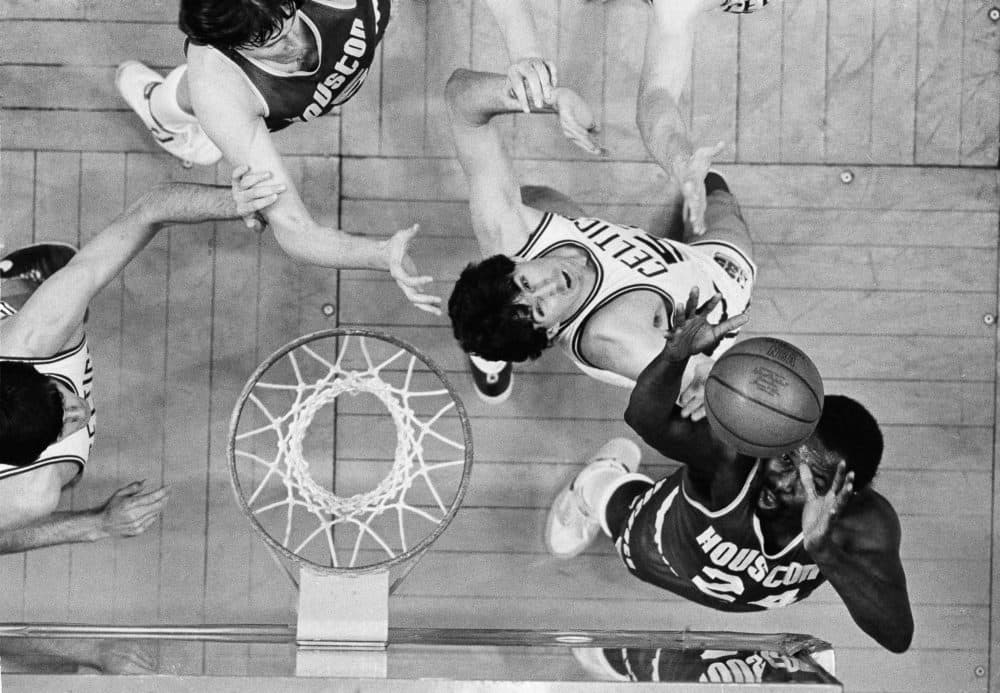 This article is more than 2 years old.
Thursday May 7, 1981 was not a banner day for the Boston Celtics.
In Game 2 of the NBA Finals, the Houston Rockets outplayed the Celtics from the outset. In the first quarter, Boston's All-Star center, Robert Parish, went to the bench with foul trouble. He stayed there most of the game. Rockets center Moses Malone dominated. Backup Rick Robey tried everything he could to stop him.
At the time, I was a skinny college freshman living a few miles west of the old Boston Garden. Alone in my room, I watched Game 2 on my tiny color TV. The refs had swallowed their whistles, and Malone was turning Robey and the entire Celtics front line inside out. Malone ended the game with 31 points and 15 rebounds.
That loss hurt. "Food should help," I say to myself.
The Meeting
I walk across Beacon Street and order the usual — medium with sweet onions — at the local pizza joint. I drop a quarter into the jukebox.
Then the front door opens. This guy walks in. He's about 6-foot-11. He's wearing an ankle-length fur coat. His 10-gallon hat is decorated with a ridiculous arrangement of feathers and Western-style buckles.
It's Rick Robey, who I had just watched on TV getting beaten up by Moses Malone and jobbed by the refs. I stifle a smile.
He approaches the counter and orders two extra-large cheeseburger subs — with everything. And a large pizza. These were the days well before the team-sponsored postgame buffet.
"Hey, Rick," I say.
He nods "hello" from under the brim of his spectacular hat.
"What the heck went wrong tonight?" I ask.
He shrugs.
"I mean, Moses Malone played the entire 48 minutes and was called for just one foul," I say. "You had four fouls coming off the bench."
"Well," Robey says in his Kentucky drawl, "The refs know he's the big star. And I'm just the backup center."
We chat a little more. He's very pleasant for a guy whose team just lost a big game. He picks up his order, tips his ridiculous hat, smiles … and he's gone.
The Debacle Remembered
Over the years, I've wondered if Rick Robey remembered our conversation.     
"Well, I really don't," Robey tells me.
I figured he wouldn't have remembered that. But he did remember Game 2 of the 1981 NBA Finals.
"It was a game, I think, that we ended up losing at home," Robey says. "Correct?"
Correct.
And he also recalled something about the refs being just a bit unfair that night.
"In the league, sometimes the big stars can get away with a little bit more than the guys that are not in the headlines every day," Robey says.
Robey also acknowledges, somewhat reluctantly, his 1981 fashion choices.
"You know, Bird, McHale and I, last time we were down in Texas, we had all bought these hats," Robey says. "And, obviously, I must have worn it because of Houston. So …"
"Do you still have it?" I ask.
"No, I don't," Robey says. "And I don't have the fur coat, either."
"That's probably a good thing, I think," I say.
"That's a good thing," he says.
Furious Fitch Vs. The Chalkboard
And there's another thing Robey remembers about that game: it happened at halftime of Game 2 of the NBA Finals that no one watching on TV could have known.
 It involved fiery Celtics head coach Bill Fitch.
Fitch, a former Marine drill instructor, suffered from back pain that postseason. He bellowed at his players, and at the refs, even more than usual.
"Well, that was the way Bill was," Robey says. "He had a real strong personality. And we weren't playing the right way that night. Fitch that day finally said 'You know, it was time for me to step in here and try to get people playing.'
"Fitch came into the locker room probably as mad as I've ever seen him. He shattered a chalkboard," Robey says.
After the game, some beat writers saw the remains of that chalkboard with some of the Celtics' plays still drawn up on it. The story made the papers the next morning. When I read about it, I appreciated all the more how friendly Robey had been with me right after the loss.
Champions  
But things turned out just fine for Rick Robey and his teammates. The Celtics won the 1981 NBA Finals 4–2. Robey even ended up with the Game 6 ball.
"I had the actual ball when the buzzer went off," Robey says. "I stuffed it in my gym bag. And then I had Red Auerbach, the whole team and all the coaches sign it. And I can always say I have Larry Bird's first championship ball sitting on my shelf."   
Things turned out OK for me, too.
After many more pizzas with onions, I graduated. The pizza shop is no longer there, which is too bad. But now, I sometimes get to talk with people about the NBA Finals and silly hats and chance meetings too weirdly wonderful to ever forget.
This segment aired on May 25, 2019.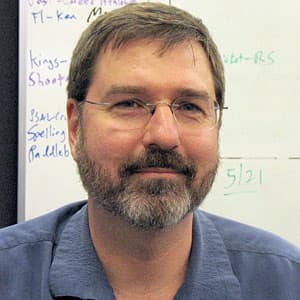 Gary Waleik Producer, Only A Game
Gary Waleik is a producer for Only A Game.