Art Shamsky And The '69 Mets Reunite With Ailing Tom Seaver
08:34
Play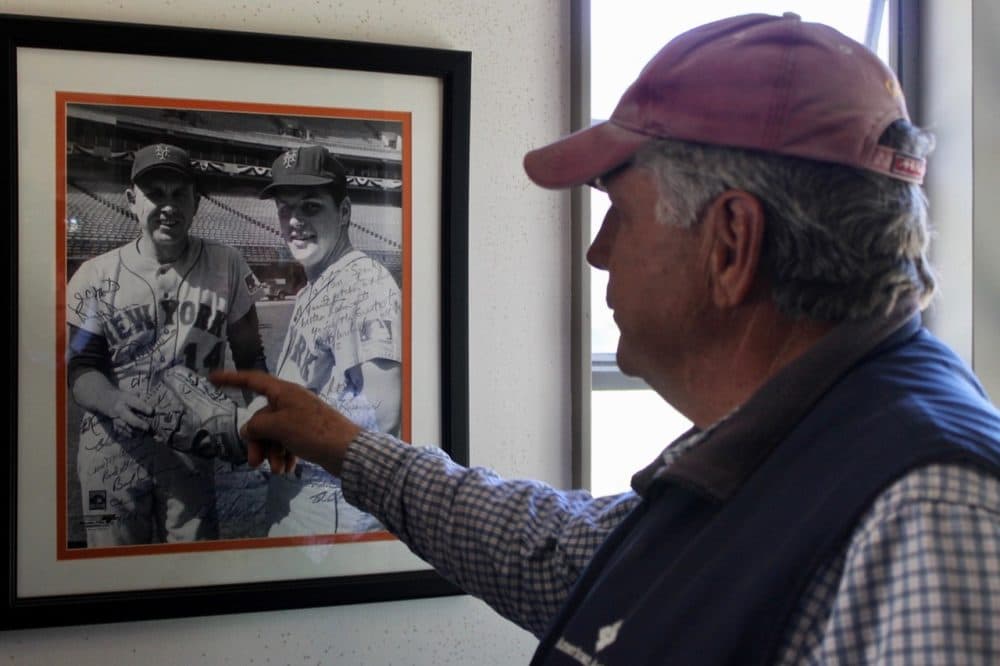 This article is more than 3 years old.
Memory is a funny thing.
It can change over the years. Sometimes by a couple hundred feet.
"You know, those home runs that I hit went 550 feet instead of barely making it over the fence," says Art Shamsky, who hit 14 home runs in 1969 as a utility player for the New York Mets. "But who cares?"
But memory can do more than exaggerate. It can fade. And then it can disappear altogether, which it's almost done for one Hall of Famer who was a key member of the '69 Mets.
The 'Miracle Mets'
As any Mets fan from the age of 2 to 102 will repeatedly tell you, the 1969 baseball season was full of a rare kind of magic.
The Mets were horrible during their first six seasons and only somewhat better than that in 1968. But, on the very first day of 1969 spring training, Mets manager Gil Hodges had a message for his team.
"He basically said, 'You know, you guys are better than you think. You lost a lot of one-run games. If you can find some way to win those close games, anything can happen,' " Art Shamsky remembers him saying. "And, basically, he was right."
After a lousy start, the Mets went on an 11-game, late-spring winning streak behind the lockdown pitching of Jerry Koosman and 24-year-old ace Tom Seaver.
"And any time he pitched," Shamsky says, "you knew that he was capable of pitching a complete game, and winning."
When the 1969 regular season ended, the Mets were 100–62. Tom Seaver finished with 25 wins and just seven losses. He'd later win the National League Cy Young Award. He was widely celebrated in New York as "Tom Terrific." But his teammates also knew him as the humble heart and soul of the team.
The Mets made the World Series. But many predicted New York's Cinderella season would end there against the powerful Baltimore Orioles. Seaver took the mound for Game 1, and the Mets lost. But they bounced back to sweep the next four games.
The Mets were heroes in New York.
"I've talked to a lot of people over the years, and probably 150,000 have told me they were at the last game on Oct. 16, 1969, when we won the World Series," Shamsky says. "And I think Shea Stadium at the time probably held 53,000 at most. And either they were there in spirit, or they were there in person — it doesn't make any difference. Because I just think, you know, they were there."
In the years and decades that followed, members of the "Amazin' Mets" remained in the public eye. They'd attend events where the former teammates would relive their glory days. But Shamsky knew that those opportunities wouldn't last forever.
The Trip
Shamsky had heard that Tom Seaver was suffering from Lyme disease, which was affecting his memory. He called shortstop Bud Harrelson, Tom's friend and roommate on the road. Harrelson lived on Long Island and was in the early stages of Alzheimer's.
"We thought it would be a good idea for him to go out there and see Tom," Shamsky says.
So in late 2016, Shamsky decided to organize a visit to see Tom Seaver, who lived with his wife, Nancy, at their Calistoga, California vineyard estate. Shamsky also recruited former Mets outfielder Ron Swoboda, who lived in New Orleans, and pitcher Jerry Koosman, who lived in the Midwest.
"The two of them were just characters," Shamsky says. "I knew that if I got them together, I could stir some memories and stir some interesting conversation."
Shamsky called Nancy Seaver and asked if they could visit Tom for a couple days.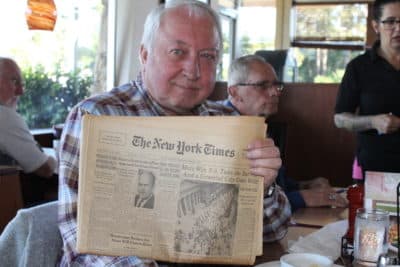 "And she said, 'You know, you might come out here, and he might not feel too good, and it might be a wasted trip,' " Shamsky recalled.
Shamsky and the gang decided to risk it anyway.
In May of 2017, the group arrived at the airport in San Francisco. They hopped in a rented van and headed north to Napa Valley. That evening, as they neared the Seaver home in Calistoga, Shamsky called Nancy to tell her they were almost there. She said …
" 'It's late today. I don't think it's a good idea.' "
Shamsky and his teammates stayed that night at a nearby hotel. They had no idea if they'd be able to see Tom Seaver before they had to drive back to San Francisco and fly home.
"And the next day, I called her," Shamsky says. "And she said, 'You guys are in luck. He's feeling pretty good today. Get over here as soon as you can.' "
"Physically, he looked great," Shamsky says. "And it was just awesome for all of us to sit around and talk. And we spent eight or nine hours just reminiscing and talking about the team and talking about things that were important to us."
Seaver took Shamsky, Harrelson, Swoboda and Koosman on a tour of the vineyard. For two decades, Seaver and his wife Nancy had lived on their 116-acre estate. They now produce about 500 cases of cabernet sauvignon per year. Seaver told the guys that he tended his vines every single day.
"And he showed us what he does to help prepare the grapes for the wine," Shamsky says. "And he loved being out in the vineyards, and he loved that part of his life."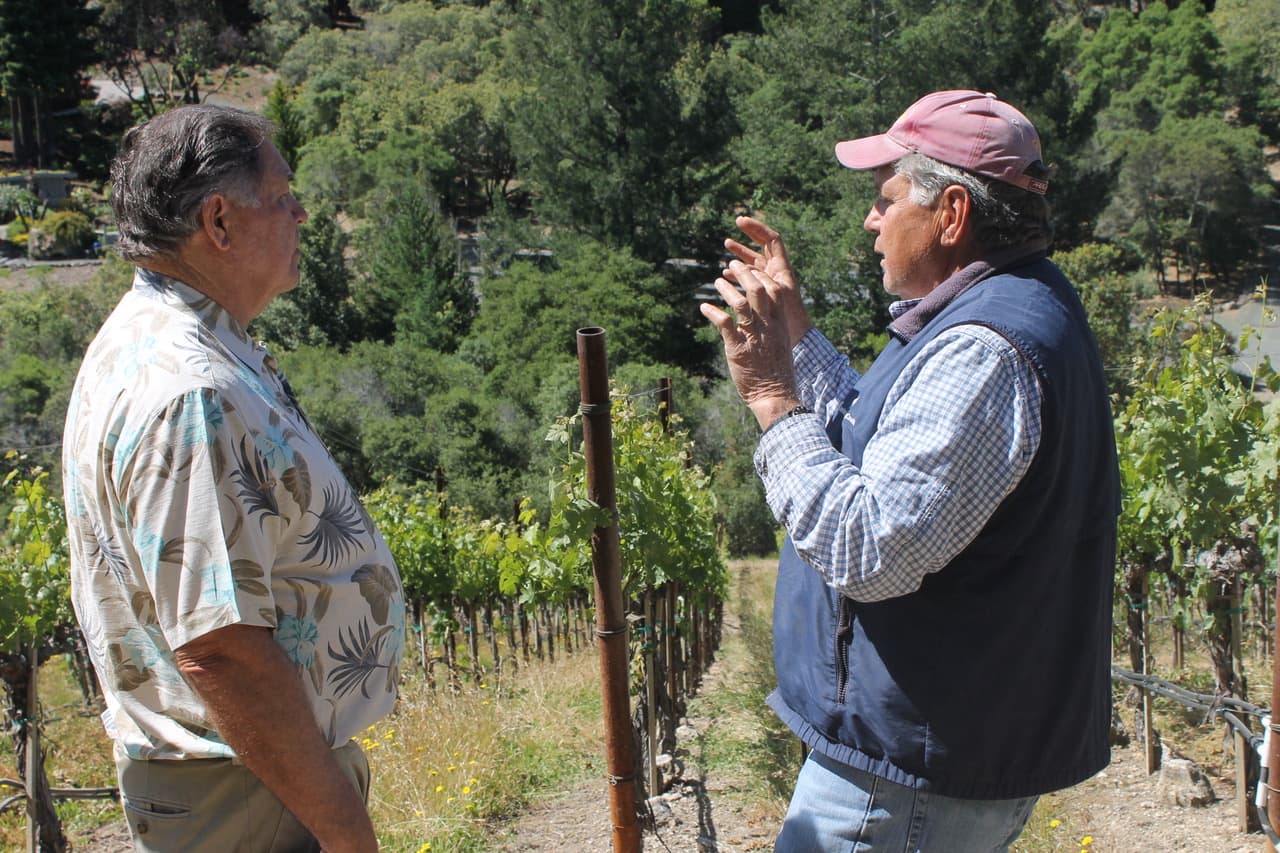 Seaver pruned grapevines as they walked, and he told them all about irrigation, cultivation and the business of winemaking. Seaver seemed just fine to his old teammates.
'Are You Guys Here To See The Vineyard?'
On the last day of their visit, Seaver suggested lunch at a downtown Calistoga restaurant. His Lyme disease kept him from travelling much.
"And so I figured he was going to hop a ride with us in the van that we rented," Shamsky says. "He said, 'No, I'll drive.' And he looks at me and Swoboda, and I don't think both of us were real crazy about that idea."
The Seaver vineyard is on the side of a mountain. The road to town is windy and treacherous. Shamsky and company wondered if Seaver would forget the directions — or worse.
But Seaver prevailed, and, after a long, slow crawl down the mountain, they arrived at the restaurant.
"He's like the king there," Shamsky says. "He walked in. Got a couple bottles of wine. And it was really good wine."
For the record, it wasn't Seaver's, which retails for $150 to $350 a bottle, depending on the vintage.
"Yeah, we wanted to taste his wine," Shamsky laughs. "But I guess the cheapskate didn't want to give us any of his wine."
They talked for several more hours. Shamsky says Seaver remembered a lot about the Mets' 1969 season.
"Oh, he did. He did. He remembered about the playoffs, and it was just wonderful," Shamsky says.
"You have these relationships, and you have these feelings for guys. They're your brothers. You won with them, and you lost with them. But you shared this golden moment."
They talked for several more hours, poring over details as only ex-teammates can.
And then Seaver asked a question: "Are you guys here to see the vineyard?"
Goodbyes
After lunch, it was time to leave.
"We said goodbye out in the parking lot of the restaurant," Shamsky says. "And all of us felt a little twinge. Because you get to a certain age — and it wasn't just about Tom saying goodbye. It was about all of us. And so, when we said goodbye, it was bittersweet."
Shamsky returned home to Manhattan and began work on a book about the 1969 Mets and the trip to visit Seaver.
And then, on March 7 of this year, there was bad news: Seaver had been diagnosed with dementia. His family announced that Seaver had made his last public appearance. He'll spend the time he has left with family at his Napa Valley estate.
"It's like a kick in the gut," Shamsky says.
The Mets will honor members of the 1969 team during a three-game series against Atlanta next weekend. Shamsky says he'll be there with many of his former Mets teammates. He's looking forward to it. But he can't help thinking about Tom Seaver.
"I don't know if he'll make it . I really don't," Shamsky says.
He does know. But can you blame Art Shamsky if he can't bring himself to rule out the possibility of just one more golden moment? One more conversation full of happy memories with his friend Tom Seaver?
Art Shamsky's new book is "After the Miracle: The Lasting Brotherhood of the '69 Mets." It's co-authored by Erik Sherman, who was also on the trip to see Tom Seaver.
This segment aired on June 22, 2019.