Why One Young 'Only A Game' Listener Thinks A'ja Wilson Is The GOAT
Resume
Last fall, we looked back at the history of signature basketball shoes in the WNBA and also heard from Seimone Augustus about her first pair of Air Jordans. Recently, Breanne Grace, a professor at the University of South Carolina and a loyal listener, wrote us to share a story about her 5-year-old son, Silas.
"Silas and I were running errands, and we were coming back from the grocery store," Breanne says. "And Silas was sitting in the backseat of the car. And he said, 'Hey, Mom, what are Jordans?' And I said, 'Oh, yeah. You know, Jordans are a pair of shoes. They were really popular when I was a little kid, and they're still popular today.'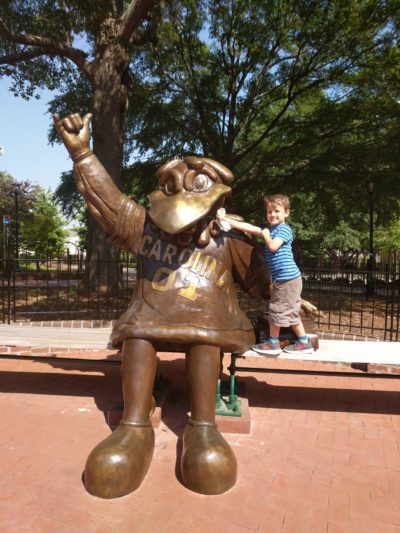 "And I said, 'Jordans are named after Michael Jordan.' And he asked me, 'Well, Mom, who is Michael Jordan?' And I said, 'Oh, Michael Jordan! Well, sometimes people say that he's the greatest basketball player ever.' "
" 'Oh,' my son replied, 'So he's like the boy version of A'ja Wilson. I need A'ja's shoe to play in.' "
When Silas was a kindergartner at the University of South Carolina, Wilson — now a star for the WNBA's Las Vegas Aces — read to his class at the library. Breanne says he's been a fan ever since.
"As somebody who grew up playing sports in their childhood — but I didn't have a lot of women athletes to look up to at that time — to hear my son talk about a woman athlete as the greatest athlete of all time was pretty cool," Breanne says. "A'ja is a real kind of persona here. She does a lot of important philanthropic work here. And so I thought it was pretty cool that he looked up and admired A'ja in a way that, you know, I didn't have a lot of women athletes that I could look up to when I was little."
To hear the full conversation with Breanne Grace and Silas, click the red play button at the top of the page.
This segment aired on July 13, 2019.