LAX Legend John Grant Jr. Returns To The Field For His Daughter
09:57
Play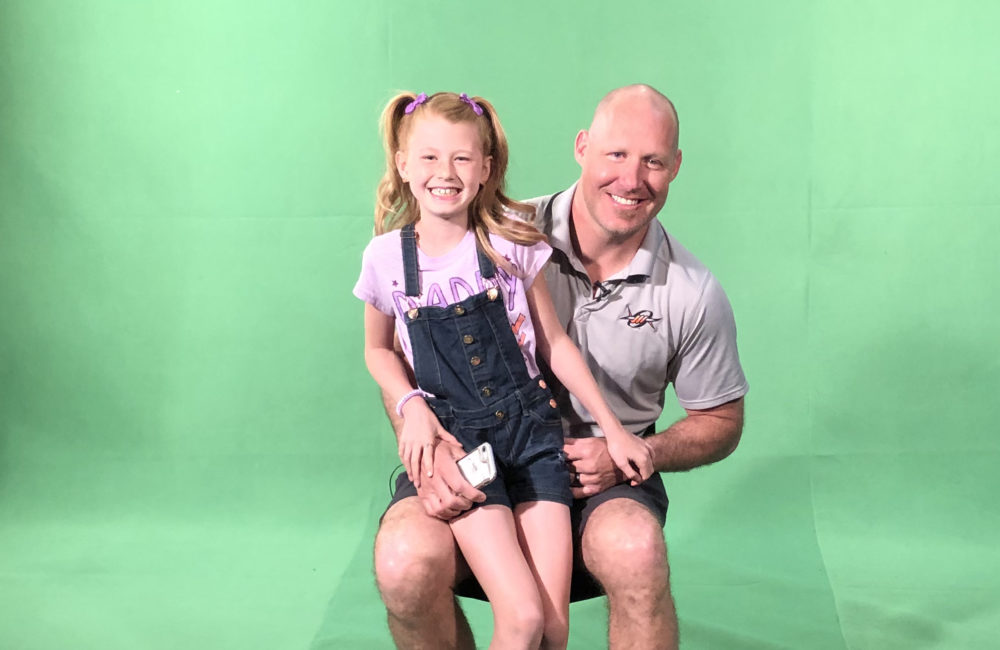 When John Grant Jr. announced his retirement from Major League Lacrosse in April of 2017, he sounded like a guy resigned to his fate.
"I've been playing longer than I think anyone thought I would," he told reporters at the press conference. "My body retired in 2009, but I think my heart just finally can't propel myself to play anymore."
John was 42. His knees had been going for a long time. But the real problem was the concussion he'd suffered a few months earlier. He just hadn't been able to shake it.
He had a family now, he told reporters. He needed to be there for them.
In the video, John looks calm. Retrospective. Confident in his decision. But there were hints of doubt.
"I just love this game," he said. "I've been playing literally since I was in diapers. I'm 42 now. Thirty-nine years ago, I picked up my dad's stick and started smacking people with it. And it's all I've ever done."
The Family Business
John Grant Jr. is the son of John Grant Sr., a legend in Canadian lacrosse. John Jr. grew up watching his dad play.
"Yeah, I went to every game, every practice. It was kind of the family business," John says of his childhood.
When John was old enough to pick a number, his dad's No. 12 wasn't available. So he asked for No. 24 and decided to be twice as good as his dad. And he was.
John Jr.'s goals would send the commentators into fits … and sometimes show up on ESPN.
But this story isn't meant to be about John Grant Jr., the lacrosse player. Or even John Grant Jr., the son.
This story is meant to be about John Grant Jr., the dad.
And that story begins in August of 2008.
A Narrow Escape
John was playing in a championship series for his hometown team, the Peterborough Lakers, when he fell and ruptured the bursa sac in his elbow.
To make things worse, John was simultaneously playing in another championship series for the Rochester Rattlers of MLL. (Believe it or not, this sort of schedule conflict happens in lacrosse.)
John's elbow swelled to the size of a tennis ball. He couldn't get his arm pads on.
"We actually rented a cottage to kind of lay low and hang out in between games. And the doctor actually came out on his motorcycle and decided to drain it," John says.
Even after the procedure, John was still in a lot of pain.
"But won our first championship with the Rochester Rattlers on a Sunday, and then went and played in Game 6 in the eastern Canadian championship," John says.
This time, John's team lost.
That night, he blacked out from the pain. His mother-in-law heard him fall and took him to the emergency room.
An infection had spread through his body and attacked his left ACL, which had been replaced five years earlier. His knee was the size of a basketball. He'd gone septic.
"My wife was called to possibly say goodbye," John says. "And they asked her if they could chop my leg off. Thankfully, she said, 'No, don't do that.' Forty days in the hospital. Lost 40-some-odd pounds."
Doctors removed John's infected ACL. Four months later they operated again to give him a new one.
He was back on the field five months after that.
I Had To Grow Up
But John's brush with death made him realize that he needed something in his life that was more important than lacrosse.
So he talked to his wife, Raygen, about starting a family.
"And Gabby came around March 14, 2010, gave me something to focus on," John says. "I had to grow up."
John says he's still working on that last part.
John, Raygen and Gabby moved to Colorado to start a new life. John got a job coaching lacrosse at a high school and continued to play professionally in MLL and NLL (that's the indoor league) and MSL (that's the league in Canada).
Gabby came to all of John's home games. She was his biggest fan. Sort of.
"I think it took everything in Raygen's power just to keep her seated — not running around and wanting to dance and sing," John says. "She was more focused on the cheerleaders. She was into the dancing and stuff."
Gabby is 9 now. She doesn't remember much from those games.
"All I remember is that every time that my dad was on the field he would get, like, a goal in, like, every 10 minutes," she says. "And my favorite ones was his behind-the-back goals."
But as Gabby danced along with the cheerleaders, the clock was ticking on her dad's career.
In January of 2017, John got concussed. Bad. By April, he still hadn't recovered. That's when MLL's Denver Outlaws asked John if he was interested in coaching in the pros.
"I think it was a way for me to still stay in the game and maybe stay relevant, so to speak," John says. "But once I started doing it, I got really, really charged up by it. And it kind of started to become an obsession like playing was."
Finding A Sport For Gabby
But if you think this is the part of the story where Gabby picks up her dad's stick and carries on her father's legacy, you'd be wrong.
Because Gabby Grant hated playing lacrosse.
"I was on a half boys, half girls team," Gabby says. "So whenever I played, the boys would just tackle me. I just got hurt a lot and I didn't like it."
John says he didn't mind that his daughter hadn't taken to lacrosse. She tried tennis and golf, but she was bored. She needed a team sport …
"Any team sport," John says. "She tried soccer. Hated it."
Then Gabby tried basketball, with her dad as her coach. And she liked it. So John decided to try his daughter on lacrosse once more.
"Once she was able to catch — she had that light-bulb moment in the backyard where she could catch — and I said, 'You know what? Maybe we can get you playing again,' " John says.
John knew that Gabby was more likely to stick with lacrosse if her friends were playing, too. So he asked one of the women from the Denver Outlaws to come coach his daughter and her friends in his backyard.
Before long, Gabby was hooked.
"I'm older and tougher now," Gabby says. "And I'm on a team with all girls. And I just like it a lot now."
"What do you like about it?" I ask.
"I like that you get to score goals," Gabby says. "And I like that you're on a team, too. Because after the games, we always go get Slurpees or ice cream after. And that's always fun."
Now that Gabby was playing lacrosse, she was better able to appreciate those behind-the-back and over-the-shoulder goals her dad was always making.
Trouble was, John wasn't making those goals any more. He was stuck on the sidelines, coaching. And Gabby ... didn't like it.
"It was always funner watching him play than coaching because I didn't really get to see him do anything," Gabby says.
"Because he's just standing on the sides talking to people?" I ask.
"Yeah," Gabby says.
"And sometimes yelling, right?" John asks.
"Yeah," Gabby agrees.
Coming Out Of Retirement
John wanted to give his daughter what he'd had, lasting memories of watching her dad doing something he loved — and maybe some inspiration to go after her own dreams when her time came around.
So, on May 26 of this year, just five days before the start of the season, John Grant Jr. came out of retirement to play for the Denver Outlaws.
John's return was billed as a chance for him to reclaim his spot atop the all-time career scoring list. Which he did.
Cynics called John's return a publicity ploy for the league. And it was that, too.
But for John, it was something more. It was a chance to play another season … as a family.
And Gabby is watching.
"Now I see that he's really the best player," Gabby says. "Well, he used to be. And I get so mad when they don't pass it to him because they see him limping. I think that's why they don't pass to him. I really want him to score more goals."
"Trust me," John says, "I want to score more goals, too. I used to get 15, 16 shots a game. Now, sometimes I'm lucky if I get one or two. But if every once in a while I can get a goal on SportsCenter for Gabby to see, then that's icing on the cake."
"If every once in a while I can get a goal on SportsCenter for Gabby to see, then that's icing on the cake."

John Grant Jr.
"You know, people are asking, 'What about next year?' I'm like, 'I'm not sure I'll be able to physically play next game,' " John says. "So we're just kind of living this one day at a time, one week at a time. You could ask Gabby, but it's been a pretty amazing summer so far."
"Has it been amazing?" I ask Gabby.
"It's been awesome," Gabby says. "And I'm not ready to go back to school yet."
"Me either," John laughs.
Gabby still has a lot to learn about the game of lacrosse, but she's already picked out what number she wants to wear.
"I want to be No. 48, because I'm going to be two times better than Daddy," Gabby says.
"You see the pattern emerging here," John says.
Summer is coming to an end. But John Grant Jr. hopes to play for another ring – it would be his sixth – when Major League Lacrosse holds its championship weekend in Denver in early October.
This segment aired on August 17, 2019.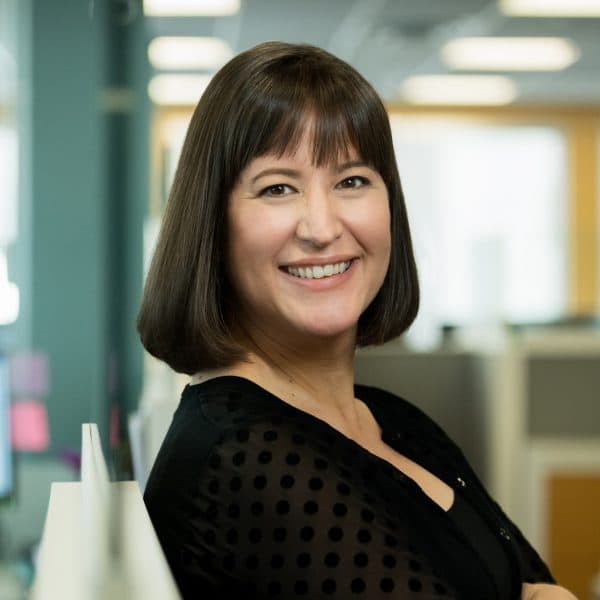 Karen Given Executive Producer, Only A Game
Karen is the executive producer for WBUR's Only A Game.