'Anything Can Happen': How A Motorcycle Cop Gave Fort William FC A Big Lift
07:51
Play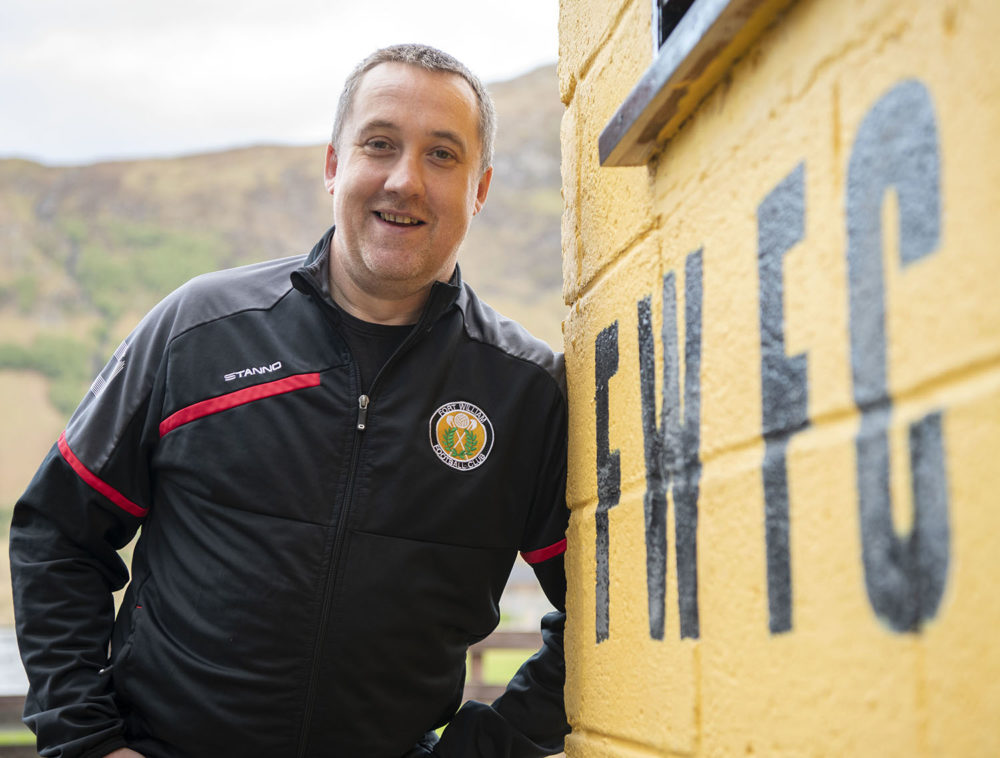 Last season, Fort William FC was the worst football team in the Highland League, Scotland's lowest tier. They hadn't won a game in more than two years and had come in dead last in 14 of the previous 20 seasons. It got so bad that fans of Fort William disparaged the players at their home games.
But then, someone raised his hand and offered to help. Someone who also knew what it was like to fall very, very low.
The Diagnosis
If you ask Russell MacMorran what he does for work, he'll tell you he's a police officer.
"I joined the police when I was 27. I've been in it for 16 years," MacMorran says. "And I've loved every minute of it. It's a fantastic job."
MacMorran cruised the Scottish Highlands on his police motorcycle. One of his jobs was to be a first responder at crash scenes, where he witnessed severe injury and death. Lots of it.
"Being inside wrecked cars becomes a 'normal' occurrence," MacMorran says. "You don't think there's anything wrong with it. But actually, physically and mentally, you're changing.
"You're probably the worst person to be around. But you don't realize it."

Russell MacMorran
"Nothing would appear to bother me. But, clearly, it obviously was ticking away inside. So, eventually, it gets to that point where it just … it tips.
"I was OK at work. I was normal at work. Come home, you're irritable. You're probably the worst person to be around. But you don't realize it."
MacMorran saw a doctor. And months later, his suspicions were confirmed.
"So, September, I got the formal diagnosis that it was Complex PTSD," MacMorran says. "Which means not just one traumatic incident, but it's a number of incidents throughout the 16 years of service."
MacMorran went on medical leave in early 2018. He did a lot of staring at the walls of his home. He says it was hard, especially for his wife, Laura, and their kids.
"Didn't want to speak to anyone," MacMorran says. "Didn't want to leave the house. I didn't want to bump into anybody I knew. So Laura suggested getting back into football."
The Meeting
MacMorran had played on the first squad of Inverness Caledonian Thistle, another team in Scotland's lowest tier. But a knee injury ended his career at what he calls "the ripe old age of 22." Still, he remained a big fan of the game. So, in September of 2018, Laura persuaded him to attend an open meeting at the clubhouse of Fort William FC, the team many called Britain's worst.
"It was a very rundown place. And there was about 10 to 15 people sitting. It was an open meeting, but obviously wasn't very well attended," MacMorran says.
At the time, the team had just a handful of players under contract. The entire management board had resigned. No one was sure there'd be a next season.
"You could see where the club was," MacMorran says. "They were in dire straits. Obviously, it was going to be a challenge."
Someone asked for a show of hands for volunteers to help in any way they could. Russell raised his.
"And, before I knew it, I was club secretary almost within two or three days," MacMorran says.
"Club secretary" is what Americans would call a "general manager." MacMorran, who didn't like to leave his house, would be running the team.
"I didn't know how it was going to go to start with but very quickly realized that it was a good thing," MacMorran says.
He went right to work. He began by securing a new management board.
"The problems that were there were deep-rooted," MacMorran says. "And it became normal that the club was bottom of the league. And we needed to change the simple things. The standards and discipline and the image of the club, for a start."
He must have done a good job. Because, a few months later, in January 2019 …
"The decision was made by the board that I would take up the interim manager's role until the end of the season," he says.
The Near Miss
That's "manager" as in "coach." MacMorran began by doing what he could to make things better for the players, including renovation of the dilapidated clubhouse. And there were matches to play. Or matches to lose. Lots of them.
But then, on Feb. 16, Fort William played Nairn County FC at home. Their pitch was flooded after hours of torrential rain.
That's known to sometimes happen in Scotland.
The teams slogged through water that was sometimes ankle-deep. Fort William scored first. Having any lead at all was a rare occurrence. Maybe, just maybe, Fort William had a chance to win a match.
But, just before halftime, the game was called by the referee. MacMorran says it was disappointing that the team didn't walk away with at win.
"Yeah, absolutely," MacMorran says. "But that was a small victory for them anyway."
Fort William FC's season ended without a win … again. In 34 games, the team scored just 21 goals and allowed 245, an average of more than 7 per game.
MacMorran went to work in the offseason. He emphasized fitness and positive mental attitude … to all four players who showed up on the first day of training camp.
"I would challenge anybody to try and put a side together, regardless of what the level is, with only four players turning up," MacMorran says with a chuckle.
Just days before the current season began, MacMorran negotiated a loan of nine players from his former club, Inverness Caledonian Thistle. Fort William FC lost its first match 6-nil. To some, it looked like business as usual. In the second game of the season, on July 31, Fort William again faced Nairn County FC.
And then something magical happened.
"We got the first goal," MacMorran says, "and that was within ... I think it was 12 minutes, followed very quickly by a second goal. A great goal.
"You know, going 2-nil up is something that they're not used to. So they panicked a wee bit."
At halftime, MacMorran told the players that they'd get the win if they just stuck with what they'd been doing in the first half.
And they did.
The final score was 5-2, in favor of the guys who could argue that they needed that result more than any other team in Britain.
After the match, the Fort William players gathered in the clubhouse and chanted their manager's name.
"That just is the tip of the iceberg of how the guys were feeling," MacMorran says. "Unfortunately for them, it was a Wednesday night, not Saturday. So they couldn't fully enjoy themselves."
Fort William hasn't put together a string of wins yet, but attendance is way up. MacMorran says last season, the team would be lucky to draw 60 people. This year, average attendance is around 300, and none of the home fans are disparaging the players anymore.
Positive Outlook
It's been almost a year since Russell MacMorran's PTSD diagnosis. He says he's feeling better. He hopes to return to the police force someday.
"You know, that decision isn't mine to make, whether I'm fit enough to go back to do a role within the police force," MacMorran says. "And if I'm not, then, yeah, I'll look at maybe some form of coaching. I don't think Man United or Man City or Barcelona will be knocking on my door very soon.
"You know, I've been really, really low in my life. I think when you have the outlook that you have to stay positive and look for the small positives in everything, anything can happen.
"In the great scheme of everything, it's only a game."
It's good to be reminded of that. Even when you work on a show called ... well, you know.
This segment aired on August 24, 2019.