How Columbus #SavedTheCrew
Play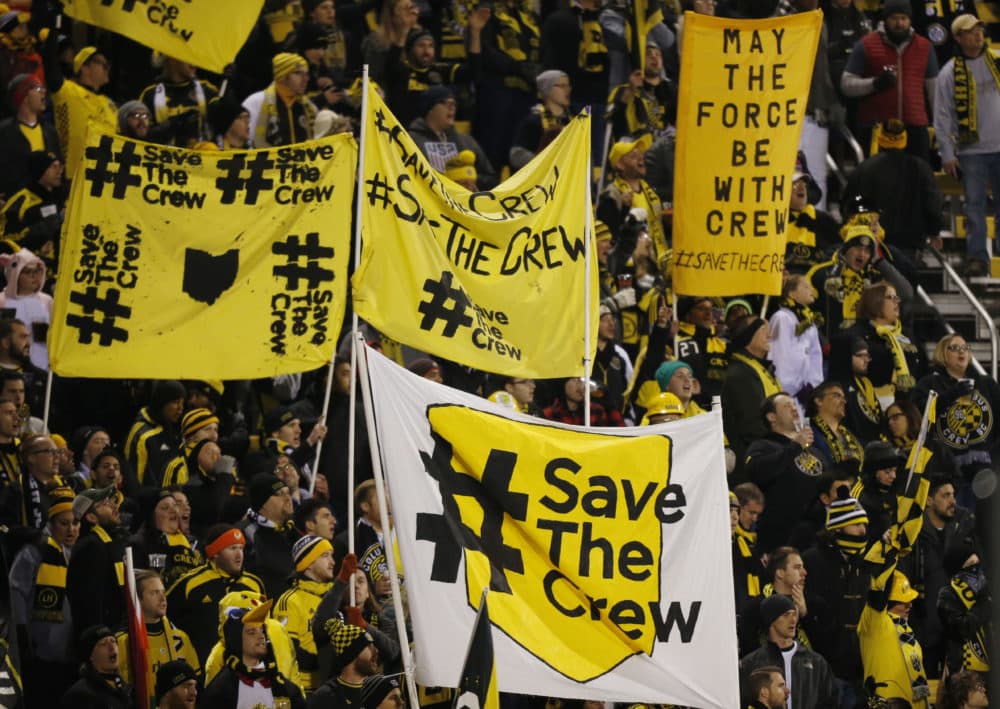 This article is more than 3 years old.
Major League Soccer hosts its 24th championship game this weekend.
MLS has seen teams fold, like the Tampa Bay Mutiny in 2001, and teams move, like the San Jose Earthquakes' to Houston in 2005.
But this story is about a team that stayed, thanks in large part to one of the biggest grassroots movements ever in American sports.
A League Is Born
In 1996, the Columbus Crew was announced as one of Major League Soccer's first franchises. They had already sold 12,000 season tickets.

Columbus native Morgan Hughes was 14 years old when he saw his first Crew game, in 1996. He's been a superfan ever since.
"I was raised here, I live here, I will die here," Hughes says. "The Columbus Crew were a natural fit for me. It's my little slice of black and gold heaven. It's my home away from home. Sometimes it feels like my first home."
Hughes is a small business owner. In his spare time, he meets up with his friends to make artwork for the Crew's home games.
"I make big pieces of art: flags, 'two-sticks,' giant crowd banners that are as large as 90 feet long by 50 feet wide," he says.
Since 1996, Major League Soccer has grown — a lot. By 2013, MLS had more than doubled from 10 original franchises to 21. Much of that growth was thanks to Clark Hunt, the owner of the Crew.
A member-investor since the beginning, Clark was one of the driving forces behind the creation of MLS in the first place.
Precourt Steps In
But on Aug. 31, 2013, he called a press conference.
"Today we are officially announcing that we have sold the team to Anthony Precourt, who it is now my pleasure to introduce," Hunt said at the press conference.
Anthony Precourt is a hedge fund manager from San Francisco. And the biggest question for the fans: Would an outsider keep the Crew in Columbus? Precourt saw the question coming.
"And trust me, I've had many sleepless nights over the last few months, thinking about and dreaming about our future together," Precourt said at the press conference. "And all you need to know is that I'm very committed to Columbus, and I'm here with you."

Within two years of that first press conference, a relationship developed between the Columbus Crew and the Austin Aztex, a lower division pro team based 1,200 miles away in Texas. The Crew sent reserves to train in Austin, and the two teams co-hosted a preseason tournament in February of 2015.
"There wasn't really a feeling that there was anything nefarious going on at the time," says Austin-based reporter Chris Bils. "But now, looking back on it, that was a way for the ownership of the Columbus Crew to kind of get on the ground and see what Austin was all about."
 A year later, in September of 2016, Austin Mayor Steve Adler was contacted by Major League Soccer, saying that the league was studying Austin's viability as a home for an MLS franchise.
"Mayor Adler was surprised at the time, because there was not a[n] expansion bid coming from Austin," Bils says.
If Austin wasn't getting an expansion team, it could only mean one thing: a team would have to move.
"At some point, he was told officially that the Columbus Crew was looking to move to Austin," Bils says.
The move was top secret, but there were signs that Precourt wasn't committed to Columbus. Toilet paper was often missing in stadium bathrooms, and concession stands would often run out of snacks within the first half.
And, unbeknownst to Crew fans, Precourt had already laid the groundwork for a move when he bought the Crew.
"There was a clause within the contract that he wasn't allowed to move the team unless it was to Austin, Texas," says David Miller, a Crew fan who works for Columbus' city council.
On Oct. 16, 2017, Miller, Hughes and the rest of Crew fandom found out what was going on.
"I was sitting on the back porch at my house, and my buddy John texted me and said, 'I'm hearing bad things. I'm hearing that the Crew is gonna move to Austin,' " Hughes recalls. "And I didn't ... I didn't believe him.
"And so I tried to start reaching out to my contacts, and the only ones who would respond would say, 'I can't say anything about it, but stay tuned.'
"And sure enough — I believe it was either 9:50 p.m. or 10:50 p.m. that night — Grant Wahl from Sports Illustrated sent that tweet of infamy about Precourt potentially moving the team to Austin. And my world kind of went blank. It just ... I was kind of floating through life for that first, you know, 18 hours. It's literally our community, it's why we use that word so much. It's like saying they were gonna wipe your neighborhood off of the face of the earth."
'Save The Crew' Is Born
The next day, Hughes was walking his dog and talking to the Crew's radio announcer, Chris Doran. They had gotten to know each other from years of Crew involvement. Doran told Morgan, "I wish I could do something."
"And I realized," Hughes says, "I had assumed that if anything was to be done about this, it was gonna be done by somebody who I identified as more important than I.
"And, at that moment, I just decided that I was done being a victim of Anthony Precourt. And, if there was gonna be a funeral for the Columbus Crew, then I was gonna be too tired from lashing out against it to attend it.
"And that was the moment that 'Save The Crew' was born. In that park, walking my dog."
Hughes drove to Hendoc's Pub, where Crew fans had congregated to drown their sorrows.
"It was a wake," Hughes says. "It was a wake. There's literally a funeral home next door to that bar."
But Hughes didn't go to the bar to cry. He went to convince Crew fans to keep fighting.
"I sent out a tweet that said, 'If you think this is over, you're wrong. This is not over. Tell everyone you know. #SaveTheCrew.' "
Some Crew supporters wanted to stage a protest when the team played New York City FC five days later. Hughes thought otherwise.
"It's an away game. What are we gonna do, show up at the stadium and burn our Crew jerseys?" Hughes says. "Like, that's what they'd want us to do. Then they'd have bad guys to point to. So I said, 'We need to rally.' "
And on Oct. 22, Crew fans did just that. They rallied at city hall and chanted "Save the Crew!"
And, at the next home game on Oct. 31, Hughes had a special plan for his game day artwork.
"So, there was a banner that said, 'Respect our roots,' " Hughes says. "And it was kind of our way of telling the world that, you know, Columbus is the foundation upon which this entire league is built in this country, and if you allow them to destroy us, they'll come for you next."
"The first time that entire stadium lit up, and every human in it was chanting, 'Save the Crew,' was a moment that goes to the grave with me, that I will never fully separate from," Hughes says.
Within weeks, 58 members of Save The Crew had organized into 12 teams who took charge of government and business relations, design and brand management, financing, event marketing, merchandising and more.
"There were so many people that were interested in doing something, so many people who just kind of wanted to be involved," says Miller, who became the director of communications for Save The Crew.
For the next year, Hughes, Miller and several other leaders worked non-stop to save the Crew.
"People from the news saying, 'What time are you gonna be home? Can we get five minutes with you on camera?' " Hughes recalls. "It was doing interviews with the BBC World Service. And I was planning a wedding during this. I was buying a house during this. But every moment of every day, no matter how exhausting, there was only one end goal: we're going to save the Crew."
Save The Crew continued to gain momentum. Other MLS supporter groups wore yellow and black Save The Crew armbands at games around the country.

"We brought together an international community of concerned soccer fans," Hughes says.
And one of the most popular soccer teams in the world helped, too.
"You know, Chelsea FC ran an article in their game day program for a match, talking about our plight," Miller says. "We had news articles across the globe that were talking about this, because we were good at spreading our message, talking on social media, being positive and really kind of setting an example for communities at risk."
By spring of 2018, Precourt was closing in on a stadium deal in Austin. But Save The Crew got the attention of then-Ohio attorney general Mike DeWine and, because the Crew's stadium had been built with tax dollars, he could step in.
DeWine used Ohio's "Art Modell Law" passed in 1996, after the Cleveland Browns owner moved his team to Baltimore in secret. DeWine hoped that the lawsuit would help buy city officials time to negotiate with someone else to buy the team.
And in October of 2018, a group of civic and business leaders, including Crew team doctor Pete Edwards and Browns owner Jimmy Haslam emerged as buyers of the Crew franchise.
The Crew was saved.
The Goal Realized

"I found out on Oct. 10, 2018 at 7:57 p.m.," Hughes says.
It was almost exactly a year after Morgan sat on his back porch, feeling like he wasn't a part of this world.
"There was about a 30-second period there where I don't think I remembered to breathe," he recalls. "I went inside and I sat on my living room floor and I just — I just lost it emotionally. I choked on my own tears, I coughed, and then I started the cycle all over again, you know, laughing, crying, choking."
The world found out two days later, on Friday, Oct. 12. Fans descended on bars across Columbus in the middle of the day — including Hendoc's Pub, where Save The Crew was born.
"In the grand scheme of things, you know, a soccer team is not the most important thing in the world," Miller says. "But the fact that we were able to save our soccer team — our community — demonstrates that anything is possible and anything can be done, as long as you have people who are willing to put in the time, effort and have a little bit of savvy in them to get the job done."
And earlier this Fall, Columbus named Oct. 12 as the first "Saved The Crew Day."
"I would say that we are the most successful grassroots movement in the history of American sports," Miller says.

This segment aired on November 9, 2019.