'Perhaps Rowing Really Can Change Lives': Lessons From A Rowing Studio
Resume
When I turned 50, a friend invited me to an indoor rowing studio in Brookline, Massachusetts. I figured she thought of me as the avid, outdoorsy mountain climber I used to be and had not noticed that, beyond her social media view, I'd totally fallen out of shape and then out of sorts.
In retrospect, my friend is a therapist and may have known exactly what she was doing.
I'd never rowed. It sounded intimidating. Getting up sounded intimidating lately, but the website suggested that rowing could change lives. "Sign me up," I said.
I was slow, but I didn't know it yet, and I thrived in the tough love environment. "Take as long as you need to rest!" my trainer likes to yell. "You have 10 seconds."
The studio is cozy, with wood beams, Women's March posters and chalkboard notices for challenges that support local charities.
"OK, turn it up now! This is a full power workout!"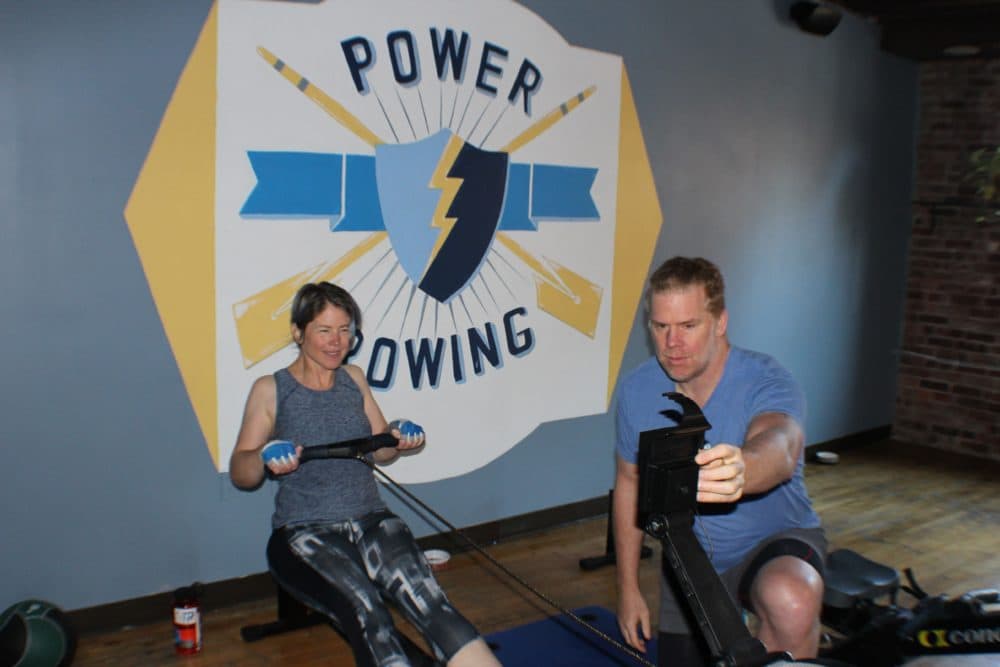 My trainer is the owner: a muscled giant with an infectious smile named Bryan Fuller. He believes in giving back. He served in the Army, and then got an MBA and a series of unsatisfying financial jobs. He felt dangerously low. One day, he tried a rowing machine at the gym, and it clicked for him. Soon after, he saw a sign for a community rowing program for veterans. Joining a team of vets on the Charles River, he finally discovered the support and validation he'd been lacking. Now, he aims to share not only his love of rowing, but also that important sense of community.
Bryan pushes everyone with military volume and drive, but then quietly hands someone who is coughing a lozenge, loans another a book for their kid or tells a goofy joke when someone's struggling. He watches his clients' rowing form carefully, stays with new members as they learn and looks out for everyone's health in general.
"Don't forget it's the farmers market today! Mmm-mmm, tomato season!"
'It's Not Hard As You Think'
With proper form, indoor rowing uses about 86% of your muscles. A couple months in, I could feel about 84% of them most of the day. And other issues stored in my body began working themselves out.
One day, I froze when a man came into the studio looking exactly like my late hiking partner. I had whispered, "See you down the trail," as he lay dying years ago. But knowing Bryan was a veteran helped give me the courage to face my ghosts and move forward.
And the exercise was helping me sleep better. I tried to come in no matter what I felt like. I told myself I could suck if I needed to. I just had to show up.
"Bryan," I reminded myself, "was the same age."
Around the time I became notorious in the rowing studio for actually rowing right out of my sneakers, I learned that Bryan was notorious for more than being a tough but kind trainer. A year after he started rowing in that veteran's program, he became one of the few Americans to have rowed across the Atlantic. And he is planning to do it again.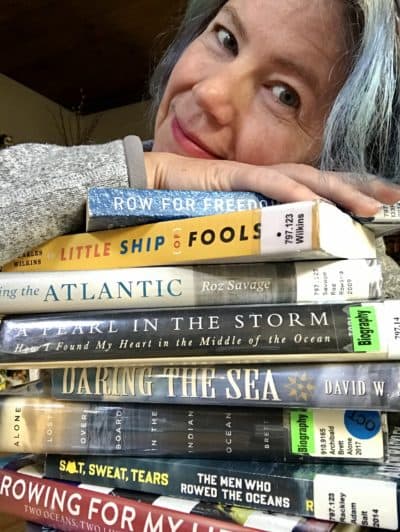 I started lacing on my sneakers more carefully.
"It's not as hard as you think," he said offhandedly about that row.
But I am not fooled. I'm a better dork than athlete. So I immediately read five books by people who had rowed oceans and a couple about being lost at sea for good measure. One woman had survived being pitch-poled — that's flipping, bow over stern — in her boat in a hurricane.
I asked him more about his experience at sea. He admitted it was hard at first, but that connecting with others kept him afloat, thanks to a satellite phone. Once he got into the groove of it, he'd spent his time in the seat composing a children's story in his head about an animal finding her purpose. And when he returned, he opened a rowing studio.
He told me I actually had the right personality for a row across the ocean.
I found it harder to find excuses not to come in after that. Two hours of sleep? Well, it wasn't like I was rowing the whole ocean, after all. But now I also had this glimmer that if I wanted to cross the Atlantic, I could.
Something about the atmosphere of Bryan's studio speaks to his knowledge of life being short and sometimes stormy, and of now being the right time for connection, imagination and action. So I keep showing up, no matter what is happening in my life or body. No more treading water.
Perhaps rowing really can change lives.
Bethany Ericson is a writer and artist from Cambridge, Mass. Bryan Fuller is planning another Atlantic crossing, nearly a decade after his first.
This segment aired on November 9, 2019.