America's Cultural Exports Now
Play
This article is more than 9 years old.
How the world sees the United States. American cultural exports now, from Miley Cyrus to "The Hunger Games."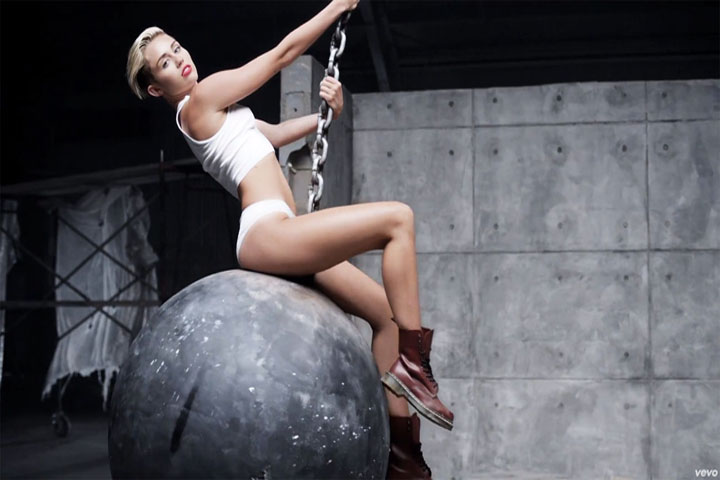 Tune in to the Golden Globes from anywhere in the world in this age of global media, and you'll see plenty of glam and smarts – and Tina Fey and Amy Poehler going pretty racy to introduce Leonardo DiCaprio.  Tune in to the MTV Video Music Awards from Yemen or Malaysia, and you got near-naked Miley Cyrus in full twerk.  In the US, we are inured to the racy and raunchy of our popular culture these days.  My guest today says much of the rest of the world is not, and it's costing us.  This hour On Point:  The commercial media takeover of American public diplomacy, soft power, and its price.
-- Tom Ashbrook
Guests
Martha Bayles, humanities professor at Boston College. Author of "Through a Screen Darkly: Popular Culture, Public Diplomacy and America's Image Abroad."
R. Nicholas Burns, professor of the practice of diplomacy and international politics at the Harvard Kennedy School of Government. Former U.S. Foreign Service official, U.S. Ambassador to NATO, and U.S. State Department spokesman.
From Tom's Reading List
The Washington Post: Now Showing: The Good, the Bad and the Ugly Americans — "Today, as we witness the decline of America's reputation around the world, we're paying far more attention to Franklin's first stratagem than to his second. Indeed, despite a mounting stack of reports recommending drastic changes in the organization and funding of public diplomacy, very little of substance has been done. And most Americans, including many who make it their business to analyze public diplomacy, seem unmindful of the negative impression that America has recently been making on the rest of humanity — via our popular culture."
ThinkProgress: From Angry Birds To Shark Energy Drink, Five Cultural Exports That Are Big In Myanmar — "Lots of folks in Myanmar wear t-shirts in English–my favorite, spotted in Bogyoke Aung San Market, was 'We Love Fixed Gear Bikes' –but among the most frequent are shirts for metal bands, particularly Metallica and Led Zepplin. I'm told, though, that the most popular metal band in Myanmar is Iron Cross (not the hardcore band from the Washington, DC area, but a local iteration) that's popular in part because of its role playing benefits for Cyclone Nargis recovery."
The Hollywood Reporter: Soul-Searching in China Over Weak Movie Sales Abroad — "While China's domestic box office in 2012 was a hefty $2.8 billion, overseas earnings were just 1.1 billion yuan ($180 million), down nearly 50 percent on the $330 million clocked up in 2011. 'The dissemination of Chinese films overseas in 2012 saw few highlights, and it's worrisome,' said Huang Huilin, director of the AICCC, to Chinese media outlet Global Times."
Read An Excerpt From "Through a Screen Darkly: Popular Culture, Public Diplomacy and America's Image Abroad" By Martha Bayles
This program aired on January 14, 2014.