This article is more than 9 years old.
A new biography of Edward Snowden lays out the life and motivations of the world's "most wanted man."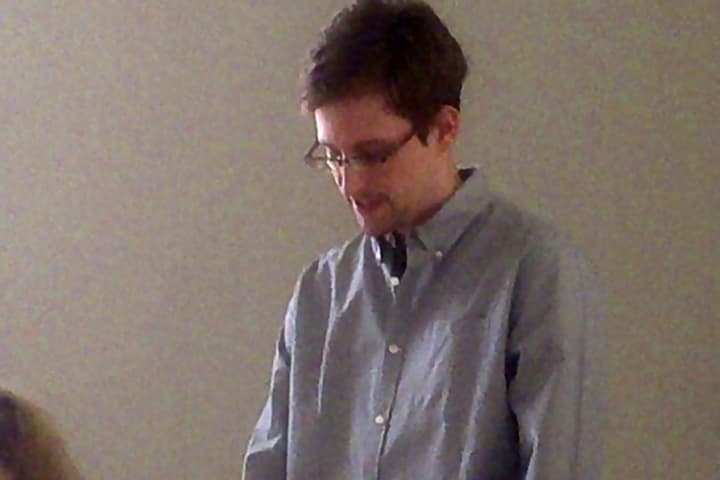 After all the months and revelations, it is still hard to take on board the full scale and impact of Edward Snowden's undressing of the N.S.A.  The premier spy agency of a vast superpower, stripped in public of its deepest secrets by a 29-year-old high school dropout.  Enormous consequences, enormous debate - and the stripping, the leaking, isn't over yet.  He's called a traitor, he's called a hero.  He may be the world's most wanted man.  He's still out there.  Who is Edward Snowden?  This hour On Point:  "The Snowden Files."  A new biography on the life, motivation, and reality now of Edward Snowden.
-- Tom Ashbrook
Guests
Luke Harding, foreign correspondent for The Guardian. Author of "The Snowden Files: The Inside Story of the World's Most Wanted Man." Also co-author of "WikiLeaks: Inside Julian Assange's War on Secrecy," which served as the basis of the film "The Fifth Estate." (@lukeharding1968)
Carroll Doherty, director of political research at the Pew Research Center. (@CarrollDoherty)
From Tom's Reading List
New York Times: The Needles in the Monumental N.S.A. Haystack --"The portrait he creates of Mr. Snowden is a familiar one — a geek and gamer most at home online, who never graduated from high school but whose 'exceptional I.T. skills' landed him a job with the Central Intelligence Agency and later as an N.S.A. contractor."
CNN: Edward Snowden: World's most wanted man, says new book — "The Guardian is a key player in the Snowden saga, having provided an outlet for the former NSA contractor-turned-whistle-blower to expose what he knew about the U.S. government's mass surveillance programs. Harding accessed a wealth of inside information, such as this story about how Snowden first connected via e-mail with Guardian journalist Glenn Greenwald."
The Daily Beast: Snowden Keeps Outwitting U.S. Spies -- "Some allies of Snowden have speculated that any kind of master file of Snowden documents could only be accessed through a pass code or cryptographic key broken out into pieces controlled by several people in multiple jurisdictions throughout the world. That way. No one government could force a single person to give up access to Snowden's motherlode."
Read An Excerpt Of "The Snowden Files" By Luke Harding
This program aired on February 10, 2014.