Eco-Friendly Funerals And Death In America Today
Play
This article is more than 8 years old.
New trends in eco-friendly funerals and burials—how they reflect how we're dealing with death.
*With Guest Host Jessica Yellin.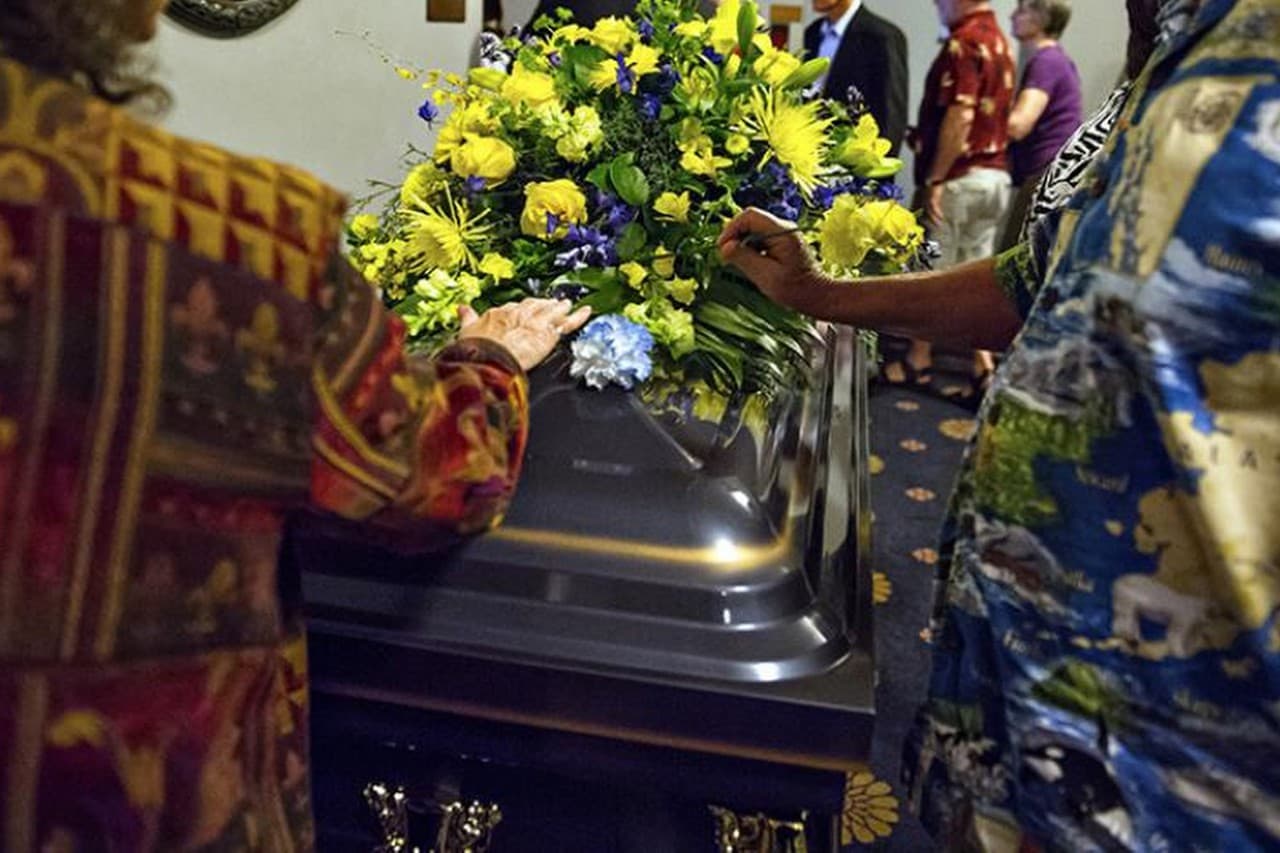 The latest trend in burials gives a whole new meaning to the phrase "bite the dust."  Eco-friendly, personalized funerals. The perfect way to end a low-impact environmentally friendly life. Some are replacing a casket with a burial shroud. Opting to place a family member's cremated remains on the ocean floor. Or going high-tech, putting computer chips in your burial blot. Modernizing the burial ritual – it's increasingly popular… reflecting the values of an aging baby boomer generation. This hour On Point: new ways to say goodbye to eco-conscious, tech savvy loved ones.
Guests
Amy Cunningham, funeral director at Greenwood Heights Funeral and Cremation Services in Brooklyn, New York. Blogger at "The Inspired Funeral."
Gary Laderman, professor and chairperson of the religion department at Emory University. Author of "Rest in Peace: A Cultural History of Death and the Funeral Home in Twentieth Century America."
Esmerelda Kent, owner and founder of Kinkaraco Green Burying Products.
From The Reading List
New York Times: The Rise of Back-to-the-Basics Funerals --  "As New York City's boomers shift from wooden toys to wooden boxes, Ms. Cunningham is hoping to ease their transition. A former writer for women's magazines who now works for Greenwood Heights Funeral & Cremation Services, in Brooklyn, she pointed to a chart projected behind her showing that almost 50 percent more Americans would die in 2050 than in 2020."
Associated Press: Funeral and Casket Outlets are Heading to the Mall — "We eat there, buy our clothes there and some people suspect teenagers may actually live there. So perhaps it was just a matter of time until funeral homes began moving into the local shopping mall. Over the past two years, Forest Lawn has been quietly putting movable kiosks in several of the malls that dot Southern California's suburbs."
CNBC: The Hot Trend in Funeral Business? Cremation, of Course — "Every year in America, 2.5 million people die. In 2011, the last year for which numbers are available, 42 percent were cremated, according to the funeral directors association. That's double the rate of just 15 years ago. In some states, largely in the West, the cremation rate tops 70 percent. In Washington, it's 72 percent; in Nevada, almost 74 percent. (The lowest rate of cremation, in case you need a great pick-up line, is Mississippi's, at 15.7 percent.) "
This program aired on April 10, 2014.