Bloomberg's Big Money Campaign For Gun Background Checks
Resume
Former New York Mayor Michael Bloomberg's new $50 million dollar push for gun control. We'll look at the plan to take on Washington and the gun lobby.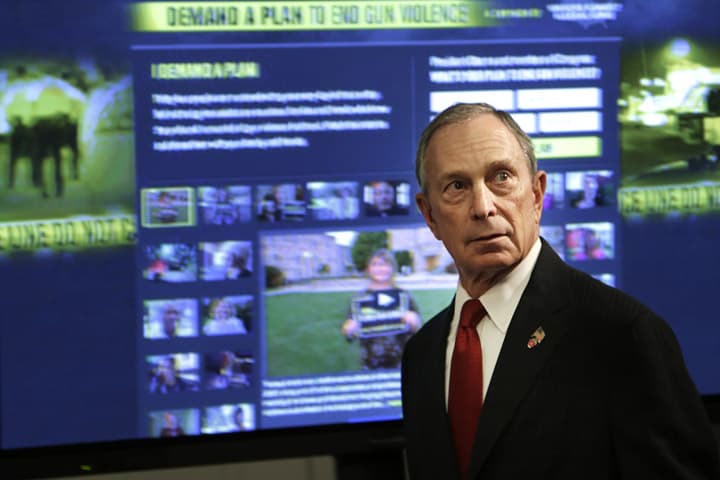 The NRA makes American politicians fearful at election time if they've voted for any restraints on guns.  Former New York Mayor Michael Bloomberg wants to make them quake if they don't.  Americans overwhelmingly want background checks for gun buyers, says Bloomberg.  Now he's partnering with like-minded moms who want fewer guns in the hands of killers.  And he's putting $50 million into a campaign this year to push that change.  To try to counterweight the NRA.  Will it work?  This hour On Point:  a billionaire, angry moms and the push to build a gun control lobby bigger than the NRA.
-- Tom Ashbrook
Guests
Donna Leinwand Leger, breaking news reporter for USA Today. (@DonnaLeinwand)
Shannon Watts, co-founder, with Michael Bloomberg, of Everytown for Gun Safety. (@shannonrwatts)
Steve McMahon, Democratic strategist and media consultant. Co-founder of Purple Strategies. (@McMahonDEM)
Larry Pratt, executive director of Gun Owners of America. (@larrypratt)
From Tom's Reading List
USA Today: Bloomberg pledges $50 million to battle NRA --"Former New York City mayor Michael Bloomberg is pledging $50 million to a new lobbying group aimed at undercutting the NRA's political power in Washington. The money will go to Everytown for Gun Safety, which will launch a get-out-the-vote campaign to mobilize voters who support tougher gun-control laws."
POLITICO: Michael Bloomberg plans $50M gun effort -- "Bloomberg said both parties need to be convinced that the American public supports background checks. 'And it isn't gun control. This is simply making sure that people that everybody agrees should not be allowed to buy a gun — criminals, minors and people with psychiatric problems — make sure they can't buy guns.'"
CNN: We will fight the NRA with common sense — "In fact, the NRA's reputation for political strength is wildly blown out of proportion and the election results from three statewide contests in Virginia this past November reflect that reality. Candidates who spoke out in support of common sense gun violence prevention policies were elected as governor, lieutenant governor, and attorney general. In the attorney general's race, his campaign manager said that the candidate's support for sensible stances on gun issues was a major factor in his victory."
This program aired on April 21, 2014.