Boomers And The Stock Market
Play
This article is more than 8 years old.
Boomers are trying to repair their recession-ravaged nest eggs fast before they retire.  The stock market is looking hot – we'll look at Boomers running scared toward retirement.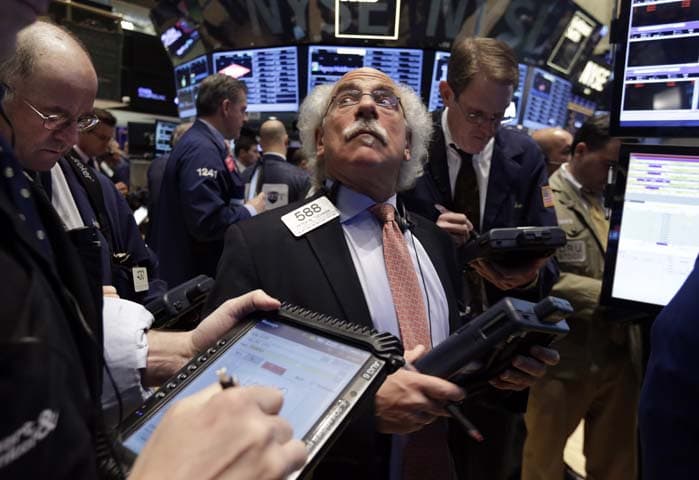 New record highs in the stock market yesterday.  The Dow and S&P both.  After huge gains in 2013, Wall Street is again pushing way up high.  Bulls, of course, say it has room to run.  Bears are saying run for the hills.  For America's 70 million Baby Boomers, it's hard to know what to do.  Retirement time is in their faces now.  For most, their savings were never great, and the Great Recession made them worse.  They need a good return to recover.  Wall Street gave that last year, but Wall Street can bite.  This hour On Point:  Nobel prize-winning economist Robert Shiller and more on Wall Street and the American retirement crisis.
-- Tom Ashbrook
Guests
Ashlea Ebeling, associate editor at Forbes. (@ashleaebeling)
Robert Shiller, professor of economics at Yale University. Winner of the 2013 Nobel Prize in economic sciences. Author of "Finance and the Good Society" and "Reforming US Financial Markets: Reflections Before and Beyond Dodd-Frank." (@RobertJShiller)
Michael Finke, professor and director of the Center for Retirement Planning and Living at Texas Tech University. (@FinkeonFinance)
From Tom's Reading List
The Wall Street Journal: Will Higher Interest Rates Sink Your Bond Portfolio? — "How much could interest rates rise? How much would your individual portfolio suffer? To answer the first question, we can look to nominal economic growth, which reflects both inflation and real (after-inflation) GDP growth. Bond yields and nominal economic growth tend to track each other fairly closely."
New York Times: Time to Worry About Stock Market Bubbles — "It's possible that a world of rising inequality and low interest rates is here to stay – and that stocks have reached a permanently high plateau. In that case, whatever our other economic worries, the stock market's valuation doesn't need to be high among them."
Salon: 401(k)s are retirement robbery: How the Koch brothers, Wall Street and politicians conspire to drain Social Security -- "Social Security taxes are already so high, relative to benefits, that Social Security has quite simply become a bad deal for younger workers, providing a low, below- market rate of return. This poor rate of return means that many young workers' retirement benefits are far lower than if they had been able to invest those funds privately. However, a system of individual accounts, based on private capital investment, would provide most workers with significantly higher returns. Those higher returns would translate into higher retirement benefits, leading to a more secure retirement for millions of seniors."
This program aired on May 13, 2014.