Diane Keaton Muses On Beauty
Resume
With guest host John Donvan. 
Academy-Award winning actress Diane Keaton reflects on life, beauty, and aging in Hollywood. Plus, we remember Maya Angelou.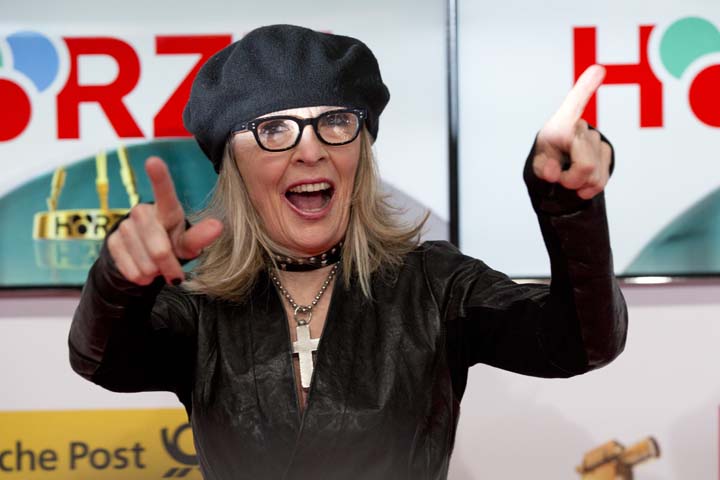 Say this about Academy Award Winner Diane Keaton.  We knew her when she was young, and we know her now when she's not quite so young. Which may seem an indelicate thing to say except that Keaton herself makes growing older in public the subject of a her new memoir.  That, plus the fact she's still knocking down good roles in her late 60s. Not something many women in Hollywood can say. How she's put it all together, the conversation coming up. Plus: Maya Angelou, and how she inspired.  And kept the focus at all times. This hour On Point: An actor, a poet. Two kinds of art.
-- John Donvan
Guests
Diane Keaton, Academy-Award-winning actress, author and director. Author of the new memoir, "Let's Just Say It Wasn't Pretty." Also author of "Then Again." (@Diane_Keaton)
From The Reading List
New York Times: Diane Keaton: By the Book -- "I was slow to read. At first, reading was something that needed illustration. Reading was best spoken out loud. Some things never change. For example, I love to listen to audiobooks, particularly on road trips. Last Christmas, driving from L.A. to San Francisco, I listened to Patti Smith's 'Just Kids.' It was a revelation. Or rather, she was. What is it about her voice? "
The Guardian: Diane Keaton: 'I love Woody. And I believe my friend' -- "There can't be many actors who have an off-screen persona as close to the public's idea of them as Diane Keaton. Here she is on a sunny morning in LA in her customary uniform – dark layers of clothing, bowler hat and fishnet fingerless gloves, crosshatched with ladders – sipping tea and laughing girlishly in the Annie Hall style. "
NPR: A Film And Fashion Icon On Aging, And The Power Of Turtlenecks — "Actress Diane Keaton remains an icon, decades after her Oscar-winning performance in Annie Hall. At 68, she's a single mother of two, once romantically linked to some of Hollywood's biggest heartthrobs and still starring in films. And she still rocks her trademark look: a bowler hat, tinted glasses, oversized clothes, scarves, gloves, long sleeves and boots — 'Clothing that actually hides the body,' she says."
Read An Excerpt Of "Let's Just Say It Wasn't Pretty" By Diane Keaton
Remembering Poet And American Icon Maya Angelou
Isabel Wilkerson, Pulitzer-Prize winning author of "The Warmth of Other Suns: The Epic Story of America's Great Migration" and other books. (@Isabelwilkerson)
LZ Granderson, contributor to CNN and senior writer for ESPN. (@Locs_n_Laughs)
CNN: How Maya Angelou gave me life -- "The times when I saw the glass ceiling hovering over my career, suffocating my joy, turning my hard-fought acceptance of my truth into a self-loathing cage from which I saw no escape, Maya Angelou came to me and said she knew why I sing."
This program aired on May 29, 2014.