Anti-Government Americans And The Threat To Law Enforcement
Resume
American law enforcement and the anti-government movement again.  Two policemen dead in Las Vegas.  What's going on?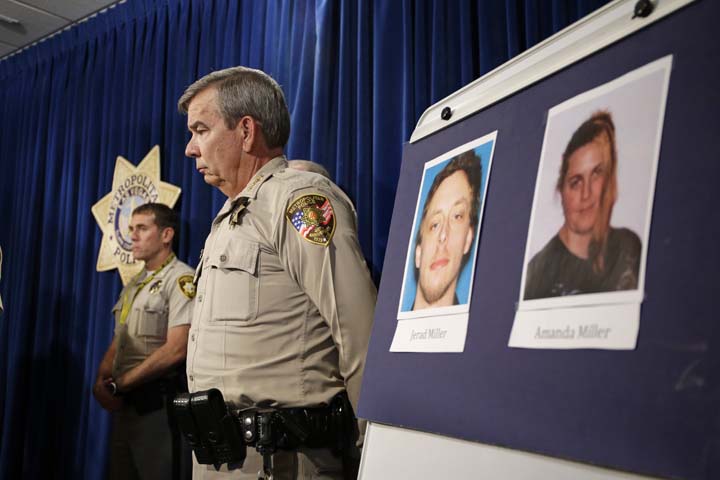 Gunfire in all kinds of places it shouldn't be in America these days.  In a school in Oregon yesterday, two dead.  In a pizza parlor in Las Vegas Sunday.  Two policemen eating lunch.  Assassinated by a husband-wife anti-government duo who dropped a "Don't Tread on Me" flag on their bodies, and went on shooting at Wal-Mart.  That killing spree has the particular attention of police and more tracking anti-government groups and attacks around the country.  The rhetoric is white hot.  Adherents are heavily armed.  The attacks are startling.  This hour On Point:  policemen down, and the anti-government movement in America.
-- Tom Ashbrook
Guests
Conor Shine, local government reporter for the Las Vegas Sun. (@Conor_Shine)
Robert Futrell, professor and chair of the sociology department and the University of Nevada - Las Vegas.
Detective Kory Flowers, criminal intelligence detective with the Greensboro, N.C. Police Department.
Robert Harris, senior research associate at the Institute for Intergovernmental Research.
From Tom's Reading List
Las Vegas Sun: How suspected shooters' fresh start in Las Vegas turned dark -- "Police say Miller and her husband went on a deadly shooting spree that left two police officers, a 31-year-old man and the Millers dead. What happened between the Miller's happy January road trip and Sunday's shooting will be unraveled by investigators in the coming days and weeks. But interviews with people who knew the couple and the Miller's online postings reveal a portrait of a troubled man consumed by a deep hatred of the government and the woman who adored him."
Los Angeles Times: What will protect us from tyrannical neighbors? -- "The details out of Las Vegas are chilling: Two extremists declaring a revolution gun down two police officers in cold blood, kill a third person at a nearby Wal-Mart, then kill themselves in an apparent suicide pact during a gun battle with other police officers. An isolated incident? No. Just a few days ago a "sovereign citizen" — part of a movement whose members deny the legitimacy of the government — named Dennis Marx mounted a one-man attack on a Georgia courthouse, wounding a deputy before other officers killed him. His intent, police said, was to take over the Forsyth County Courthouse."
The New Yorker: Rogue Element — "Since Barack Obama was elected President, militia groups have proliferated in the United States. In 2010, Daryl Johnson, then a senior domestic-terror analyst at the Department of Homeland Security, found that the number had more than tripled in the past three years, from eighty-five to more than three hundred. The times are conducive to extremist anger: there is a black President, a sputtering economy, a disappearing white majority, and recurring talk of stricter gun laws. According to one expert, the militia movement, which was largely middle-aged in the nineteen-nineties, has recently attracted a surge of younger adherents through social-networking sites."
This article was originally published on June 11, 2014.
This program aired on June 11, 2014.