Week In The News: Cantor Defeated, Iraq In Crisis, Teacher Tenure Turmoil
Resume
With Michael Crowley of TIME Magazine, Ryan Grim of the Huffington Post and On Point news analyst Jack Beatty.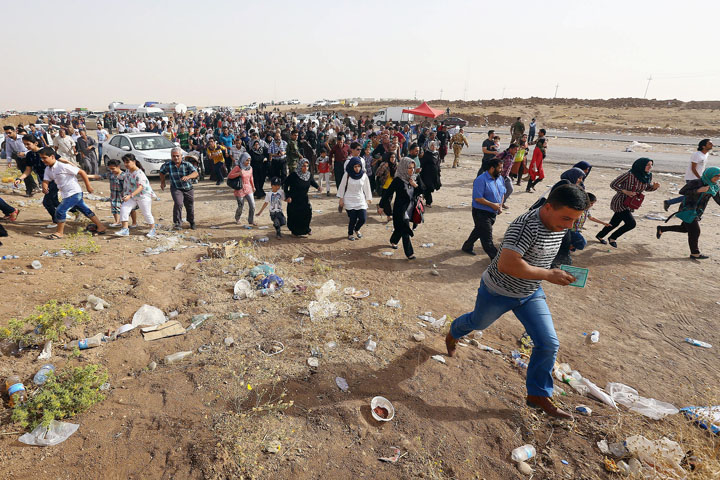 Upset in Washington this week.  Eric Cantor's.  And an astonishing unraveling in Iraq.  Black-clad, harsher-than-al-Qaeda militants streaming in from civil war-wracked Syria.  Taking Mosul, then city after city, sweeping toward Baghdad.  Where US soldiers died by the thousands, now a collapse in days.  Eric Cantor's defeat by a Tea Party novice, an earthquake on Capitol Hill.  GOP regrouping.  Rethinking.  We've got more, sickening school shooting.  World Cup.  Hillary Clinton on a big press tour.  This hour On Point:  our weekly news roundtable goes behind the headlines.
-- Tom Ashbrook
Guests
Michael Crowley, chief foreign affairs correspondent for TIME Magazine. (@CrowleyTIME)
Ryan Grim, Washington bureau chief for the Huffington Post. (@ryangrim)
Jack Beatty, On Point news analyst.
From Tom's Reading List
The Wall Street Journal: Iraqi Drama Catches U.S. Off Guard — "State Department and Pentagon officials have long warned about ISIS's desire to create an Islamic state based in the Sunni-dominated parts of Iraq and Syria. Now, current and former officials say Washington's options for helping the Iraqi army fight back are limited—both because the threat in Iraq is so entrenched and because the U.S. hasn't invested in building up moderate allies on the Syrian side of the border."
Washington Post: What went wrong for Eric Cantor? "A look back at Cantor's defeat shows that it was a real rejection by a broad swath of his district's Republican voters. And there were warning signs that it was coming: the heckling of Cantor in that convention speech and defeats of his acolytes in low-level party elections this year."
Los Angeles Times: California teacher tenure is struck down: Expect years of appeals — "The 16-page decision ends the process of laying off teachers based solely on when they were hired. It also strips them of extra job safeguards not enjoyed by other school or state employees. And it eliminates the current tenure process, under which instructors are either fired or win strong job security about 18 months after they start teaching."
This program aired on June 13, 2014.