Iraq War Vets Reflect On New Crisis
Play
This article is more than 8 years old.
Iraq War veterans have plenty to say about what's happening in Iraq right now. We'll hear them out.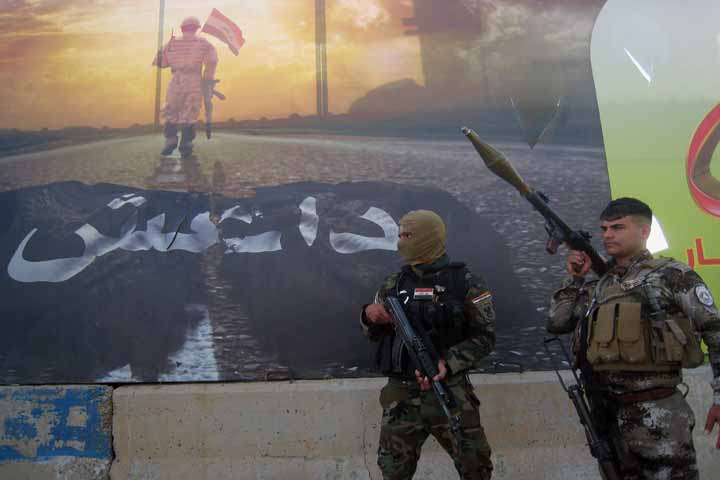 The pace of events in Iraq continues to stun.  In less than a month we've gone from the fall of Mosul to the declaration, this weekend, of the "Islamic State" – a caliphate complete with caliph, straddling Iraq and Syria.  And it's no joke.  The country that American soldiers crossed and bled and died in for almost a decade is coming apart.  Cities where they fought block by block, lost in a day.  The vision of a unified, stable, democratic Iraq – looks gone.  What do American veterans of the Iraq War think of all this?  We'll ask.  This hour On Point:  Iraq War vets on the upheaval in Iraq.
-- Tom Ashbrook
Guests
Ben Colin, former Marine Sergeant.
Hien Mahn Tran, former Army Sergeant Infantry Corps. CEO and President of Anvil Builders, INC.
Bernadette Fruge, former Army Sergeant.
Phil Klay, former Marine Public Affairs Officer. Author of the short story collection, "Redeployment."
From Tom's Reading List
San Francisco Chronicle: Iraq War vets split on what U.S. should do now — "Many say the $1 trillion and 4,487 dead that the U.S. spent in its eight-year effort to bring democracy to Iraq has tapped the till, and the country should spend no more. Others point to the same cost and say the U.S. must recommit, or it will all have been wasted. Everybody agrees on a few core emotions: Anguish. Alarm. Anger."
The Guardian: Whispers, regrets and re-deployment: 10 Iraq war veterans on the Isis effect — "Did our troops see the sectarian violence coming? Is this renewed episode anyone's fault but that of politicians? And is there anything left to do but hope it all goes away? The answers, as usual, are complex, but they are more illuminating than anything you will hear from a foreign-policy wonk between now and whenever President Obama decides about those air strikes."
Stars and Stripes: Angry and sad, vets watch as insurgents undo sacrifices in Iraq -- "On the broad stage of Middle East affairs, the unraveling highlights the resilience of extremists and the risks of weakened central authority. It also raises wider questions about the future of Afghanistan after international forces withdraw later this year and about the growing influence of militant Islamic factions among Syrian rebels."
This program aired on June 30, 2014.