The 'Emergence' Of One Talented String Quartet
Resume
The Emergence Quartet. Four women. Lots of strings. And a deep serving of music history.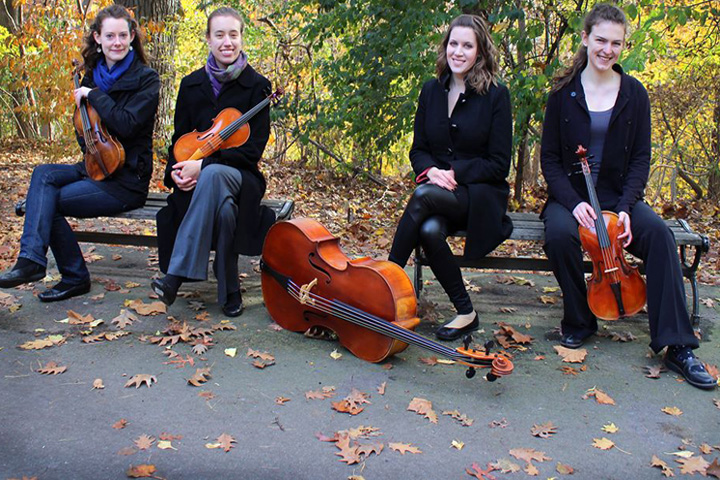 Music comes down to us like a tapestry we just keep weaving.  Look back from today's hits, and you'll find roots going in many directions – jazz and blues, bel canto and classical.  Pull the classical thread and you go back through Mozart and Haydn to Baroque and the roots of the string quartet.  To Fasch, and Richter and Telemann.  Weaving.  This hour On Point:  the four women of the Emergence Quartet, on the roots of the string quartet.
-- Tom Ashbrook
Guests
The Emergence Quartet, Boston-based string quartet.

Emily Dahl, violinist.
Lisa Goddard, violinist.
Zoe Kemmerling, violist.
Emily Davidson, cellist. (@emilyplayscello)

From Tom's Reading List
Boston Globe: Emergence explores the roots of the string quartet genre — "The Emergence Quartet is violinists Emily Dahl and Lisa Goddard, violist Zoe Kemmerling, and cellist Emily Davidson. The period-instrument group formed last fall, and gave its first performance earlier this year. It was the brainchild of Davidson, a Baroque cellist who was looking to form a chamber ensemble, and was surprised that there didn't seem to be a regularly performing quartet in Boston's thriving early-music scene."
Historically Incorrect: Why Early Music? —  "How does one find something as obscure as 'early music'? As a young, untrained cellist in grade school, I was exposed to classical music. Watered-down, bastardized, string-orchestra arrangements of classical music, but classical music nonetheless. And I liked it. I liked playing my cello. It was pretty simple."
New York Times: At Home, A Dramatic Organist — "A well-remembered highlight of theBoston Early Music Festival a year agowas a Bach organ recital by John Scott. Mr. Scott, the organist and director of music at St. Thomas Church Fifth Avenue in New York, is better known here for his work with the splendid St. Thomas Choir of Men and Boys than as an organist."
This program aired on July 11, 2014.