Week In The News: Ferguson, Iraq And Remembering Robin Williams
Resume
Clashes in Ferguson, Missouri. The U.S. in Iraq. A Russian convoy, bound for Ukraine.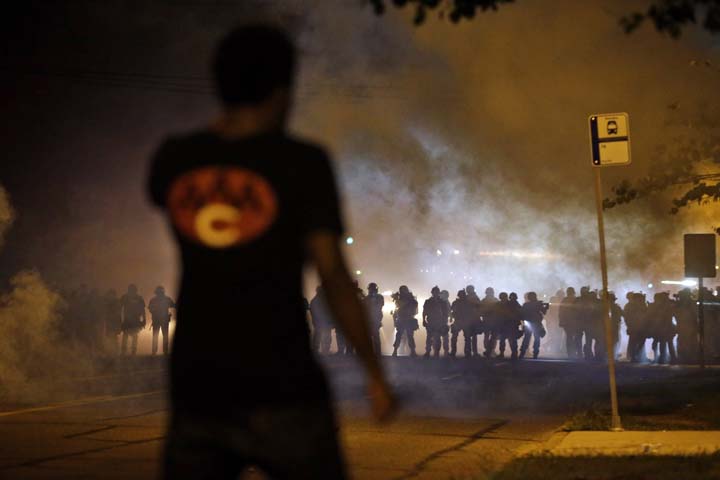 Explosive anger, sorrow and maybe a little catharsis this week over deadly force in Ferguson, Missouri and shocking scenes of the gross militarization of American police.  This story's not over.  In Iraq, US special forces on the ground, sizing up a crisis.  More US bombing, and a new Iraqi leader.  From Russia, a convoy on the move to Ukraine.  In Africa, Ebola now moving on an unprecedented scale.  We're in new territory.  And at home, a national outpouring over the death of Robin Williams.  This hour On Point:  Our weekly news roundtable goes behind the headlines.
-- Tom Ashbrook
Guests
Lara Jakes, national security correspondent for the Associated Press. (@larajakesAP)
Marcus Mabry, editor at large for the New York Times. Author of "Twice as Good: Condolezza Rice and Her Path to Power" and "White Bucks and Black-Eyed Peas." (@MarcusMabryNYT)
Jack Beatty, On Point news analyst.
From Tom's Reading List
Saint Louis Public Radio: For Michael Brown, Wheels Of Justice May Turn Slowly — "St. Louis Board of Alderman President Lewis Reed has an idea about what's driving the frustration about Michael Brown's death. As federal and local investigations into Brown's shooting death unfold, Reed said more and more people want details and quick action. They want to know what really happened when a Ferguson police officer shot the 18-year-old last Saturday."
New York Times: Militants' Siege on Mountain in Iraq Is Over, Pentagon Says — "Defense Secretary Chuck Hagel, speaking to reporters Wednesday night at Andrews Air Force Base, Md., said it was 'far less likely now' that the United States would undertake a rescue mission because the assessment team reported far fewer Yazidis on the mountain than expected, and that those still there were in relatively good condition."
Esquire: Even In His Comedy, Robin Williams' Pain Was Real, Visible — "I grew up in awe of him, for the riffs, the speed, the all-consuming improvisational genius, the simple fact that he didn't tell jokes but rather spoke comedy, the way backwoods believers speak in tongues. But I rejected him when he switched — when he started acting in dramas, and so had to play the sad clown. It was odd to see him Moscow on the Hudson, playing a jazz-besotted Russian circus musician who defects to the United States, gets a chance to go on stage with his heroes, and then comes to the devastating realization that he doesn't belong there—or, as a result, anywhere."
This program aired on August 15, 2014.