Race, Class And Ferguson
Play
This article is more than 8 years old.
A deep read on Ferguson, Missouri and what we're seeing about race, class, hope and fear in America.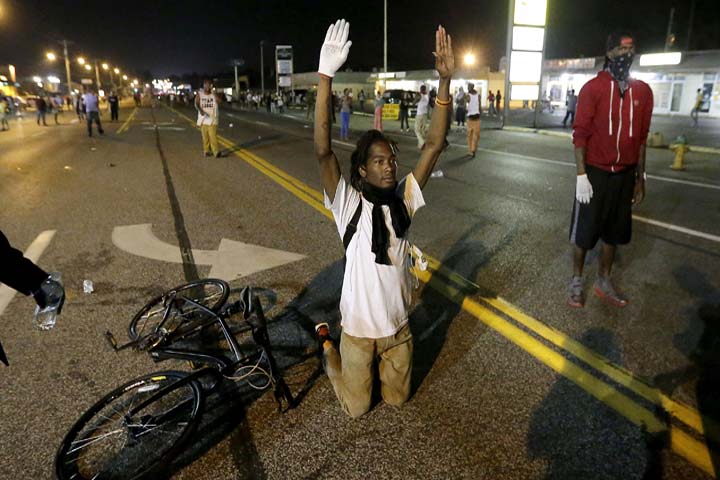 There has been a lot of talk on the streets of Ferguson, Missouri for hard days and nights now.  People talking with words and signs and song and rocks and bottles and teargas and Molotov cocktails.  People speaking in anguish and in anger.  And many in the street saying we need a better, deeper, urgent conversation in this country about race and class.  That we must not paper over – or police over – what has erupted in Ferguson.  All right, we'll take that challenge.  Please join us.  This hour On Point:  the message of Ferguson.
-- Tom Ashbrook
Guests
Patricia Bynes, Democratic committeewoman for Ferguson Township, MO. (@Patricialicious)
Malcolm London, poet and youth activist. (@MalcolmLondon)
Yohuru Williams, chair and professor of history at Fairfield University. Author of "Black Politics/White Power" and "Teaching U.S. History Beyond the Text Book." (@YohuruWilliams)
From Tom's Reading List
Pew Research Center: Stark Racial Divisions in Reactions to Ferguson Police Shooting -- "Blacks and whites have sharply different reactions to the police shooting of an unarmed teen in Ferguson, Mo., and the protests and violence that followed. Blacks are about twice as likely as whites to say that the shooting of Michael Brown traises important issues about race that need to be discussed.' Wide racial differences also are evident in opinions about of whether local police went too far in the aftermath of Brown's death, and in confidence in the investigations into the shooting."
New York Times: Frustration in Ferguson — "The community is struggling to find its way back to normalcy, but it would behoove us to dig a bit deeper into the underlying frustrations that cause a place like Ferguson to erupt in the first place and explore the untenable nature of our normal."
Huffington Post: Don Lemon On Ferguson, The Police, Race And His Critics --"'The only way that we are going to bridge that divide is if we stop judging each other when we talk about it, and for people to stop saying, 'If you speak about this issue, you are race-baiting,' Lemon offered. 'You have to call people out on certain occasions, but you also have to allow them to speak to understand where they're coming from.'"
This program aired on August 20, 2014.