Week In The News: Ferguson Simmers, An ISIS Beheading, West Africa's Ebola Crisis
Resume
The National Guard and Eric Holder in Ferguson. ISIS beheads an American journalist. Texas Governor Rick Perry gets a mug shot. CBS News' Margaret Brennan, the Chicago Tribune's Clarence Page and On Point's Jack Beatty work through the headlines.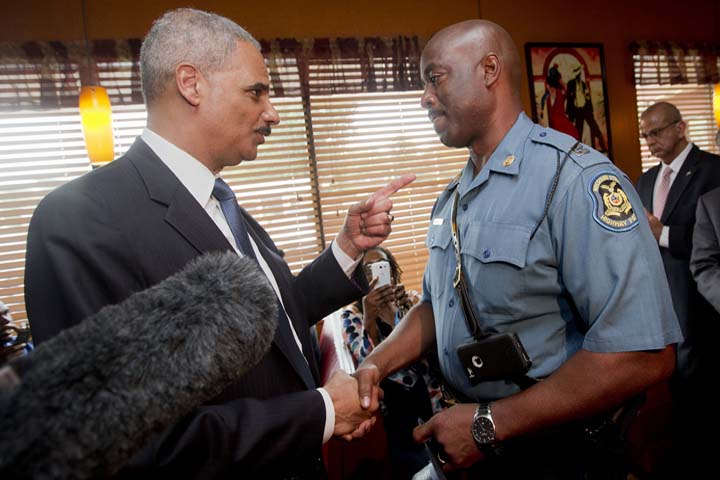 A sickening beheading this week of an American in the desert.  Journalist James Foley, by ISIS.  A gruesome coda to a rough summer.  Respect to him.  Fury and alarm with them.  In Ferguson, Missouri, also fury and the National Guard and big issues in the streets.  It's calmer.  It's not over.  Good news on the American doctor and missionary with Ebola.  They're well.  Bad news on Ebola in Africa.  Still spreading.  We've got a Russian convoy in Ukraine.  Rick Perry, booked and defiant.  Little League dazzle.  This hour On Point:  Our weekly news roundtable goes behind the headlines.
-- Tom Ashbrook
Guests
Margaret Brennan, U.S. State Department correspondent for CBS News. (@margbrennan)
Clarence Page, syndicated columnist for Tribune Media Services, member of the Chicago Tribune's editorial board. (@ChiTribPage)
Jack Beatty, On Point news analyst.
From Tom's Reading List
Chicago Tribune: Even Obama seems trapped by racial divide — "Obama sounded almost gloomily cautious in his third statement on the Ferguson crisis, after a week of sporadic street unrest in the Missouri town following a police shooting of Michael Brown, an unarmed 18-year-old black youth. It was a sad contrast to 10 years ago when, as a state senator from Illinois, he energized the 2004 Democratic National Convention in Boston with an inspiring call to bridge racial divides. "
New York Times: Before Killing James Foley, ISIS Demanded Ransom From U.S. — "In fact, until recently, ISIS had a very different list of demands for Mr. Foley: The group pressed the United States to provide a multimillion-dollar ransom for his release, according to a representative of his family and a former hostage held alongside him. The United States — unlike several European countries that have funneled millions to the terror group to spare the lives of their citizens — refused to pay."
Associated Press: Two American Ebola Patients Discharged From Hospital — "Dr. Kent Brantly, 33, and Nancy Writebol, 59, were infected while working at a missionary clinic in the West African nation of Liberia. They were given the experimental drug Zmapp and flown back to the United States for treatment. Brantly was released Thursday, and Writebol quietly walked out of the hospital's isolation unit two days earlier."
This article was originally published on August 22, 2014.
This program aired on August 22, 2014.