Stunt Philanthropy In The Age Of Social Media
Play
This article is more than 8 years old.
The Ice Bucket Challenge: ALS, viral fundraising and how we give in the age of social media.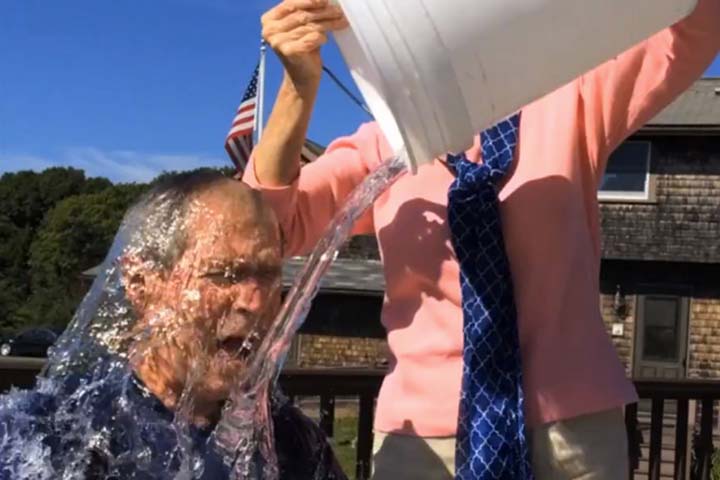 The Ice Bucket Challenge has just ruled this summer.  Be doused with an icy torrent, or give money for ALS – "Lou Gehrig's Disease."  It was born in late July.  Exploded on social media.  Swept up big names and celebrities from George W. Bush to LeBron James to Lindsey Lohan to Jeff Bezos.  And swarms of regular folks.  The ALS Association would normally raise a couple million dollars this time of year.  This month, with the challenge - more than $50 million.  It's astonishing.  Or is it "slacktivism?" This hour On Point:  the Ice Bucket Challenge, and giving in the age of social media.
-- Tom Ashbrook
Guests
Nancy Frates, mother of Pete Frates, an ALS patient in Massachusetts.
Stacy Palmer, editor of the Chronicle of Philanthropy. (@stacypalmer)
Lucie Bruijn, chief scientist at the ALS Association.
Michael Hiltzik, columnist at the Los Angeles Times. (@hiltzikm)
John McDermott, staff reporter at Digiday. (@mcdermott)
From Tom's Reading List
The Atlantic: Why Did the Ice Bucket Challenge Go Big? Boston — "New data from the Facebook data science team heavily supports one theory: that the ice bucket challenger originated with Peter Frates, a former captain of the Boston College baseball team. Frates is 29 years old, and he was diagnosed with ALS in 2012. After Frates posted his ice bucket challenge video on July 31, the challenge took off. "
Los Angeles Times: A few (impolite) questions about the ice bucket challenge — "Stunt philanthropy like the ice bucket challenge doesn't accommodate these sorts of distinctions and comparisons--it just feeds whatever charity hits on a catchy device and treats all causes as essentially equivalent, distinguished only by their claim on public attention. The result is that 'the most successful charities will be those that are best at soliciting funds, not those that are best at making the world a better place,' as the British philanthropic organizer William MacAskill puts it."
Digiday: Why Facebook is for ice buckets, Twitter is for Ferguson -- "Having a frank discussion about the militarization of the police and America's painful racial history indeed seems incongruous next to baby photos and engagement announcements. But Facebook's inability to foster such topical conversations undercuts its recent efforts — introducing trending topics, placing more value on 'high-quality content' — to become a veritable news provider."
This program aired on August 22, 2014.