Legacy And Lessons From Ferguson
Resume
The message that will last out of Ferguson with New Yorker writer Jelani Cobb.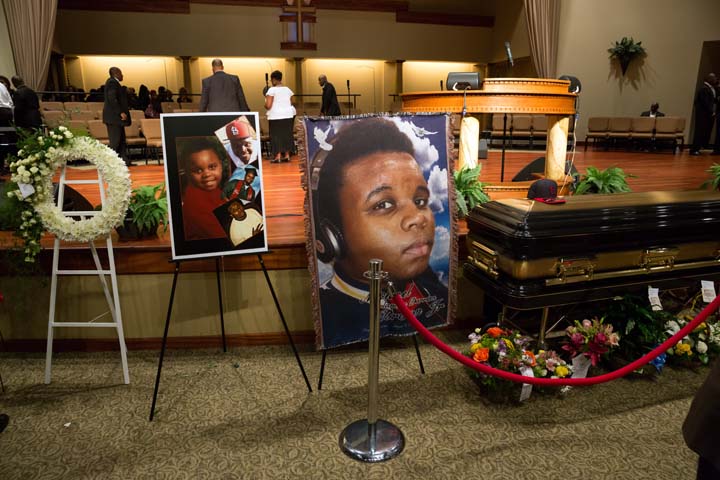 The people of Ferguson, Missouri do not get a national, let alone a global, hearing just every day.  For most of the last 19 days, they have.  Days of chaos, fear, defiance, anger.  And, we hope, insight.  Writer and scholar Jelani Cobb was in the heart of the Ferguson uproar, writing for the New Yorker magazine.  He wrote about the shadow of lynching that fell over the town with Michael Brown's death.  About a rush to police shock and awe.  About Ferguson in the context of America's history and what comes now.  This hour On Point:  Jelani Cobb on Ferguson, and all of us.
-- Tom Ashbrook
Guests
Jelani Cobb, associate professor of history and the director of Africana studies at the University of Connecticut. Contributor to the New Yorker. Author of "The Substance of Hope: Barack Obama And The Paradox of Progress." (@jelani9)
From Tom's Reading List
New Yorker: Between The World And Ferguson — "It took sixteen days for Brown's body to be buried, an extended postscript that included three separate autopsies, the emergence of duelling interpretations of his last moments, and the resolution of precisely nothing about how race, media, and policing operate in the United States. "
FiveThirtyEight: The Poorest Corner Of Town — "Ferguson itself, however, is about two-thirds black and is largely integrated internally. It is not particularly poor. Its median household income is about $35,000, well below the national mark of about $50,000, but ahead of many neighboring communities. In the north end of the city, which features some large, handsome homes, household incomes are close to the national average."
St. Louis Post-Dispatch: Recording captured shots fired at Michael Brown, lawyer says -- If authentic, it is the first recording of the shooting that has surfaced. It would show that Wilson fired at least 10 times; a private autopsy said at least six shots struck Brown. The recording also chronicles a pause which over the past 36 hours has been the subject of much speculation."
This program aired on August 28, 2014.