Taking The Temperature Of The 2014 Midterm Elections
Resume
Nine weeks counting now to the midterm elections. We'll look at the key races and the stakes.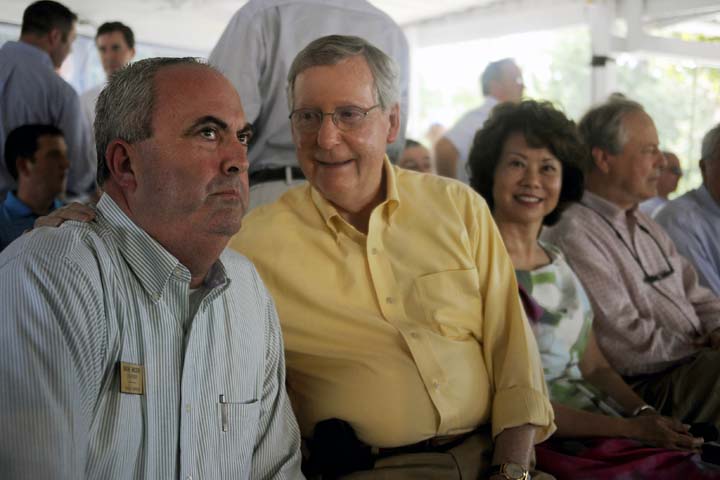 Nine weeks from today, midterm elections across the country.  At stake, control of the US Senate, and a whole lot more.  A Republican takeover of the Senate would mean the GOP would rule Capitol Hill, both houses.  Even rougher sledding for Barack Obama, and a Republican leg up for 2016.  We've got war and peace on the table – Ukraine and ISIS.  Minimum wage.  Marijuana.  A lot of governors' mansions.  And right down local too.  Just ask Ferguson, Missouri if that matters.  This hour On Point:  key races, core stakes, and what's coming in the midterm elections.
-- Tom Ashbrook
Guests
Karen Tumulty, national political correspondent for the Washington Post. (@ktumulty)
Amy Walter, national political editor for the Cook Political Report. (@amyewalter)
Jonathan Martin, national political correspondent for the New York Times. (@jmartNYT)
From Tom's Reading List
Washington Post: Obama's immigration decision could roil 2014 election — "Both political parties are in a state of high anxiety about the possibility that President Obama will allow millions of illegal immigrants to remain in the country, fearing that White House action on the issue could change the course of November's midterm elections."
New York Times Magazine: Mitch McConnell Is Headed Down the Stretch -- "For decades, Senate leaders could expect to coast through their campaigns, but the polarized politics of the past decade has turned their re-elections into a sort of nationally funded blood sport. In 2004, Tom Daschle, the Senate Democratic leader, was defeated in South Dakota after Republicans raised about $14 million for his opponent, John Thune; in 2010, Daschle's successor, Harry Reid, nearly lost his seat in Nevada to another well-financed candidate, Sharron Angle."
Cook Political Report: Why Are We Waiting For A Wave? — Despite dismal numbers for President Obama, a public deeply pessimistic about the direction of the country, and a Senate battleground based almost solely in red states, Republicans aren't running up the score in Senate races, even in deep red states. Many are asking: why hasn't the bottom dropped out on Democrats yet? The answer is: it already did."
This article was originally published on September 02, 2014.
This program aired on September 2, 2014.