Tierney Sutton's Jazz Vocals And Baha'i Faith
Resume
Jazz singer Tierney Sutton  on the improvising life in music and her Baha'i faith.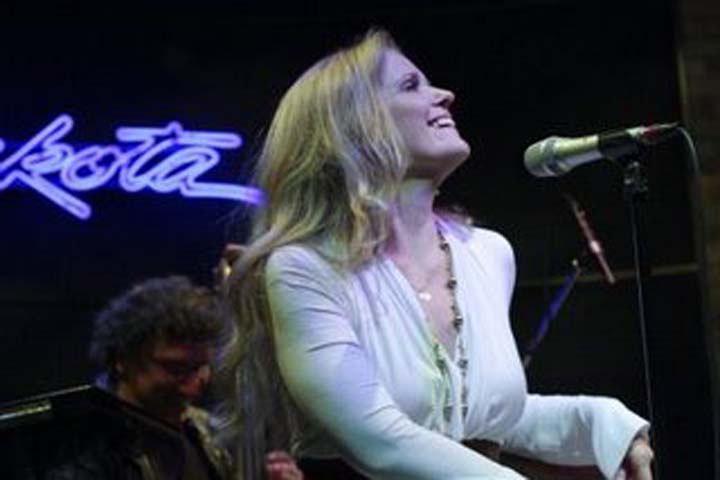 Jazz singer Tierney Sutton came up out of Omaha, Milwaukee, a bit of Boston.  A singing cocktail waitress.  Some Wisconsin roadhouse.  Lapsed Catholic parents.  A hunger for the world.  And she found two things.  Jazz, and the Baha'i faith.  A faith of peace and shared humanity.  You can hear it in her song. Or when she sings Sinatra, or Joni Mitchell.  When she praises Dizzy Gillespie.  This hour On Point:  jazz and Baha'i, with Tierney Sutton.
-- Tom Ashbrook
Guests
Tierney Sutton, jazz singer. Her latest album is "Paris Sessions." (@tierneysutton)
From Tom's Reading List
New York Times: A Singer Blends Her Devotion to Jazz and the Baha'i Faith -- "For Ms. Sutton, 51, the discovery of jazz and the discovery of the Baha'i faith came nearly simultaneously. And neither of those epiphanies would have seemed especially likely for an atheist teenager in 1970s suburban Milwaukee, a stronghold for the thumping likes of Styx and REO Speedwagon."
The Artery: Jazzy Joni Mitchell Covers, Courtesy Of Tierney Sutton -- "It's always a treat when Sutton, who is now based in California, comes to Boston, home to Sutton for a time, and a place for musical growth when she attended Berklee College of Music. Since then she has been nominated for five Grammys, named a JazzWeek Vocalist of the Year, and performed at Carnegie Hall and the Hollywood Bowl with her band. "
Jazz Weekly: Vocal Ringer of the Year? — "Tierney Sutton captures an impressive amount of the colors of Mitchell's multi-hued rainbow, with her in the environs of a string quartet, jazz band, drummer, piano and guitarist through various duet and small group permutations."
Playlist
*Ms. Sutton's latest album, "Paris Sessions," is not yet released as of this broadcast, so the tracks from that album are not yet available on Spotify. We'll update the playlist as the songs become available.
This program aired on September 5, 2014.