The Hard And Soft Rules Of Apple Cider
Resume
All about hard cider. It's all over these days. And sweet, fresh apple cider, too. We'll look at the history and comeback.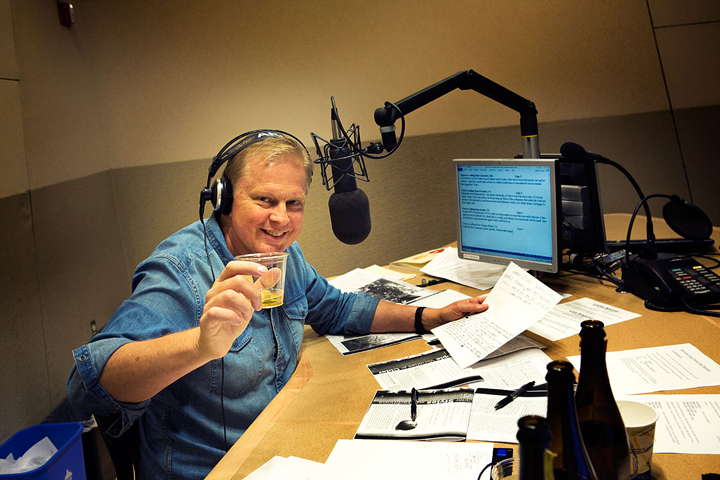 Fall is on us.  A nip in the air.  Apples at the ready.  And a nip out of the orchard, too.  Sweet, fresh apple cider – the real, raw thing - is a gift of the apple gods.  Drink it and smile.  But hard cider is the drink really taking off lately.  The Romans drank it.  Johnny Appleseed drank it and spread it around.  Hard cider was the easy, abundant party beverage of the American homestead.  And now it's a 21st century favorite of the American young.  A heritage drink that's hot again.  This hour On Point:  from the apple orchard, cider mania.  Cider renaissance.
-- Tom Ashbrook
Guests
Ben Watson, writer, editor and food activist. Author of "Cider, Hard and Sweet: History, Traditions and Making Your Own." Also author of "Acts of God" and "Passport to Gardening."
Louisa Spencer, co-owner of Poverty Lane Orchards and Farnum Hill Ciders.
Lars Ringsrud, co-owner and brand manager of the Snowdrift Cider Company. (@LarsRingsrud)
From Tom's Reading List
The Wall Street Journal: American-Made Ciders Redefine the Apple Cocktail — "Forget that toxic-green apple-tini you once made the mistake of ordering. A new wave of American-made hard ciders has arrived, and it's redefining the role of the apple at the bar. In recent years, the range of cider styles available here has expanded, said Michael McAvena, East Coast account manager at Michigan-based Virtue Cider and former bartender at the Violet Hour in Chicago. "
North Country Public Radio: Apples: it's a good year — " It is shaping up to be a good year for New York apple producers. The state is on track to produce 30 million bushels of apples this year — a strong follow-up to last year's record-breaking crop. But a good year does not mean it's easy to produce that perfect apple."
Huffington Post: How To Drink Craft Apple Cider With Everything — "Sweet, tart apple cider — served either hot or chilled — has a distinctive, simplistic crispness that tastes wonderful on its own, in a cocktail and alongside a cheese plate. The craft variety is different than the commercial stuff in a couple of ways: Craft cider tends to be made from apples cultivated specifically for the drink, and it usually contains fewer additives (like sugar)."
Ciders Tasted On Air
Sweet Cider, aka Fresh Cider, from Woodland Farm in South Glastonbury, CT
Extra Dry Still Cider from Farnum Hill Ciders in Lebanon, NH
Cidermaker's Reserve Cider from Snowdrift Cider Company of Wenatchee, WA
Semi-Dry Cider from Farnum Hill Ciders in Lebanon, NH
Orchard Select Cider from Snowdrift Cider Company of Wenatchee, WA
(Apples sampled: Ashton Bitter and Stoke Red)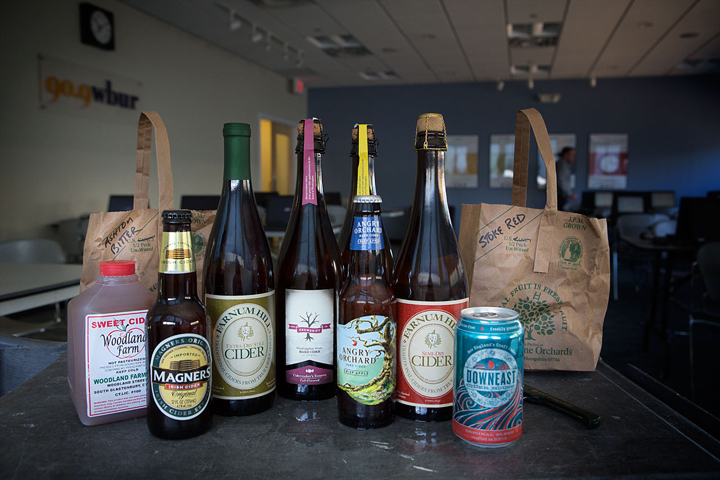 Read An Excerpt of "Cider, Hard and Sweet" by Ben Watson
This program aired on September 26, 2014.