Auditing America's Police Force
Resume
Police shootings, cop culture, body cameras.  And the big debate over how to protect the public and the police.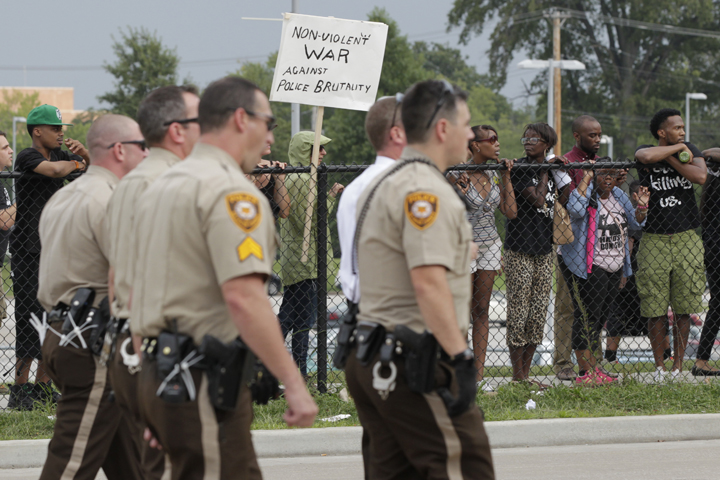 What is going on with police and policing in America?  A man reaches for his driver's license at a routine stop in South Carolina, and goes down in a hail of police bullets.  A man picks up a BB gun for sale in a WalMart and is shot dead by police.  A man sells single cigarettes on a Staten Island corner, dies in a police choke hold.  A woman pummeled by the road in California.  Michael Brown, dead in Ferguson.  All black?  Yes.  Some complications? Sure.  Do police feel vulnerable? Yes.  But come on.  This hour On Point: what is going on with policing in America?
-- Tom Ashbrook
Guests
David Klinger, professor in the University of Missouri-St. Louis's department of criminology and criminal justice. Former patrol officer in Los Angeles and Redman, Washington.
Gloria Browne-Marshall, professor in the John Jay College department of law, police science and criminal justice administration. Author of "Race, Law And American Society" and "The U.S. Constitution: An African-American Context." (@GBrowneMarshall)
Geoff Ward, professor of criminology, law and society and sociology at the University of California-Irvine. Author of "The Black Child Savers: Racial Democracy and Juvenile Justice."
From Tom's Reading List
New York Times: Today's Police Put On a Gun and a Camera — "In just the last few weeks, law enforcement agencies in at least a dozen cities, including Ferguson; Flagstaff, Ariz.; Minneapolis; Norfolk, Va.; and Washington, have said they are equipping officers with video cameras. Miami Beach approved the purchase of $3 million worth of cameras for police officers, parking enforcement workers, and building and fire inspectors."
Christian Science Monitor: S.C. cop in trouble for shooting unarmed man: 'Sir, why was I shot?' — "Amid a number of US inquiries into worrisome police behavior, some critics are asking a difficult question: Have American police officers' trigger fingers gotten too itchy? South Carolina authorities on Wednesday released a dashcam video showing former Highway Patrol officer Sean Groubert asking motorist Levar Jones, who is black, to get his license and then shooting him in the hip as he reaches into his car for the license. "
WCPO: Protest planned for man shot, killed at Walmart — "Family members of the man fatally shot by a police officer in a Beavercreek Wal-mart are expected to join the National Action Network on Monday at the Hamilton County Courthouse to protest a special grand jury's decision not to issue any indictments. The police officer who fatally shot 22-year-old John Crawford III on Aug. 5 said Crawford didn't respond to repeated commands to drop the weapon and turned toward officers in an aggressive manner."
This program aired on September 30, 2014.