2014 Midterm Elections: Unpacking The Results
Resume
With guest host Jane Clayson.
On the ground in key states, we'll look at Tuesday's midterm results: What they say and where we're headed.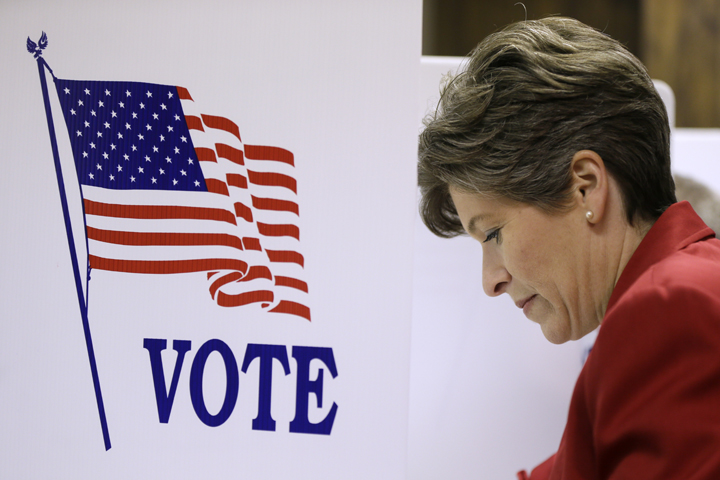 It's officially a wave, and Republicans rode it, taking control of the Senate, defending hotly contested governors' mansions, and sending a powerful message to Washington and President Obama. Further down the ballot, big results on ballot questions for marijuana, minimum wage, and more. We're looking at America's political map after this election. What happened last night, and what does it mean for the future of Congress and the country? This hour, On Point: Mid-term elections and the state of the nation.
-- Jane Clayson
Guests
Karen Tumluty, national correspondent for the Washington Post. (@ktumulty)
Molly Ball, national political correspondent for The Atlantic. (@mollyesque)
Dennis Goldford, political scientist at Drake University.
From The Reading List
Washington Post: What's in store for new Senate? Much of the same gridlock and grind. -- "Now that power has changed hands in the Senate, there are two scenarios for what is likely to get done in Washington over the next couple of years: not much, and nothing at all. The new Republican majority was elected with virtually no agenda beyond stopping President Obama's — something the GOP senators were already pretty successful at doing as the minority."
The Atlantic: A Republican Wave Sweeps the Midterm Elections — "Republicans unseated Democratic incumbents in Senate races in Arkansas, North Carolina, and Colorado, and were leading in Alaska early Wednesday. They easily held onto GOP-controlled seats in Georgia, Kansas, and Kentucky. In New Hampshire, Democrat Jeanne Shaheen barely held on against Republican Scott Brown. In one of the night's biggest surprises, Virginia Senator Mark Warner, who was thought to be safe, was up only half a point over his Republican challenger early Wednesday. The Louisiana election, in which Democrat Mary Landrieu finished slightly ahead of her Republican challenger, Bill Cassidy, was set to go to a December runoff, which Cassidy is favored to win."
National Review: How The Wave Happened -- "Although the Republicans led the generic ballot for Congress at the time by a point, 42–41, among very likely voters it was 46–41, and the undecideds for Congress disapproved of the president by 64 percent. In the last two weeks of October, it appears, these voters nationalized the race, and we finally saw the tsunami."
This article was originally published on November 05, 2014.
This program aired on November 5, 2014.