John Moffitt On Life After Football
Resume
With guest host John Harwood.
Quitting the NFL and one player's rocky transition to life after football. Plus, a look at the new all-female sports show.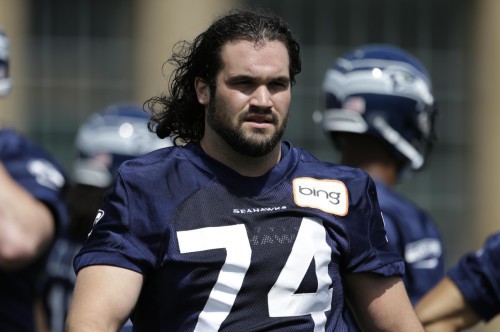 For all its problems, football remains the most popular sport in America, commanding huge televions audiences and delivering big rewards to the elite athletes who choose to endure the punishment. John Moffitt was one of those elite athletes — a star lineman in the Big Ten who blocked for Peyton Manning in the NFL. But then, at 27, he decided he wasn't going to endure it anymore. He quit, walking into a  post-football life that, one year later, has had ups and downs, and a few laughs. This hour, On Point: John Moffitt, making his way after the NFL.
-- John Harwood
 Guests
John Moffitt, former NFL offensive guard for the Seattle Seahawks and the Denver Broncos. (@Moffitt74)
David Moffitt, father of John Moffitt.
From The Reading List
New York Times: A Year of Unforeseen Hits -- "A year ago this week, Moffitt, a little-known offensive lineman for the Denver Broncos, made national news when he abruptly retired, giving up about $1 million in pay, a potential trip to the Super Bowl and a high-profile lifestyle envied by millions of Americans. Battered by injuries, tired of the grinding routines and sapped of the passion that had driven him since he began playing as an 8-year-old, Moffitt walked away from the N.F.L. with no plan other than to explore life beyond football."
710 Sports: John Moffitt on his decision to retire: 'I lost my passion' — "Moffitt informed the Broncos early last week that he would not return to the team following its bye. So ended a career that began in 2011 when the Seahawks drafted him in the third round out of Wisconsin. Moffitt played two seasons in Seattle – one that was cut short by a knee injury and another he spent in and out of the starting lineup – before his trade to the Broncos. Half a season in Denver was enough to convince him that he'd be happier doing something other than playing football. He plans to pursue a career in broadcasting, and he said he's not worried about all the NFL money he's walking away from."
Sports Illustrated: CBS Sports Network to debut weekly all-female sports talk show — "The rarest species in sports television is a woman offering her opinion. Your cable system is littered with bloviating Baylesses belting out hot takes, but it doesn't take Inspector Javert to recognize that the women in the medium are essentially restricted to anchoring or sideline reporting. Executives at sports networks talk a nice game about on-air equality but only ESPN has made an attempt to give its front-facing women significant (key word) airtime when it comes to opinion-based television. While ex-coaches and players blather daily on multiple sports networks, the women at those networks are mostly used in ornamental roles. Fox Sports 1's Katie Nolan hammered this point home here all too well."
Why We All "We Need to Talk"
Andrea Kremer, Co-host of CBS Sports Network's "We Need to Talk". Adjunct professor at the Boston University College of Communication. (@Andrea_Kremer)
This program aired on November 11, 2014.