'A Brief History' Of 1970s Jamaica
Play
This article is more than 8 years old.
With Guest Host Jessica Yellin.
The 1976 assassination attempt on Bob Marley is the plot of a bright, new novel that's getting rave reviews. We'll talk with author Marlon James.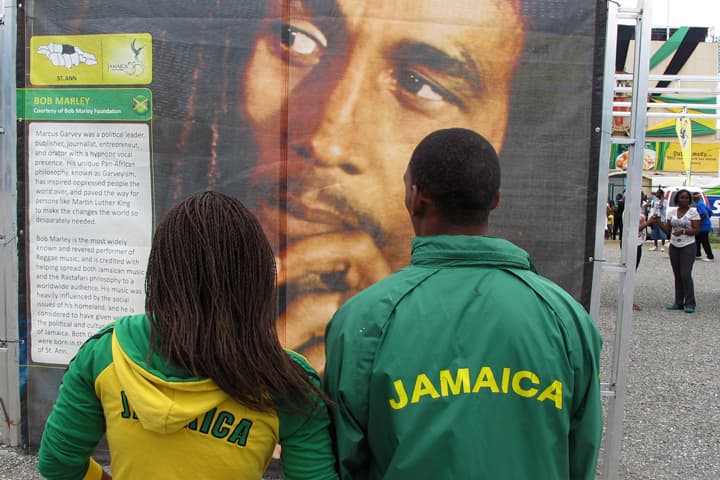 It's Bob Marley's most famous lyric — "Let's get together and feel all right."  The song was called "One Love." But the world Marley lived in was anything but peaceful.  Jamaica in the 1970s was filled with gangs, drugs,  unspeakable violence. With Bob Marley in the middle of it all — tugged and claimed by both sides of political upheaval.  Jamaican writer Marlon James imagines how it all went down in a breathless new novel. A re-telling of the story from the perspectives of gang members, a CIA-operative, a journalist, and more. This hour, On Point: power, corruption and the story of Bob Marley.
-- Jessica Yellin
Guests
Marlon James, novelist and professor of English at Macalester College. Author of the new book "A Brief History of Seven Killings." Also author of "John Crow's Devil" and "The Book of Night Women." (@marlonjames5)
From The Reading List
The Wall Street Journal: Writer Marlon James Reimagines a Watershed in Jamaica — ""A Brief History of Seven Killings" is a fictional, kaleidoscopic take on the 1976 assassination attempt on reggae star Bob Marley and its aftermath. The book spans the 1970s to the 1990s, travels from Kingston to Miami, and has a range of narrators, including hired killers, CIA agents, a music journalist and a middle-class Jamaican woman who is one of Mr. Marley's former lovers."
NPR Books: A 'Post-Post-Colonial' Take On The Violent Birth Of Modern Jamaica — "'Post-post-colonial' — and that's just because I can't think of something wittier right now — I think is a new generation of, well, new-ish generation of writers, where we're not driven by our dialogue with the former mother country [the United Kingdom]. The hovering power for us when growing up in the '70s and '80s was not the U.K. It was the States, it was America. And it wasn't an imperialistic power, it was just a cultural influence."
The Telegaph: A Brief History of Seven Killings by Marlon James, review: 'vivid and powerful' — "Marlon James's novel A Brief History of Seven Killings begins in 1976 with the attempted murder of Bob Marley. The story is true, like almost everything in this vast and teeming story of Jamaican violence. Marley was shot two days before Smile Jamaica, a public concert organised by Michael Manley, the prime minister and leader of the People's National Party (PNP). He survived, as did his wife Rita, who had a bullet removed from her head. Marley played the concert but left immediately afterwards for two years of self-imposed exile in London."
Read An Excerpt of "A Brief History Of Seven Killings" By Marlon James
https://www.scribd.com/doc/246615272/Excerpt-from-A-Brief-History-of-Seven-Killings-by-Marlon-James
Playlist
This program aired on November 17, 2014.