Battling To Save The Endangered Gorillas Of 'Virunga'
Resume
With Guest Host Jessica Yellin.
An award-winning new documentary takes us inside the deadly, high-stakes struggle to save the home of the last mountain gorillas.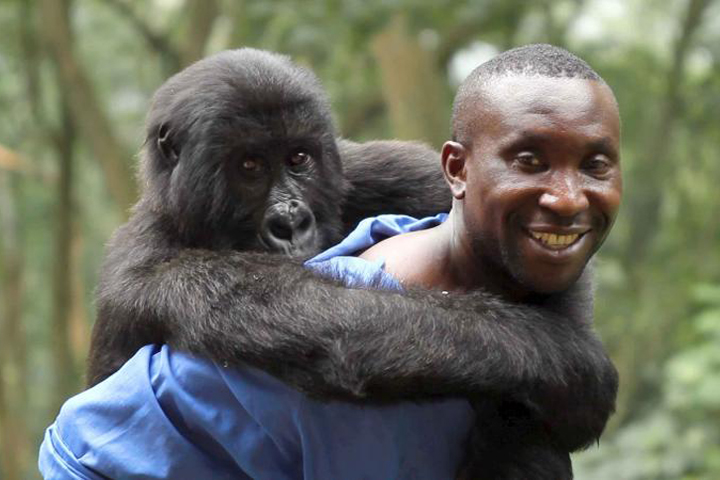 "Virunga" is an astonishing new documentary about corruption, compassion, and the imperiled gorillas and people of the Congo . The film is named after a national park in the Congo, where some of the world's last mountain gorillas live. It's the story of an oil company and local rebels trying to control their land and fearless Congolese park rangers, an intrepid investigative journalist and soft-spoken Belgian warden fighting to protect it. This hour on point, "Virunga" and the gorillas of the Congo.
-- Jessica Yellin
Guests
Orlando von Einsiedel, filmmaker. Director of the new documentary, "Virunga." (@virungamovie)
Emmanuel de Merode, director of the Virunga National National Park in the Democratic Republic of the Congo. (@emmanuelcongo)
Melanie Gouby, freelance French investigative journalist. (@melaniegouby)
From The Reading List
The Guardian: 'Gorillas take on all the positive aspects of being human' — "Although there are immediate problems about survival in a war, you also have to think about the future. You cannot allow the future to be destroyed. The mountain gorillas represent enormous potential for the development of communities. Rwanda, which had many of the same problems, earns $430m from tourism. It takes decades for wildlife populations to recover, but they can be destroyed in days. You have to protect wildlife even if there is a war going on. Protecting wildlife is not a luxury."
NPR News: How Africa's Oldest National Park Can Benefit Both Gorillas And Locals -- "Under constant threat of poaching, the gorillas themselves teeter on the brink of extinction. While results of a 2010 census offered hope — 480 mountain gorillas were estimated to be living within the park, and conservation efforts had contributed to a 3.7 percent annual growth of the species — the film clearly shows that Virunga's mountain gorilla population is not in the clear."
Outside: The Belgian Prince Taking Bullets to Save the World's Most Threatened Park -- "Is there a more dangerous national park on earth? It's hard to imagine. We see armed rangers cuddling frightened gorilla orphans as they prepare for an imminent M-23 attack. De Merode's head lieutenant, a warden named Rodrigue Mugaruka Katembo, wears a hidden camera, as does an intrepid young French journalist named Melanie Gouby, in an effort to prove that SOCO is, at best, trying to buy its way into the park. The footage they capture appears pretty damning, showing a Congolese SOCO supporter offering bribes and a French contractor for the company speaking contemptuously about the need to 'recolonize these countries.'"
Watch The Trailer For "Virunga"
This program aired on November 18, 2014.