After Grand Jury Declines To Indict, Ferguson Responds
Play
This article is more than 8 years old.
With guest host Jane Clayson.
Grand Jury decision out of Ferguson — no indictment. We're on the ground with the latest details and reaction.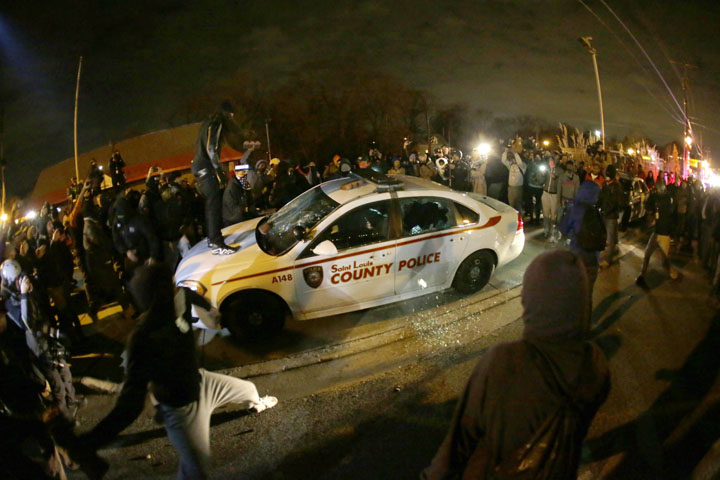 Ferguson in flames, following a Grand Jury decision not to indict police officer Darren Wilson in the death of Michael Brown. Demonstrations turned ugly, despite pleas for peace from Brown's family. Looting, overturned cars.  Gunshots. Tear gas and real tears. Broken windows and broken hearts. And big questions: What just happened? Where does Ferguson and the country go from here?  We're on the ground in Ferguson searching for answers. This hour On Point: the law and lessons from Ferguson.
-- Jane Clayson
Guests
Susan McGraugh, professor at the St. Louis University Law School, practicing defense attorney. (@slewzq)
Jelani Cobb, associate professor of history and director of Africana studies at the University of Connecticut. Contributor to the New Yorker. (@jelani9)
Patricia Bynes, Democratic Committeewoman for Ferguson Township, Missouri. (@Patricialicious)
Rev. Willis Johnson, pastor at Wellspring Church in Ferguson, MO. (@fwillisjohnson)
David Folkenflik, media correspondent for NPR News. (@davidfolkenflik)
From The Reading List
St. Louis Post Dispatch: No charges against Darren Wilson, grand jury decides — "St. Louis County Prosecuting Attorney Robert P. McCulloch announced Monday night that a grand jury delivered a "no true bill" after considering possible charges in the case, meaning an indictment will not be handed down. A separate federal investigation into whether Wilson violated Brown's civil rights is continuing, officials said. McCulloch said the two investigations had worked in harmony and evidence was shared with investigators from both levels of government."
Washington Post: Darren Wilson explains why he killed Michael Brown — "Things then happened very quickly. Wilson said Brown was at his car window, enraged. Wilson said Brown hit him in the face, grabbing for his gun. Two shots fired. Brown bolted down the street. Wilson pursued. As Wilson told it, Brown charged the officer, reaching into his pants. Wilson raised his .40-caliber Sig Sauer and aimed for a lethal shot."
New Yorker: Chronicle of a Riot Foretold — " From the outset, the great difficulty has been discerning whether the authorities are driven by malevolence or incompetence. The Ferguson police let Brown's body lie in the street for four and a half hours, an act that either reflected callous disregard for him as a human being or an inability to manage the situation. The release of Darren Wilson's name was paired with the release of a video purportedly showing Brown stealing a box of cigarillos from a convenience store, although Ferguson police chief Tom Jackson later admitted that Wilson was unaware of the incident when he confronted the young man."
This program aired on November 25, 2014.