Last-Minute Thanksgiving Luxury
Just in case you don't have your entire Thanksgiving feast perfectly planned out, our guest chefs from this year's special Thanksgiving episode of On Point Radio have a few recipes for you to try this Thursday.
---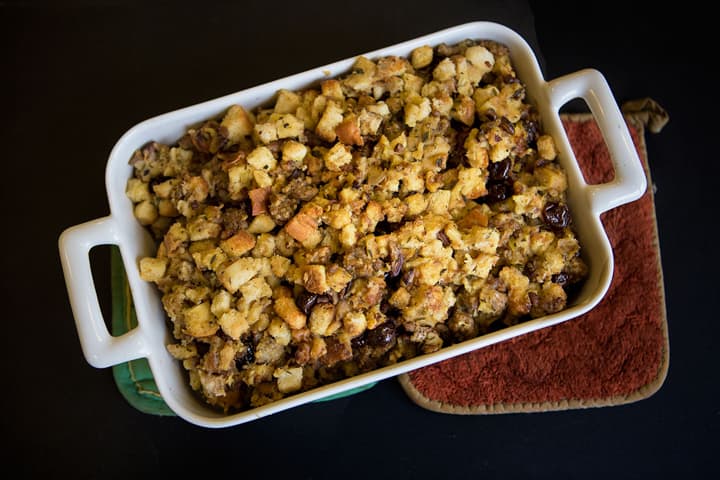 Bread Stuffing with Sausage, Dried Cherries and Pecans
From America's Test Kitchen's Bridget Lancaster 
SERVES 10 TO 12

NOTE: Two pounds of chicken wings can be substituted for the turkey wings. If using chicken wings, separate them into 2 sections (it's not necessary to separate the tips) and poke each segment 4 or 5 times. Also, increase the amount of broth to 3 cups, reduce the amount of butter to 2 table- spoons, and cook the stuffing for only 60 minutes (the wings should register over 175 degrees at the end of cooking). Use the meat from the cooked wings to make salad or soup.

2 pounds (20 to 22 slices) hearty white sandwich bread, cut into 1⁄2-inch cubes (about 16 cups)

3 pounds turkey wings, divided at joints (see note)

2 teaspoons vegetable oil
1 pound bulk pork sausage
4 tablespoons (1⁄2 stick) unsalted butter, plus extra f or baking dish

1 large onion, chopped fine (about 11⁄2 cups) 3 celery ribs, chopped fine (about 11⁄2 cups) 2 teaspoons table salt

2 tablespoons minced fresh thyme leaves
2 tablespoons minced fresh sage leaves
1 teaspoon ground black pepper

2 1⁄2 cups low-sodium chicken broth
3 large eggs
1 cup dried cherries
1 cup pecan halves, toasted and chopped fine


Adjust oven racks to upper-middle and lower- middle positions and heat oven to 250 degrees. Spread bread cubes in even layer on 2 rimmed baking sheets. Bake until edges have dried but centers are slightly moist (cubes should yield to pressure), 45 to 60 min- utes, stirring several times during baking. (Bread can be toasted up to 1 day in advance.) Transfer to large bowl and increase oven temperature to 375 degrees.
Use tip of paring knife to poke 10 to 15 holes in each wing segment. Heat oil in 12-inch skillet over medium-high heat until it begins to shimmer. Add wings in single layer and cook until golden brown, 4 to 6 minutes. Flip wings and continue to cook until golden brown on second side, 4 to 6 minutes longer. Transfer wings to medium bowl and set aside.
Return skillet to medium-high heat and add sausage; cook, breaking sausage into 1⁄2-inch pieces with wooden spoon, until browned, 5 to 7 minutes. Transfer sausage to paper towel–lined plate, leaving rendered fat in skillet.
Heat butter with rendered fat in skillet over medium heat. When foaming subsides, add onion, celery, and 1⁄2 teaspoon salt. Cook, stirring occasion- ally, until vegetables are softened but not browned, 7 to 9 minutes. Add thyme, sage, and pepper; cook until fragrant, about 30 seconds. Add 1 cup broth and bring to simmer, using wooden spoon to scrape browned bits from bottom of pan. Add vegetable mixture to bowl with dried bread and toss to combine.
Grease 13 by 9-inch baking dish with butter. In medium bowl, whisk eggs, remaining 11⁄2 cups broth, remaining 11⁄2 teaspoons salt, and any accumulated juices from wings until combined. Add egg/broth mixture, cherries, pecans, and sausage to bread mixture and gently toss to combine; transfer to greased baking dish. Arrange wings on top of stuffing, cover tightly with aluminum foil, and place baking dish on rimmed baking sheet.
Bake on lower-middle rack until thickest part of wings registers 175 degrees on instant-read thermom- eter, 60 to 75 minutes. Remove foil and transfer wings to dinner plate to reserve for another use. Using fork, gently fluff stuffing. Let rest 5 minutes before serving.



---
Rustic Dinner Rolls
From America's Test Kitchen's Bridget Lancaster 
Makes 16 Rolls
Total time 4 Hours (Plus 1 Hour Cooling Time)
Why This Recipe Works: The remarkably crisp crust of European-style dinner rolls keeps them in the domain of professionals, who use steam-injected ovens to expose the developing crust to moisture. We wanted a reliable recipe for rustic dinner rolls with a crisp crust and a chewy crumb as good as any from an artisanal bakery. But when we tasted our first batch, we found a dense, bland crumb beneath a leathery crust. The flavor was easy to improve—we added whole-wheat flour for earthiness, and honey for sweetness. A little extra yeast improved the crumb slightly, but making the dough wetter was the best fix; the water created steam bubbles during baking, producing an airier crumb. Next we came up with a two-step process to mimic a steam-injected oven: First, we misted the rolls with water before baking. Next, we started baking them in a cake pan at a high temperature to help set their shape. Then we lowered the temperature, pulled the rolls apart, and returned them to the oven until we had golden rolls with a perfect crust and crumb. Because this dough is sticky, keep your hands well floured when handling it. We do not recommend mixing this sticky dough by hand. For more information on turning dough (step 3), see Turning Bread Dough.
1 1/2 cups plus 1 tablespoon water, room temperature 2 teaspoons honey

1 1/2 teaspoons instant or rapid-rise yeast
3 cups plus 1 tablespoon (161/2 ounces) bread flour, plus extra as needed

3 tablespoons whole-wheat flour

1 1/2 teaspoons salt


Whisk water, honey, and yeast together in bowl of stand mixer. Using dough hook on low speed, add bread flour and whole-wheat flour and mix on low speed until cohesive dough is formed, about 3 minutes. Cover bowl tightly with plastic wrap and let dough sit for 30 minutes.
Sprinkle salt over dough and knead on low speed for 5 minutes. Increase speed to medium and knead until dough is smooth and slightly tacky, about 1 minute. (If dough is very sticky, add 1 to 2 tablespoons flour and mix for 1 minute.) Place dough in large, lightly greased bowl, cover tightly with greased plastic, and let rise until doubled in size, about 1 hour.
Gently press center of dough to deflate. Using greased bowl scraper (or rubber spatula), fold partially risen dough over itself by gently lifting and folding edge of dough toward middle. Turn bowl 90 degrees and fold dough again; repeat turning bowl and folding dough 1 more time. Cover withplastic, let dough rise for 30 minutes, then repeat folding process. Cover with plastic and let dough rise until doubled in size, about 30 minutes.
Grease two 9-inch round cake pans. Transfer dough to floured counter, sprinkle lightly with flour, and cut in half. Stretch each half into 16-inch log, then cut each log into 8 equal pieces. With well-floured hands, gently pick up each piece and roll to coat with flour, shaking off excess. Arrange rolls in prepared pans, cut sides facing up, placing 1 in center and 7 around edges. Cover with plastic and let rise until doubled in size, about 30 minutes. Adjust oven rack to middle position and heat oven to 500 degrees.
Mist rolls with water. Bake until tops are brown, about 10 minutes. Remove rolls from oven and reduce oven tem- perature to 400 degrees. Carefully turn rolls out of pans onto baking sheet. Let rolls cool slightly, then turn right side up, pull apart, and space evenly on sheet. Continue to bake until deep golden brown, 10 to 15 minutes, rotating sheet halfway through baking. Transfer rolls to wire rack and let cool to room temperature, about 1 hour, before serving.


To Make Ahead: Baked rolls can be frozen for up to 1 month; reheat on baking sheet in 450-degree oven for 6 to 8 minutes.
---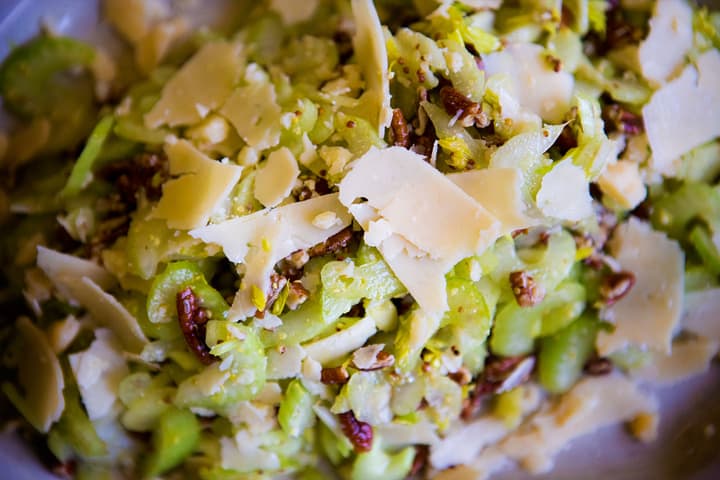 Crunchy Celery Salad
From Barton Seaver
Celery is mainly used as an aromatic for stocks, but I have found it can be a compelling ingredient in its own right. The vitality of its crunch, the cool, unyielding flavor, and its generally amiable nature make it a valuable staple to have on hand at all times.
The key to this salad is to slice the celery as thinly as possible, preferably with a mandoline. The dish is delicious just the way it is, but I have also spiked it with thin slices of smoked shrimp and loved it. Smoked mussels, clams, even smoked chicken would make nice additions as well.
1 bunch celery, tough outer stalks discarded and ends trimmed
2 tablespoons roughly chopped or torn fresh flat-leaf parsley
1/4 cup chopped pecans
Juice of 1 lemon
2 teaspoons whole-grain mustard
2 teaspoons maple syrup or honey
2 tablespoons extra-virgin olive oil
Kosher salt
Freshly ground black pepper
1 ounce Parmesan, cut into shavings with a vegetable peeler

Slice the celery as thin as possible on a slight bias. Do not discard the inner leaves from the heart of the celery, as these are packed with flavor and aroma. Mix the celery with the parsley and pecans in a medium serving bowl.

Mix the lemon juice, mustard, maple syrup, and olive oil in a small bowl. Season with a pinch of salt and whisk to combine. Pour the vinaigrette over the celery mixture and add another pinch of salt. Toss to combine and divide the salad among plates. Garnish with freshly ground pepper and thin shavings of Parmesan. Serve at room temperature.
Serves 4
---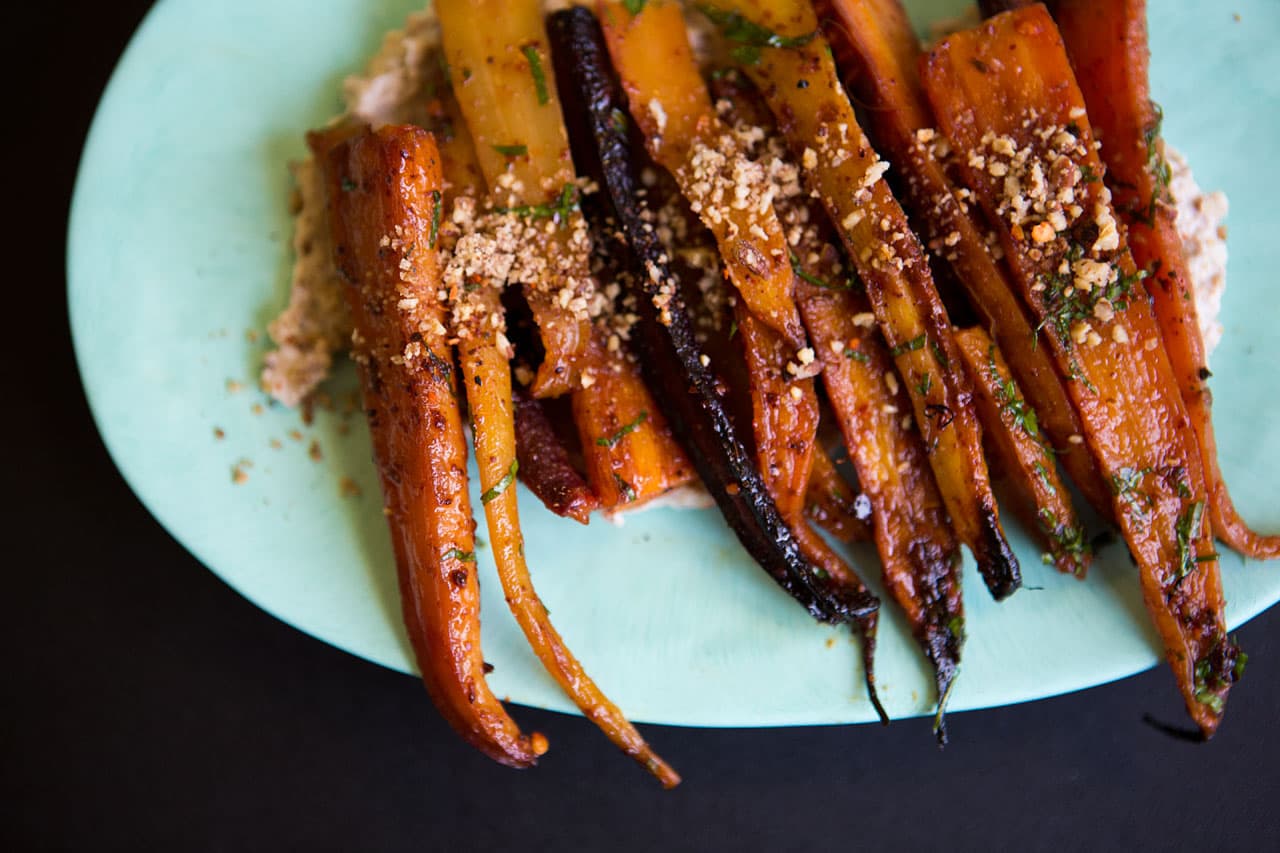 Maple-Roasted Carrots With Maria's Pecan Labne
From Chef Ana Sortun
On Thanksgiving, our family celebrates the end of our vegetable harvest at Siena Farms in Sudbury. Some vegetables are better after the first frost—a phenomenon know as cold sweetening. A vegetable like the carrot will store its natural sugars until it needs them to guard against the frost. When the cold weather sets in, the carrot releases the sugar and the result is the best tasting carrots of the season.
Serves 8

Pecan Labne (see recipe below )

2 ½ pounds small-medium rainbow carrots, scrubbed or peeled, tops trimmed and

cut in half lengthwise

2 cloves garlic cloves, finely minced or grated with a microplane

¼ cup + 1 tablespoon real maple syrup

¼ cup of extra virgin olive oil

Scant 1 Tablespoon Izak Spice from La Boite a Epice (or substitute 1 teaspoon

paprika, 1 teaspoon ground cumin, and half teaspoon of ground cinnamon)

1 teaspoon fresh squeezed lemon juice

1 tablespoon chopped parsley chives

salt and pepper to taste

1. Pre-heat oven to 450 degrees.

2. Whisk garlic, oil, ¼ cup maple syrup, spices to combine in a small mixing bowl.

3. Place the carrots in a large roasting pan and toss with the maple mixture. Season the carrots with salt and pepper to taste.

4. Roast the carrots in the oven for 35 minutes or until they are tender. Allow to cool to room temperature and toss with lemon juice, the remaining tablespoon of maple syrup and chopped herbs before serving. Spread the pecan labne on the bottom of a platter and arrange the carrots over the top.

Serve at room temperature.
Pecan Labne
From Chef Ana Sortun
1 cup of pecan pieces

1 ½ cups of *labne

2 teaspoons finely chopped garlic

1 teaspoon freshly squeezed lemon juice

2 tablespoons extra-virgin olive oil

3 tablespoons toasted bread crumbs

Salt & pepper to taste

*Labne is simply yogurt cheese. Yogurt contains a lot of water, and when you strain the water off, the yogurt becomes thick like ricotta cheese. You can buy labne at most Middle Eastern stores, or you can make it yourself by mixing Greek yogurt with a little salt to taste and straining it overnight in the refrigerator in a colander or sieve lined with cheesecloth.

1. Toast the pecan pieces on a heavy baking sheet for about 6 minutes, and until they are

fragrant. Cool for at least 10 minutes.

2. Place the garlic and the remaining 1-teaspoon of lemon juice in a small mixing bowl and

let stand for 5 minutes to soften the raw garlic flavor.

3. Add the labne and breadcrumbs, season with salt and pepper to taste, and stir. Finely chop the lightly toasted pecans by hand or in a food processor, fitted with a metal blade, and add to the labne mixture.
---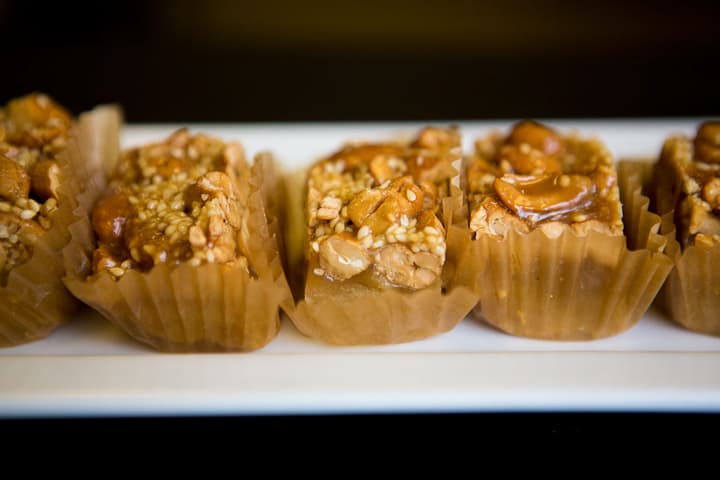 From Sofra Bakery Owner/Executive Pastry Chef, Maura Kilpatrick
Crust:

2 cups plus 1 Tablespoon flour

2/3 cups light brown sugar

½ teaspoon flour

14 tablespoons (7 ounces) unsalted butter, chilled and cut into cubes

Filling:

2 sticks (8 ounces) butter

¼ cup sugar

1 ½ cups plus 2 tablespoons light brown sugar

½ cup honey

¼ teaspoon salt

3 ½ cups salted cashews, chopped into small pieces

2 tablespoons sesame seeds

5 tablespoons heavy cream

*Note: Something to keep in mind about the Sesame Cashew Bar: it actually comes out of the oven very under-baked and sets up as it cools. But if it's cooked any longer, the caramel will be too hard and not chewy.

To make the crust: line a 13 x 9 inch pan with foil, making sure it extends over all the sides.

Very lightly spray or butter foil. Combine flour, sugar, salt and cubed butter in food processor. Process 20-30 seconds until butter is in very small pieces, pulse more if needed. Pour crust crumbs into prepared pan. Press into an even layer. Chill pan for 30 minutes. Crust can be prepared a day in advance. Preheat oven to 350. Bake crust for 25 minutes, until lightly browned.

To make the filling: Combine chopped cashews, sesame seeds, salt. Set aside. Combine cream and vanilla separately. Melt butter in medium saucepan. Add sugar, brown sugar and honey. Heat over medium high heat, whisking constantly, to dissolve sugar. Keep whisking for 2-3 minutes until caramel forms large bubbles and starts to thicken, or 240 degrees on a candy thermometer. Remove from heat, whisk in cream and vanilla. Stir cashews using a rubber spatula.

Pour on top of baked crust in even layer. Bake at 350 for 26-28 minutes. The filling will appear unbaked. It should have bubbling caramel along the sides of the pan only and will still be liquid in center. It will set up as it cools. It is very important not to over-bake. Cool completely. It is best to wrap and refrigerate overnight and cut the next day if you can. Lift foil out of pan to remove. Remove foil. Cut into 1 ½ inch squares.

Yield: 3 dozen. Store in airtight container in refrigerator. Keeps 2 weeks.