How To Stay Sane At Your Holiday Table
Play
This article is more than 8 years old.
With guest host Bob Oakes.
The Thanksgiving get-together and all the family drama trimmings. Sage advice from advice columnists.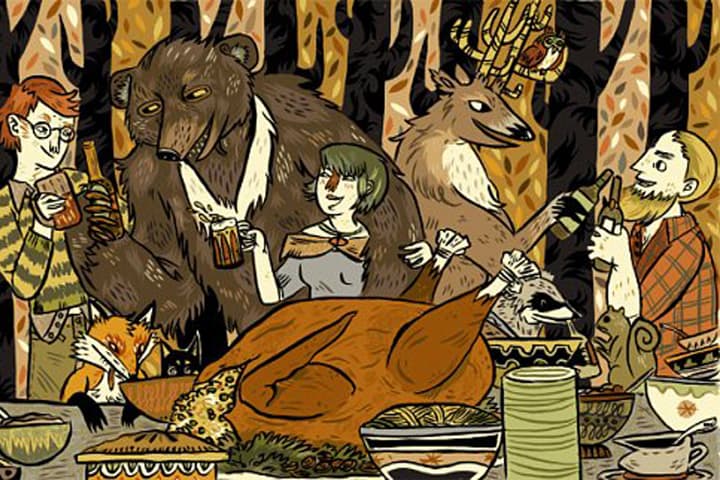 Einstein once said the definition of madness is doing the same thing over and over again and expecting a different result.  Well, that's a fair description of Thanksgiving for many of us. There will be a lot of happy, calm feasts around the country tomorrow.  But in many homes, the adults will start to act like children. Old hurts will arise. Someone will start in on politics. And suddenly the feast turns foul. This hour, On Point:  How to navigate the treacherous waters of the family feast. We talk turkey with advice columnists.
-- Bob Oakes
Guests
Amy Dickinson, advice columnist who writes the national syndicated "Ask Amy" column. Panelist on NPR's "Wait Wait, Don't Tell Me." Author of the book, "The Mighty Queens of Freeville: A Story of Surprising Second Chances." (@askingamy)
Cary Tennis, advice columnist for Salon.com's "Since You Asked" feature. Author of the book, "That Special Time of Year." (@carytennis)
From The Reading List
Chicago Tribune:  For This Family, Satan comes down the chimney on Christmas Eve — "You had a disagreement with your sister-in-law. You two worked it out, and now you are cordial. I suggest you work very hard to muster the same spirit toward your brother-in-law, knowing that he will never reciprocate or even participate. You will feel better about everything if you can grasp this: He is not Satan. He is a marginal family member you happen not to like. His personal abilities are limited. Yours are not."
Salon: My family won't leave! — "Yes, you really do want a relationship with these people. They are family. So though it is uncomfortable now, I suggest you do your best to get through this uncomfortable period as amicably as possible for the next few weeks. It is apparent that you don't know each other very well and are responding to some very disruptive elements. So that's going to make it hard and at times you might feel a little crazy. Try to do the best you can with the disruptions. When parents can no longer care for themselves it causes disruptions that ripple outward. Everyone has to try to pull together and put their own needs aside for a bit."
Vox: How To Survive Your Family's Thanksgiving Arguments — "Thanksgiving is upon is. Families will gather this week to eat, drink, reminisce — and, inevitably, argue about what's going on in the news. Here are some topics that are likely to come up at your family's feast, and some pointers for how to respond to what your relatives may say."
This program aired on November 26, 2014.