The Terrorist Attack Down The Street: New Soft Target Threats
Resume
The Paris attack and the new face of terror: small, soft targets. The coffee shop. The office. If this is it, what do we do?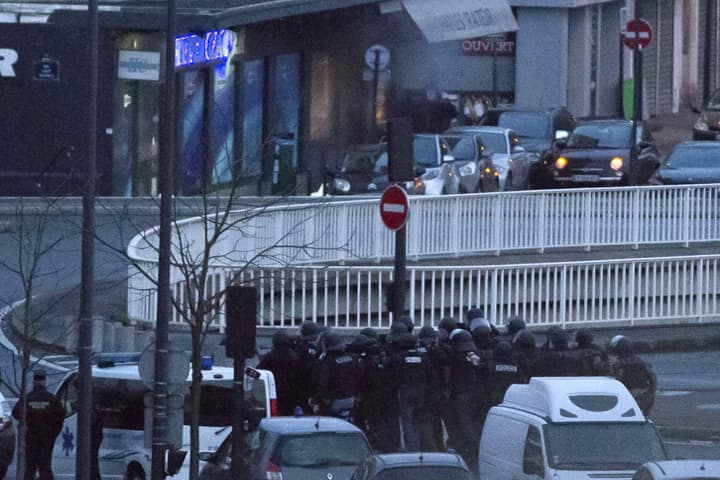 The outpouring in the streets of Paris yesterday was huge, impressive.  A million, maybe two.  A day of unity, a day for liberty, a day against violence.  But the reality that's hitting home all over is that the kind of attacks that stunned France last week, and left 17 dead, are increasingly a real threat and definitely a security nightmare.  A shopping mall in Nairobi.  A coffee shop in Sydney.  An office and a grocery in Paris.  Violent groups in the Middle East calling out to supporters to act at home.  This hour On Point:  the new face of terror - deadly attacks, small, soft targets – and how to respond.
-- Tom Ashbrook
Guests
Kate Brannen, senior reporter at Foreign Policy. (@K8brannen)
Tom Mockaitis, terrorism expert, professor of history at DePaul University. Editor at Small Wars and Insurgencies. Author of "Iraq and the Challenge of Counterinsurgency" and "The 'New' Terrorism."
Audrey Cronin, terrorism expert and professor at George Mason University. Author of "Ending Terrorism: Lessons for Defeating al-Queda" and "How Terrorism Ends." (@akcronin)
From Tom's Reading List
Associated Press: Europe's nightmare: Terror threats both large and small -- "The military-style attack in Paris has made clear that Europe faces an evolving, ever-more complex terror threat no longer dominated by a few big players. It's not just al-Qaida, or Islamic State. It's not just the disciples of some fiery, hate-filled preachers. Instead, security experts say, it's now an Internet-driven, generalized rage against Western society felt by radicalized Muslims that can burst into the open at any time — with a slaughter in Paris, an attack on a Jewish Museum in Belgium, or the slaying of a soldier in the streets of London."
New York Review of Books: Must Counterterrorism Cancel Democracy? — "Surveillance and targeted killing are not per se unlawful. They are unlike torture, which is absolutely forbidden under all circumstances. Properly regulated, surveillance is a legitimate governmental function in peacetime and wartime. Every country does it; no country forbids it. Privacy is an important and valuable right, but it is not absolute."
Foreign Policy: The Long, Slow Fuse of Jihad in France — "That a man like Cherif would plot for a decade to find a way to kill those he viewed as blaspheming Islam highlights the long and slow-burning fuse of radicalists in Europe, especially in France. And the apparent role of a would-be holy warrior — one with at least two prior arrests and his name on the U.S. no-fly list — in the Charlie Hebdo attack also underscores the magnitude of the challenge facing French counterterrorism officials and police, given the growth of radicalized Muslims in France over the last 10 years."
This program aired on January 12, 2015.