Taking The Temperature On US Race Relations
Resume
#BlackLivesMatter, "white privilege," Michael Brown and Eric Garner.  On MLK Day, we'll talk truths about race-relations in America now.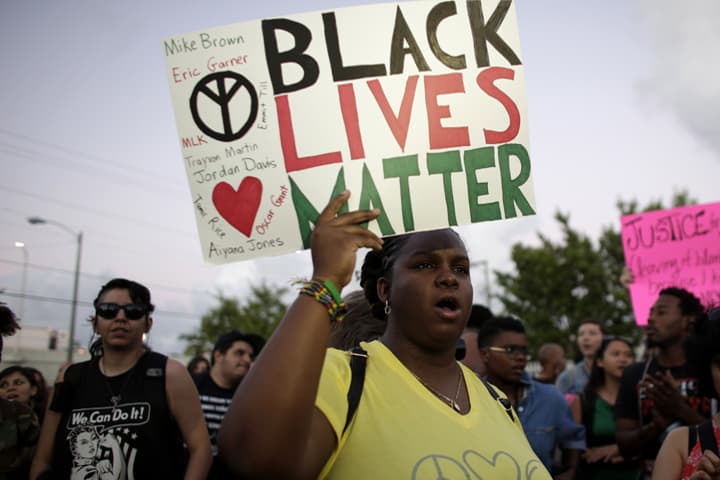 It's Martin Luther King Day, and racial protest and politics in America are hotter than they've been in many years.  Fifty years after Selma. After Ferguson and Eric Garner and Trayvon Martin, after years of snoozey acquiescence and lots of people looking the other way, there is protest in the streets again.  About race.  Not everybody gets it.  Some prominent black figures are saying "What's the goal?  Who's the leader?"  But look at our prisons.  Look at our schools.  Look at who has jobs.  And it's not hard to figure out.  This hour On Point:  On this MLK Day - racial reality in America, front and center, again.
-- Tom Ashbrook
Guests
Jamelle Bouie, staff writer for Slate. (@jbouie)
Latoya Peterson, editor at Racalicious.com. Deputy editor for Voices at Fusion. (@latoyapeterson)
Patrisse Cullors, co-founder, Black Lives Matter. Director of Dignity and Power Now.  (@osope)
From Tom's Reading List
Slate: Why I Am Optimistic About the Future of Race Relations in America — "The black struggle for equal rights—for full partnership in the American experiment—obviously isn't over. The proof is everywhere, from an unfair criminal justice system to an economy that discards black potential. If there is a question, it goes back to optimism versus pessimism. Should our steady progression make us optimistic? Or are our short memories ('redlining' means nothing to most Americans), backsliding ('Redemption' followed Reconstruction, mass incarceration followed the end of Jim Crow), and retreat to myth (We made it on our own, why can't they do it) cause for pessimism?"
The Atlantic: The Financial Consequences of Saying 'Black,' vs. 'African American' — "The study's findings suggest there's an argument to be made for electing to use "African American," though one can't help but get the sense that it's a decision that papers over the urgency of continued progress. Perhaps a new phrase is needed, one that can bring everyone one asymptotic step closer to realizing Du Bois's original, idealistic hope: 'It's not the name—it's the Thing that counts.''"
Bloomberg Business: #OscarsSoWhite: In Year of 'Selma,' Not a Single Black Actor Is Nominated — "Of the 20 acting nominations announced today, none went to black actors or actresses. The last time that happened was in 2011, according to academy data. DuVernay, whose film got a 99 percent positive rating onRottentomates.com, congratulated her team for the best-picture nomination. That is the highest percentage of any of the best picture nominees.
This program aired on January 19, 2015.