Handicapping The 2015 Academy Award Ballot
Resume
Oscars this weekend. "Birdman," "Boyhood," "American Sniper"? We'll talk who should win, and why.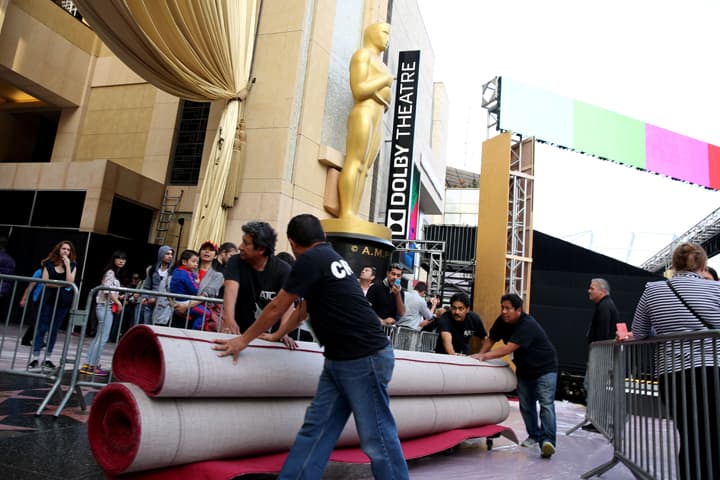 Sunday night is Oscar night.  "Birdman" versus "Boyhood" for Best Picture, say the headlines.  Cumberbatch or Redmayne or Keaton for Best Actor.  Julianne Moore, odds-on for Best Actress with her Alzheimer's depiction in "Still Alice."  The early talk about Oscar nominations was all about the lily white line-up for acting prizes.  That's still hot.  We'll look at it.  And, where should the prizes go?  Where will they go?  How will John Travolta read his lines?  This hour On Point:  critics Wesley Morris and Grae Drake join us to take on the year in movies.
-- Tom Ashbrook
Guests
Wesley Morris, staff writer and film critic for Grantland. (@Wesley_Morris)
Grae Drake, senior editor at Rotten Tomatoes. (@graedrake)
From Tom's Reading List
Grantland: Oscar Predictions, Part 4: The Acting Categories — "When the dust clears from this year's Academy Awards race, we'll have a lot to talk about — mainly, why it was so dusty in the first place. The likely winners in three of the four acting categories have been entrenched for so long that Sunday seems likely to feel more like a coronation than a contest. I'm not demanding suspense — there'll be plenty when Cate Blanchett takes the stage to announce the Best Actor winner — but shouldn't there have been at least an argument or two?"
Associated Press: Oscar spotlight draws attention to industry diversity issue — "Seldom have such fits and starts been starker than this Oscars, coming a year after a richly diverse Oscar crop. In Sunday's Academy Awards, all 20 acting nominees are white, a result that prompted some to declare that they would boycott this year's ceremony. The lack of nominations for 'Selma' director Ava DuVernay and star David Oyelowo were a particular flashpoint, viewed by many as unjust oversights not only because they merited honoring, but because their absences furthered an ignoble Oscar history."
Los Angeles Times: Academy Awards show producers hope their third time is a charmer -- "Not since Gil Cates — who produced the telecast a record 14 times between 1980 and 2008 — has a producing team returned to the Oscars. In rehiring Zadan and Meron, who also produced the movie musicals 'Chicago' and 'Hairspray' and the live television musicals 'The Sound of Music' and 'Peter Pan,' for a third show, the academy has been trying for more continuity in the show."
This program aired on February 20, 2015.