The Real Costs Of Managing Your Retirement
Resume
President Obama is calling for tougher rules on brokers who manage retirement savings. We'll look at what that could mean for your retirement.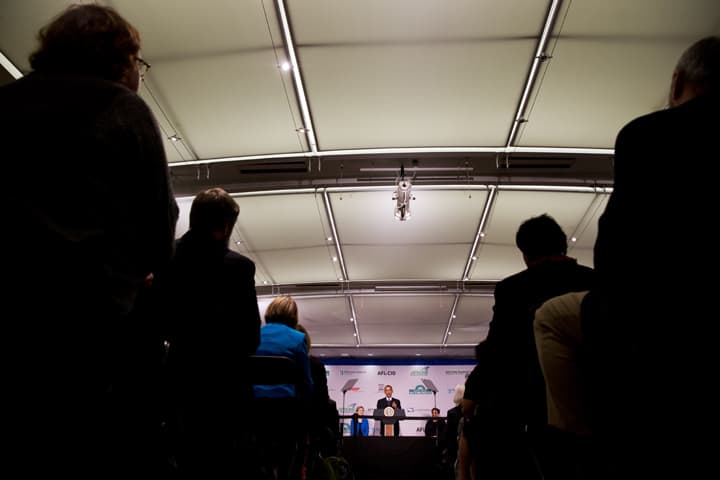 More than ever these days, beyond Social Security, Americans are on their own for retirement.  Saving.  Investing.  Praying.  This week, the White House saying at least people shouldn't have to worry about the interests of brokers helping them make those investment decisions.  They ought to have the investor's interest first in mind – not hidden fees or payments for themselves.  They're pushing new rules.  Finance industry, pushing back. This hour On Point:  the stakes, and whether brokers need a top-down order to put your interests first.  Plus, we'll look at shrinking bonuses on Wall Street.
-- Tom Ashbrook
Guests
Robert Schmidt, finance reporter for Bloomberg News.
Teresa Ghilarducci, professor of economics and director of the Schwarz Center For Economic Policy Analysis at the New School for Social Research. Author of "When I'm Sixty Four: The Plot Against Pensions And the Plan To Save Them." (@tghilarducci)
Francis Creighton, executive vice president of government affairs at the Financial Services Roundtable. (@fcreighton)
From Tom's Reading List
Bloomberg Politics: Obama Backs Tougher Rules for Brokers on Retirement Funds — "The plan to be issued by the Labor Department would require brokers to act in a customer's best interest, a change that could limit the earnings of financial advisers in the handling of Americans' $11 trillion of retirement savings. The president said the current regulations are out of date, devised in the era when most Americans could count on a traditional pension from employers. Through self-directed retirement accounts, some brokers are skimming significant sums annually from small investors, he said."
Reuters: Obama takes aim at brokers' fees on U.S. retirement accounts — "U.S. brokers and financial advisers would face new constraints under a plan President Barack Obama put forward on Monday to reduce conflicts of interest and "hidden fees" that cost Americans billions of dollars in retirement savings every year. In proposing the rules, Obama said he sought to protect Americans from being steered into costly retirement investments that produced high commissions for brokers but low returns for investors preparing for retirement."
POLITICO: Obama woos Warren wing with anti-Wall Street push — "Many liberals have yearned for the president to pick up more of Warren's mantle — and to turn a more skeptical eye toward Wall Street — but the two have maintained an arm's-length relationship. Increasingly, White House aides have felt more pressure from the Warren wing of the Democratic Party to prove that he isn't going soft on Wall Street. On Monday, he announced his target."
Wall Street Banks Show Humble Hesitation
Nathaniel Popper, banking reporter for the New York Times. (@nathanielpopper)
New York Times: New Rules Spur a Humbling Overhaul of Wall St. Banks — "In the simplest sense, the rules about capital require banks to effectively spend a portion of a limited financial resource — their capital — every single time they take a risk by making a loan or a trade. The riskier the trade or loan, the more capital the bank has to allocate."
This program aired on February 25, 2015.