Cameras, Cops And South Carolina
Play
This article is more than 7 years old.
We'll look at the South Carolina shooting – a policeman charged with murder – and the unfinished push to put cameras on cops.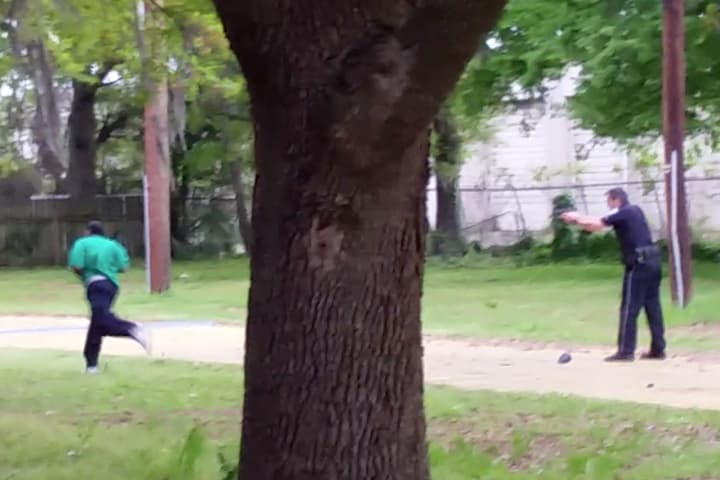 The video out of North Charleston, South Carolina this week is so disturbing, looks so wrong, that the city's own officials have struggled to put their reaction into words. A white policeman apparently calmly raising his service revolver and shooting at a fleeing 50-year-old black man. Eight times. Until the man tumbles to the ground. It looks so unnecessary.  Looks, to the officer's own police department, like murder. He's charged.  And fired. Now what? There's a clamor for cameras on cops everywhere. And to confront the heart of the killing. This hour On Point: the killing in North Charleston.
-- Tom Ashbrook
Guests
Andrew Knapp, reporter for the Charleston Post and Courier. (@offlede)
Rep. Justin Bamberg (D), State Representative for South Carolina's 90th District.
Anthony Scott, brother of Walter Scott.
Ron Hosko, president of the Law Enforcement Legal Defense Fund. Former assistant director of the FBI Criminal Investigative Division.
Gloria Browne-Marshall, professor in the John Jay College department of law, police science and criminal justice administration. Author of "Race, Law And American Society" and "The U.S. Constitution: An African-American Context." (@GBrowneMarshall)
From Tom's Reading List
Charleston Post and Courier: North Charleston officer faces murder charge after video shows him shooting man in back — "A white North Charleston police officer was arrested on a murder charge after a video surfaced Tuesday of the lawman shooting eight times at a 50-year-old black man as the man ran away. Walter L. Scott, a Coast Guard veteran and father of four, died Saturday after Patrolman 1st Class Michael T. Slager, 33, shot him in the back.
New York Times: Walter Scott Shooting Video Stopped Case From Being Swept Under Rug, Family Says — "One day after a South Carolina police officer was arrested in the shooting death of an unarmed black man, the victim's family said Wednesday that no charges would have been filed if not for a video of the encounter — which showed the officer firing eight shots at the man as he ran away."
The State: SC officers exonerated in more than 200 shootings — "Police in South Carolina have fired their weapons at 209 suspects in the past five years, and a handful of officers have been accused of pulling the trigger illegally – but none has being convicted, according to an analysis by The State newspaper. In South Carolina, it remains exceedingly rare for an officer to be found at fault criminally for shooting at someone."
This program aired on April 9, 2015.