Money In Politics: The Gyrocopter's Complaint
Resume
We'll take up the gyrocopter pilot's complaint. Big money politics in America, on the road to 2016. And what to do about it.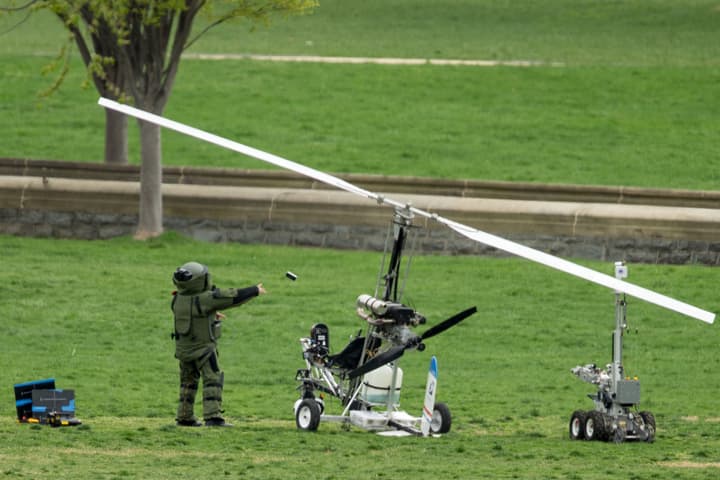 Mailman Doug Hughes of Ruskin, Florida, in court today to get his ankle bracelet. The 61-year-old is in trouble after landing his gyrocopter on the Capitol lawn in Washington to try to get a message to Congress. Big money in American politics is now threatening American democracy, says the mailman with what he calls a "flying bicycle." We don't have to accept, he says, "a corrupt government that sells out to the highest bidder." It's a big issue already in the 2016 campaign. This hour On Point: the mailman's complaint. Big money, dark money, in American politics – and where it's flowing.
-- Tom Ashbrook
Guests
Ben Montgomery, reporter for the Tampa Bay Times. (@gangrey)
Jeanne Cummings, political reporter and deputy government editor for Bloomberg News. (@jeannecummings)
Fred Wertheimer, founder and president of Democracy 21, a government and campaign finance reform advocacy nonprofit. (@fredwertheimer)
David Keating, president of the the Center for Competitive Politics, a nonprofit First Amendment rights advocacy organization.
From Tom's Reading List
Tampa Bay Times: Ruskin mailman who flew gyrocopter into Capitol released from jail, headed back to Florida soon — "In October 2013, the Secret Service learned about Hughes' plan and interviewed him in Ruskin, according to a statement released Wednesday. After a 'complete and thorough investigation,' they passed the information on to Capitol Police, the Secret Service said. The U.S. Attorney's Office in Tampa said there was no open criminal investigation of Hughes prior to his arrest in Washington. A Capitol Police spokesman said Thursday that the agency had no update regarding its response to the incident."
Bloomberg View: Will Obama Shine Light on Dark Money? -- "Since 2010, when the Supreme Court's Citizens United decision dramatically advanced an already aggressive trend toward deregulation in campaign finance, at least $600 million has flowed from wealthy donors to secretive nonprofit groups. Most of the money financed political ads attacking Democrats."
The Wall Street Journal: Finance Twist May Play Role in When Candidates Announce — "Declared candidates, by contrast, can't solicit uncapped donations for their political committees, and can't coordinate their activities with the PAC. They must file personal financial disclosure forms and quarterly fundraising reports. Super PACs can file as infrequently as twice a year in a nonelection year."
This program aired on April 20, 2015.