Fight Over Same-Sex Marriage Hits Supreme Court
Resume
The Supreme Court hears the case for and against legalizing gay marriage across the nation, and we look at the law at a time of breakneck social change.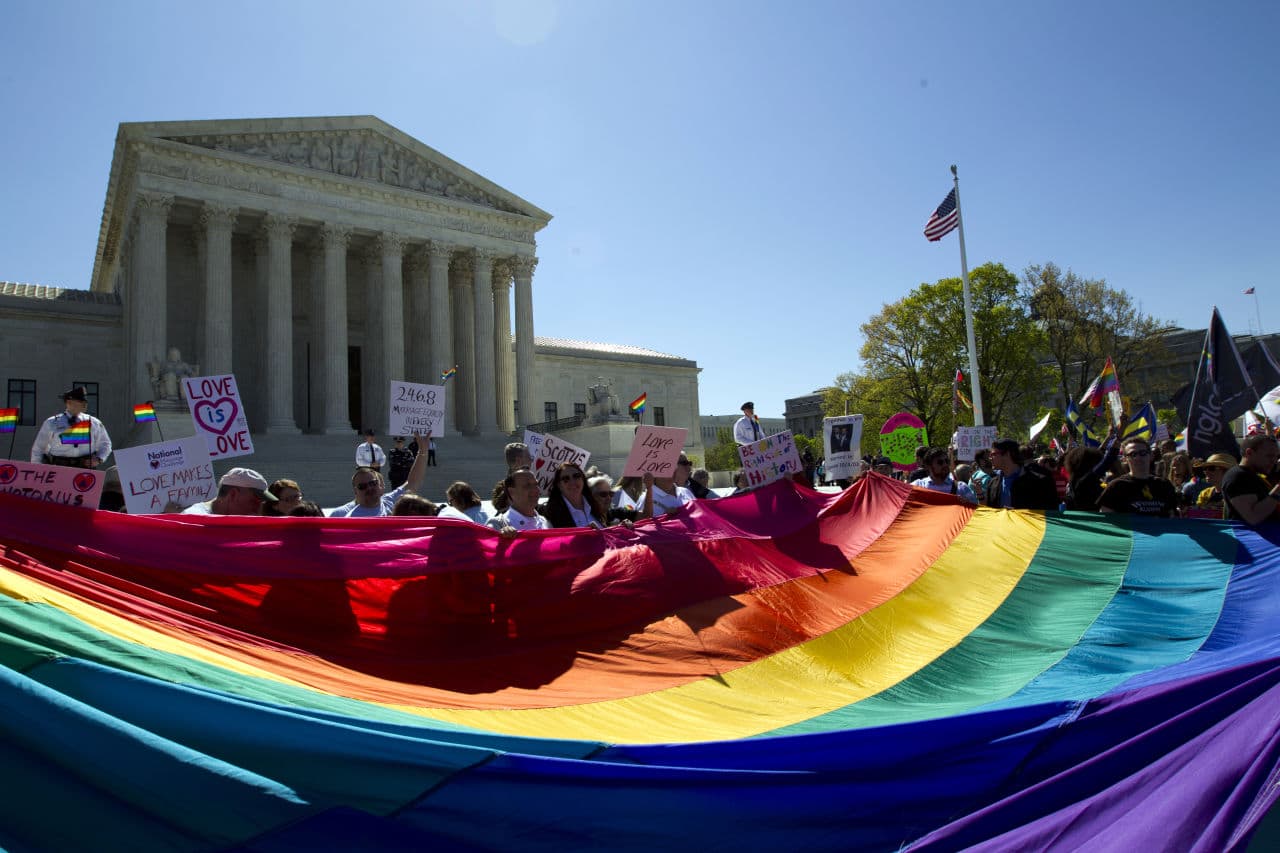 The US Supreme Court took up gay marriage yesterday in a big way. Long argument. Big questions. What is marriage? How far do equal rights go? When should the high court decide on change over states? Why shouldn't gay Americans be offered the dignity of marriage? The nine justices of the Supreme Court could now make gay marriage the law of the land. Or they could open it up to all kinds of challenges after a period of explosive expansion. This hour On Point: the heart of the matter. We'll roll the tape and review the high court arguments on gay marriage in America.
-- Tom Ashbrook
Guests
Mike Sacks, reporter for the National Law Journal and Legal Times. Formerly a Supreme Court reporter for the Huffington Post. (@MikeSacksEsq)
Camilla Taylor, Marriage Project Director for LAMDA Legal. (@camillabtaylor)
Kenji Yoshino, professor of constitutional law at New York University and author of the new book, "Speak Now: Marriage Equality On Trial." (@kenji_yoshino)
Lynn Wardle, professor of law at Brigham Young University, who focuses on family law. He filed an amicus brief on behalf of opponents of same-sex marriage.
From Tom's Reading List
New York Times: What's at Stake in the Supreme Court's Gay-Marriage Case — "I'm not expecting a 9-to-0 ruling striking down the state same-sex-marriage bans, of the sort the court achieved when it ended state prohibitions against interracial marriage in Loving v. Virginia in 1967. But whoever writes a dissent will do his best to steer clear of any whiff of prejudice (or to use the court's word, animus). Even Republican politicians, many of whom inveighed against same-sex marriage only a decade ago, now hope the court will issue a broad ruling that makes the issue go away once and for all. And as you pointed out a couple weeks ago, top law firms won't defend the state bans."
Slate: Justices' Questions, Answered — "It would be ironic if the success of gays and lesbians in their mobilization, which got them on the Supreme Court's docket in the first place, prevented the court from protecting them because they were deemed too powerful when they finally made it into the gallery of the highest court in the land to make their case."
National Law Journal: Justices Cautious About Sweeping Change to Marriage Definition — "Kennedy's caution about requiring states to accept same-sex marriage, paired with similar sentiments from Chief Justice John Roberts Jr. could be a sign that the court is not ready to go all the way toward requiring states to allow same-sex marriage."
Read An Excerpt of "Speak Now" By Kenji Yoshino
https://www.scribd.com/doc/263516472/Excerpt-From-Speak-Now-By-Kenji-Yoshino
This program aired on April 29, 2015.