Week In The News: Baltimore Erupts, Nepal Disaster, Same-Sex Marriage At SCOTUS
Play
This article is more than 7 years old.
Protests, big questions in Baltimore. Gay Marriage at the Supreme Court. Bernie Sanders runs for President. Our weekly news roundtable goes behind the headlines.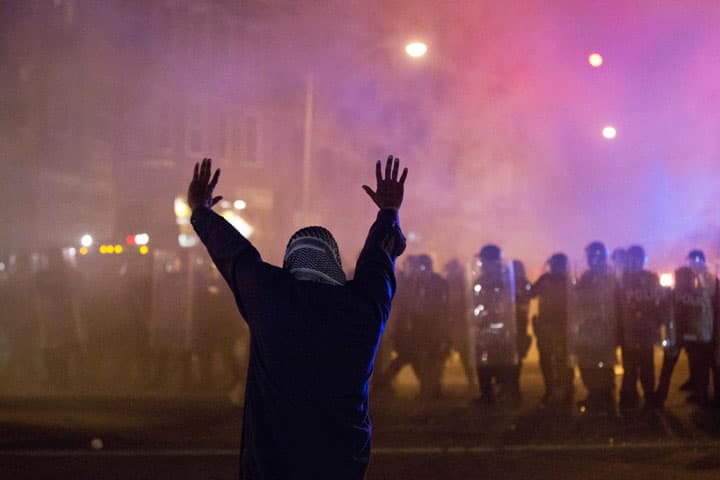 It's Baltimore above all, this week. The death. The anger. The protest and mayhem in the streets and what to call it. The long, long wait to know who or what killed Freddie Gray. At the Supreme Court, same sex marriage front and center, with a big decision on its way. High in Nepal, a terrible quake still rumbling. We've got TPP and the Prime Minister of Japan in the US. The PATRIOT Act and American surveillance getting scrubbed in Congress. The Iran deal getting a going over, too. And Bernie Sanders will run for the White House. This hour On Point: our weekly news roundtable goes behind the headlines.
-- Tom Ashbrook
Guests
Yamiche Alcindor, breaking news reporter for USA Today. (@yamiche)
Nancy Cordes, Congressional correspondent for CBS News. (@nancycordes)
Jack Beatty, On Point news analyst. (@JackBeattyNPR)
From Tom's Reading List
USA Today: Baltimore residents disappointed Gray report kept secret — "Residents who expected to learn the details about the death of Freddie Gray while in police custody faced disappointment Thursday as police turned their investigation over to prosecutors Thursday without revealing its contents to the public. Since Gray's death, protests that culminated in rioting Monday have consumed the city, prompting a citywide curfew and the arrival of the National Guard."
CBS News: Five things to know about Bernie Sanders — "Sanders, 73, is the oldest declared candidate thus far this cycle, and he's trekked a long path to his announcement: Born and raised in Brooklyn, he moved to Vermont in 1964 after college. He became mayor of Burlington, Vermont's largest city in 1981, and he held that post until 1989. He won a seat in the U.S. House of Representatives in 1990, and served in the lower chamber for a decade and a half. In 2006, he sought and won Vermont's open Senate seat, a perch he still occupies today."
NPR News: Justices Deeply Divided Over Same-Sex-Marriage Arguments — "Bursch stuck to his guns, insisting that allowing gay marriages would reduce the number of heterosexual marriages. Justices both liberal and conservative seemed to balk at that assertion. 'I'm not sure it's necessary to get into sexual orientation to resolve the case,' observed Chief Justice Roberts. 'I mean, if Sue loves Joe and Tom loves Joe, Sue can marry him and Tom can't. And the difference is based upon their different sex.'"
This program aired on May 1, 2015.