What Michelle Obama Can Tell Us About Race In America
Play
This article is more than 7 years old.
Michelle Obama opened up about race in a powerful commencement speech.  We ask black women for reaction and personal reflection.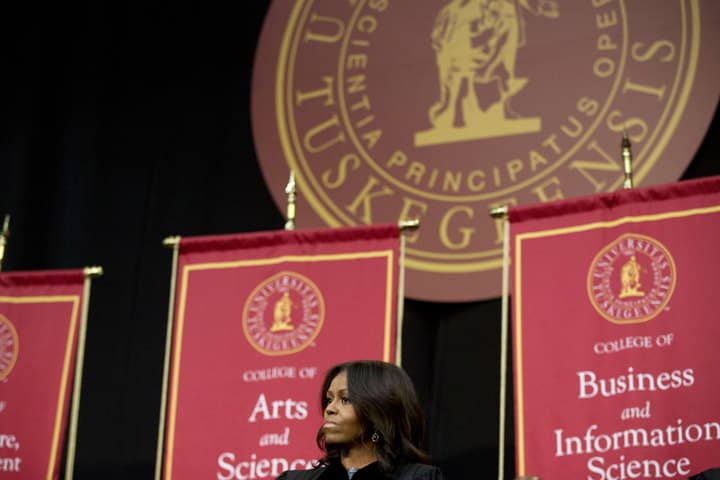 First Lady Michelle Obama stepped to the commencement day podium at the historic black Tuskegee University and talked about race. And the country lit up for days in response. From conservative talkers complaining of too much bitterness and grievance, to late-night hosts having fun again with the First Lady remembering being portrayed with a huge Afro and a machine gun. It's still got us thinking. This hour On Point: we settle in on Michelle Obama's view with three black women.  Pulitzer Prize-winner Isabel Wilkerson, LA Times columnist Sandy Banks, a mom from Ferguson, Missouri, and you.
-- Tom Ashbrook
Guests
Sandy Banks, columnist for the Los Angeles Times. (@sandybankslat)
Terri Franks, Ferguson, MO resident.
Isabel Wilkerson, journalist and author. Author of the book "The Warmth of Other Suns." (@isabelwilkerson)
From Tom's Reading List
USA Today: Viewpoint: What Michelle Obama really said in her Tuskegee U. graduation speech — "Obama's message was about overcoming obstacles — it was about the 'double duty' blacks have to our country and our race. She talked of the obstacles overcome by members of the Tuskegee Airmen, black combat pilots who served with great distinction during World War II. They trained at Tuskegee and suffered the indignities of Jim Crow racism while fighting for America."
National Review: Mrs. Obama: I Feel Alienated, and That's Proof of America's Racism — "Private experience is an important governing force in a healthy body politic; the anger occasioned by injustice, for example, can be an important spur toward change. But because we are individuals embedded in communities, private feelings must be balanced by public reason. An individual's claims — that his anger indicates true injustice — must be thoughtfully and dispassionately evaluated by the community, acting together. "
CNN: Michelle Obama was right to bring up race — "Thank you, Michelle, for speaking the truth. And for being honest enough to admit that even you have been 'knocked back' by some of the racial perceptions of yourself and President Obama. It is past time for Americans to publicly confront our nation's nagging race problem. Our old wounds left by racism will not heal themselves. Our silence will not make them go away. No, those wounds will just continue to fester and flare up over and over again in cities like Ferguson, New York and Baltimore and too many other places to mention."
Watch Michelle Obama's Commencement Speech At Tuskegee University
Watch Salman Rushdie's Commencement Speech At Emory University
This program aired on May 14, 2015.